Array ( [id] => 2 [link] => [name] => [desc] => [children] => Array ( [0] => Array ( [id] => 6 [link] => https://book.coe.int/en/6-online-bookshop [name] => Online Bookshop [desc] => [children] => Array ( [0] => Array ( [id] => 40 [link] => https://book.coe.int/en/40-committee-of-ministers [name] => Committee of Ministers [desc] => [children] => Array ( [0] => Array ( [id] => 41 [link] => https://book.coe.int/en/41-texts-of-council-of-europe-treaties [name] => Texts of Council of Europe Treaties [desc] => [children] => Array ( ) ) [1] => Array ( [id] => 42 [link] => https://book.coe.int/en/42-committee-of-ministers-other-publications [name] => Committee of Ministers - Other publications [desc] => [children] => Array ( ) ) [2] => Array ( [id] => 43 [link] => https://book.coe.int/en/43-council-of-europe-treaties-and-explanatory-reports [name] => Council of Europe Treaties and explanatory reports [desc] => [children] => Array ( ) ) [3] => Array ( [id] => 44 [link] => https://book.coe.int/en/44-collected-edition-of-the-council-of-europe-treaties-series [name] => Collected edition of the Council of Europe Treaties Series [desc] => [children] => Array ( ) ) [4] => Array ( [id] => 45 [link] => https://book.coe.int/en/45-committee-of-ministers-compendium-of-adopted-texts [name] => Committee of Ministers - Compendium of adopted texts [desc] => [children] => Array ( ) ) ) ) [1] => Array ( [id] => 46 [link] => https://book.coe.int/en/46-parliamentary-assembly [name] => Parliamentary Assembly [desc] => [children] => Array ( [0] => Array ( [id] => 47 [link] => https://book.coe.int/en/47-parliamentary-assembly-adopted-texts [name] => Parliamentary Assembly / Adopted texts [desc] => [children] => Array ( ) ) [1] => Array ( [id] => 48 [link] => https://book.coe.int/en/48-parliamentary-assembly-orders-of-the-day-minutes [name] => Parliamentary Assembly / Orders of the Day, Minutes [desc] => [children] => Array ( ) ) [2] => Array ( [id] => 49 [link] => https://book.coe.int/en/49-parliamentary-assembly-official-reports-of-debates [name] => Parliamentary Assembly / Official Reports of Debates [desc] => [children] => Array ( ) ) [3] => Array ( [id] => 50 [link] => https://book.coe.int/en/50-parliamentary-assembly-documents-working-papers [name] => Parliamentary Assembly / Documents, Working Papers [desc] => [children] => Array ( ) ) [4] => Array ( [id] => 51 [link] => https://book.coe.int/en/51-parliamentary-assembly-general-publications [name] => Parliamentary Assembly / General publications [desc] => [children] => Array ( ) ) ) ) [2] => Array ( [id] => 52 [link] => https://book.coe.int/en/52-congress [name] => Congress [desc] => [children] => Array ( [0] => Array ( [id] => 53 [link] => https://book.coe.int/en/53-congress-local-and-regional-action-series [name] => Congress / Local and Regional Action Series [desc] => [children] => Array ( ) ) [1] => Array ( [id] => 54 [link] => https://book.coe.int/en/54-congress-studies-and-texts-series [name] => Congress/ Studies and Texts Series [desc] => [children] => Array ( ) ) [2] => Array ( [id] => 55 [link] => https://book.coe.int/en/55-congress-adopted-texts [name] => Congress / Adopted Texts [desc] => [children] => Array ( ) ) [3] => Array ( [id] => 56 [link] => https://book.coe.int/en/56-congress-official-report-of-debates [name] => Congress / Official Report of Debates [desc] => [children] => Array ( ) ) ) ) [3] => Array ( [id] => 57 [link] => https://book.coe.int/en/57-human-rights [name] => Human Rights [desc] => [children] => Array ( [0] => Array ( [id] => 58 [link] => https://book.coe.int/en/58-human-rights-and-democracy [name] => Human Rights and Democracy [desc] => [children] => Array ( ) ) [1] => Array ( [id] => 59 [link] => https://book.coe.int/en/59-children-s-rights-and-family-law [name] => Children's rights and family law [desc] => [children] => Array ( ) ) [2] => Array ( [id] => 60 [link] => https://book.coe.int/en/60-making-democratic-institutions-work [name] => Making democratic institutions work [desc] => [children] => Array ( ) ) [3] => Array ( [id] => 61 [link] => https://book.coe.int/en/61-minorities [name] => Minorities [desc] => [children] => Array ( ) ) [4] => Array ( [id] => 62 [link] => https://book.coe.int/en/62-human-rights-files [name] => Human Rights Files [desc] => [children] => Array ( ) ) [5] => Array ( [id] => 63 [link] => https://book.coe.int/en/63-european-social-charter [name] => European Social Charter [desc] => [children] => Array ( ) ) [6] => Array ( [id] => 64 [link] => https://book.coe.int/en/64-social-charter-monographs [name] => Social Charter Monographs [desc] => [children] => Array ( ) ) [7] => Array ( [id] => 65 [link] => https://book.coe.int/en/65-gender-equality [name] => Gender equality [desc] => [children] => Array ( ) ) [8] => Array ( [id] => 66 [link] => https://book.coe.int/en/66-european-court-of-human-rights [name] => European Court of Human Rights [desc] => [children] => Array ( ) ) [9] => Array ( [id] => 376 [link] => https://book.coe.int/en/376-commissioner-for-human-rights [name] => Commissioner for Human Rights [desc] => [children] => Array ( ) ) [10] => Array ( [id] => 67 [link] => https://book.coe.int/en/67-european-commission-of-human-rights [name] => European Commission of Human Rights [desc] => [children] => Array ( ) ) ) ) [4] => Array ( [id] => 68 [link] => https://book.coe.int/en/68-law [name] => Law [desc] => [children] => Array ( [0] => Array ( [id] => 69 [link] => https://book.coe.int/en/69-points-of-view-points-of-law [name] => Points of view - Points of Law [desc] => [children] => Array ( ) ) [1] => Array ( [id] => 70 [link] => https://book.coe.int/en/70-europeans-and-their-rights [name] => Europeans and their rights [desc] => [children] => Array ( ) ) [2] => Array ( [id] => 71 [link] => https://book.coe.int/en/71-international-law [name] => International Law [desc] => [children] => Array ( ) ) [3] => Array ( [id] => 72 [link] => https://book.coe.int/en/72-terrorism-and-law [name] => Terrorism and Law [desc] => [children] => Array ( ) ) [4] => Array ( [id] => 73 [link] => https://book.coe.int/en/73-migration-series-migrants-rights [name] => Migration Series / Migrants rights [desc] => [children] => Array ( ) ) [5] => Array ( [id] => 74 [link] => https://book.coe.int/en/74-economy-and-crime-fight-against-corruption [name] => Economy and crime, fight against corruption [desc] => [children] => Array ( ) ) [6] => Array ( [id] => 75 [link] => https://book.coe.int/en/75-constitutional-law [name] => Constitutional Law [desc] => [children] => Array ( ) ) [7] => Array ( [id] => 76 [link] => https://book.coe.int/en/76-penal-law-and-criminology [name] => Penal Law and criminology [desc] => [children] => Array ( ) ) [8] => Array ( [id] => 77 [link] => https://book.coe.int/en/77-legal-instruments [name] => Legal instruments [desc] => [children] => Array ( ) ) [9] => Array ( [id] => 78 [link] => https://book.coe.int/en/78-themis-programme [name] => Themis Programme [desc] => [children] => Array ( ) ) [10] => Array ( [id] => 79 [link] => https://book.coe.int/en/79-computers-and-law [name] => Computers and law [desc] => [children] => Array ( ) ) ) ) [5] => Array ( [id] => 80 [link] => https://book.coe.int/en/80-health [name] => Health [desc] => [children] => Array ( [0] => Array ( [id] => 81 [link] => https://book.coe.int/en/81-health-and-society-ethics [name] => Health and society, Ethics [desc] => [children] => Array ( ) ) [1] => Array ( [id] => 82 [link] => https://book.coe.int/en/82-blood-transfusion-and-organ-transplantation [name] => Blood transfusion and organ transplantation [desc] => [children] => Array ( ) ) [2] => Array ( [id] => 83 [link] => https://book.coe.int/en/83-health-protection-of-the-consumer [name] => Health protection of the consumer [desc] => [children] => Array ( ) ) [3] => Array ( [id] => 84 [link] => https://book.coe.int/en/84-integration-of-people-with-disabilities [name] => Integration of people with disabilities [desc] => [children] => Array ( ) ) [4] => Array ( [id] => 85 [link] => https://book.coe.int/en/85-european-directorate-for-the-quality-of-medicines-and-healthcare-edqm [name] => European Directorate for the Quality of Medicines and HealthCare (EDQM) [desc] => [children] => Array ( ) ) ) ) [6] => Array ( [id] => 86 [link] => https://book.coe.int/en/86-society [name] => Society [desc] => [children] => Array ( [0] => Array ( [id] => 87 [link] => https://book.coe.int/en/87-demography [name] => Demography [desc] => [children] => Array ( ) ) [1] => Array ( [id] => 88 [link] => https://book.coe.int/en/88-trends-in-social-cohesion-series [name] => Trends in Social Cohesion Series [desc] => [children] => Array ( ) ) [2] => Array ( [id] => 89 [link] => https://book.coe.int/en/89-responses-to-violence-in-everyday-life-in-a-democratic-society-series [name] => Responses to violence in everyday life in a democratic society Series [desc] => [children] => Array ( ) ) [3] => Array ( [id] => 90 [link] => https://book.coe.int/en/90-drugs-and-addiction [name] => Drugs and addiction [desc] => [children] => Array ( ) ) [4] => Array ( [id] => 91 [link] => https://book.coe.int/en/91-social-security [name] => Social Security [desc] => [children] => Array ( ) ) [5] => Array ( [id] => 92 [link] => https://book.coe.int/en/92-community-relations [name] => Community relations [desc] => [children] => Array ( ) ) [6] => Array ( [id] => 93 [link] => https://book.coe.int/en/93-social-co-operation-in-europe [name] => Social co-operation in Europe [desc] => [children] => Array ( ) ) [7] => Array ( [id] => 94 [link] => https://book.coe.int/en/94-population-studies-series [name] => Population Studies Series [desc] => [children] => Array ( ) ) ) ) [7] => Array ( [id] => 95 [link] => https://book.coe.int/en/95-environment [name] => Environment [desc] => [children] => Array ( [0] => Array ( [id] => 96 [link] => https://book.coe.int/en/96-nature-and-environment-series [name] => Nature and environment Series [desc] => [children] => Array ( ) ) [1] => Array ( [id] => 97 [link] => https://book.coe.int/en/97-environmental-encounters-series [name] => Environmental Encounters Series [desc] => [children] => Array ( ) ) [2] => Array ( [id] => 98 [link] => https://book.coe.int/en/98-territory-and-landscape-series [name] => Territory and Landscape Series [desc] => [children] => Array ( ) ) [3] => Array ( [id] => 99 [link] => https://book.coe.int/en/99-european-regional-planning-series [name] => European Regional Planning Series [desc] => [children] => Array ( ) ) [4] => Array ( [id] => 100 [link] => https://book.coe.int/en/100-environment-general-publications [name] => Environment / General publications [desc] => [children] => Array ( ) ) ) ) [8] => Array ( [id] => 101 [link] => https://book.coe.int/en/101-local-and-regional-democracy [name] => Local and Regional Democracy [desc] => [children] => Array ( [0] => Array ( [id] => 102 [link] => https://book.coe.int/en/102-co-operation-for-local-and-regional-democracy [name] => Co-operation for Local and Regional Democracy [desc] => [children] => Array ( ) ) [1] => Array ( [id] => 103 [link] => https://book.coe.int/en/103-local-and-regional-authorities-in-europe-series [name] => Local and Regional Authorities in Europe Series [desc] => [children] => Array ( ) ) [2] => Array ( [id] => 104 [link] => https://book.coe.int/en/104-structure-and-operation-of-local-and-regional-democracy-series [name] => Structure and operation of Local and Regional Democracy Series [desc] => [children] => Array ( ) ) ) ) [9] => Array ( [id] => 105 [link] => https://book.coe.int/en/105-education [name] => Education [desc] => [children] => Array ( [0] => Array ( [id] => 406 [link] => https://book.coe.int/en/406-education-policy [name] => Education policy [desc] => [children] => Array ( ) ) [1] => Array ( [id] => 108 [link] => https://book.coe.int/en/108-human-rights-democratic-citizenship-and-interculturalism [name] => Human rights, democratic citizenship and interculturalism [desc] => [children] => Array ( ) ) [2] => Array ( [id] => 112 [link] => https://book.coe.int/en/112-higher-education-and-research [name] => Higher education and research [desc] => [children] => Array ( ) ) [3] => Array ( [id] => 110 [link] => https://book.coe.int/en/110-secondary-education [name] => Secondary education [desc] => [children] => Array ( ) ) [4] => Array ( [id] => 107 [link] => https://book.coe.int/en/107-history-teaching [name] => History teaching [desc] => [children] => Array ( ) ) [5] => Array ( [id] => 106 [link] => https://book.coe.int/en/106-pestalozzi-series [name] => Pestalozzi series [desc] => [children] => Array ( ) ) ) ) [10] => Array ( [id] => 113 [link] => https://book.coe.int/en/113-languages [name] => Languages [desc] => [children] => Array ( [0] => Array ( [id] => 114 [link] => https://book.coe.int/en/114-language-learning-ecml-graz [name] => Language learning (ECML, Graz) [desc] => [children] => Array ( ) ) [1] => Array ( [id] => 115 [link] => https://book.coe.int/en/115-language-policy [name] => Language policy [desc] => [children] => Array ( ) ) [2] => Array ( [id] => 116 [link] => https://book.coe.int/en/116-regional-and-minority-languages [name] => Regional and minority languages [desc] => [children] => Array ( ) ) [3] => Array ( [id] => 117 [link] => https://book.coe.int/en/117-terminology [name] => Terminology [desc] => [children] => Array ( ) ) ) ) [11] => Array ( [id] => 118 [link] => https://book.coe.int/en/118-youth [name] => Youth [desc] => [children] => Array ( [0] => Array ( [id] => 119 [link] => https://book.coe.int/en/119-training-kits-youth [name] => Training Kits / Youth [desc] => [children] => Array ( ) ) [1] => Array ( [id] => 120 [link] => https://book.coe.int/en/120-national-youth-policies [name] => National Youth Policies [desc] => [children] => Array ( ) ) [2] => Array ( [id] => 121 [link] => https://book.coe.int/en/121-youth-other-publications [name] => Youth / Other publications [desc] => [children] => Array ( ) ) [3] => Array ( [id] => 396 [link] => https://book.coe.int/en/396-perspectives-on-youth [name] => Perspectives on youth [desc] => [children] => Array ( ) ) ) ) [12] => Array ( [id] => 122 [link] => https://book.coe.int/en/122-culture [name] => Culture [desc] => [children] => Array ( [0] => Array ( [id] => 123 [link] => https://book.coe.int/en/123-cultural-development [name] => Cultural development [desc] => [children] => Array ( ) ) [1] => Array ( [id] => 124 [link] => https://book.coe.int/en/124-cultural-heritage [name] => Cultural heritage [desc] => [children] => Array ( ) ) [2] => Array ( [id] => 125 [link] => https://book.coe.int/en/125-cultural-policies [name] => Cultural Policies [desc] => [children] => Array ( ) ) [3] => Array ( [id] => 126 [link] => https://book.coe.int/en/126-culture-and-neighbourhoods [name] => Culture and neighbourhoods [desc] => [children] => Array ( ) ) ) ) [13] => Array ( [id] => 127 [link] => https://book.coe.int/en/127-sport [name] => Sport [desc] => [children] => Array ( [0] => Array ( [id] => 128 [link] => https://book.coe.int/en/128-sports-monographs [name] => Sports - Monographs [desc] => [children] => Array ( ) ) ) ) [14] => Array ( [id] => 129 [link] => https://book.coe.int/en/129-communication [name] => Communication [desc] => [children] => Array ( [0] => Array ( [id] => 130 [link] => https://book.coe.int/en/130-mass-media [name] => Mass media [desc] => [children] => Array ( ) ) [1] => Array ( [id] => 131 [link] => https://book.coe.int/en/131-european-audiovisual-observatory [name] => European Audiovisual Observatory [desc] => [children] => Array ( ) ) [2] => Array ( [id] => 132 [link] => https://book.coe.int/en/132-new-information-technologies [name] => New information technologies [desc] => [children] => Array ( ) ) ) ) [15] => Array ( [id] => 133 [link] => https://book.coe.int/en/133-european-issues [name] => European issues [desc] => [children] => Array ( [0] => Array ( [id] => 134 [link] => https://book.coe.int/en/134-activities-annual-report [name] => Activities Annual Report [desc] => [children] => Array ( ) ) [1] => Array ( [id] => 135 [link] => https://book.coe.int/en/135-democracy-debates [name] => Democracy Debates [desc] => [children] => Array ( ) ) [2] => Array ( [id] => 136 [link] => https://book.coe.int/en/136-european-debates [name] => European debates [desc] => [children] => Array ( ) ) [3] => Array ( [id] => 137 [link] => https://book.coe.int/en/137-books-on-europe [name] => Books on Europe [desc] => [children] => Array ( ) ) [4] => Array ( [id] => 138 [link] => https://book.coe.int/en/138-other-fields [name] => Other fields [desc] => [children] => Array ( ) ) [5] => Array ( [id] => 373 [link] => https://book.coe.int/en/373-catalogues-of-publications [name] => Catalogues of publications [desc] => [children] => Array ( ) ) ) ) ) ) ) ) 1
Catalog
Newsletter
Stay informed
Subscribe to our newsletter
Subscribe to our newsletter
PDF - Rethinking progress and ensuring a secure future for all: what we can learn from the crisis (Trends in social cohesion n°22)
(2011)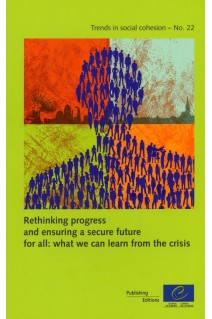  
Europe is bearing the full load of globalisation. Besides population movements on an unprecedented scale, awareness of our interdependence and competition for natural resources are increasing. These changes affect not only institutions and individuals on social and economic grounds, but also, more decisively, public opinion. People have a vague sense of insecurity, fear and anxiety, fuelling doubts about the future: never before has confidence been so lacking in the modern era.This anxiety is spreading across Europe. The deterioration of the global ecosystem and the unfair distribution of goods have created inequalities and social injustice. Unemployment levels are soaring and debt is increasing for households - including those whose members work - and states alike. Weakened by the recent financial crisis, states are hard put to preserve the social protection provided since the Second World War.Against this background, the Council of Europe has asked several noted intellectuals about their vision for the future, inviting them to share their thoughts in order to spark a debate on how to envisage societal progress and ways of living together.
Foreword
Introduction
Preface
The idea of progress
The economic crisis as a crisis of civilisation
Conceiving the social bond and the common good through a refinement of human rights
What, if anything, may we mean by "progressive" politics today?       
Europe AD 2010: challenges, prospects, tasks
Relearning progress and faith in the future institutionalisation of plurality
Common assets and environment: the future contribution of consumption to progress and well-being
How to democratise power? Reflections on the financial crisis