European issues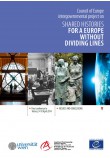 PDF - Shared histories for a Europe without dividing lines - Final conference (2014)
ISBN 130614GBR
Type of document : Proceedings
Format : PDF
Size : 6.61 MB
Language : English
Number of pages : 98
Other available languages
> French
The Council of Europe four years intergovernmental project Shared histories for a Europe without dividing lines was completed in 2014. It addresses three main concerns:
• to raise awareness of the common historical heritage of the member states,
• to contribute, through a better understanding of historical interactions and convergences of all kinds, to conflict prevention and support for processes of reconciliation,
• to put into action the Council of Europe Committee of MInisters' and Parliamentary Assembly's recommendations on history teaching.

This publication contains the results of the project, introduced at the Final Conference which took place in Vienna University in April 2014.