Human Rights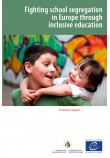 epub - Fighting school segregation in Europe through inclusive education (2017)
Commissioner for Human Rights
ISBN 105017GBR_epub
Type of document : Document
Format : Epub
Size : 182 KB
Language : English
Number of pages : 34
Other available formats
> PDF file
School segregation still deprives many children of quality education

School segregation – one of the worst forms of discrimination – is still an unfortunate reality in Europe today. Its negative consequences affect in particular Roma children, children with disabilities, children with a migrant background and other children due to their social or personal circumstances (such as children living in institutions and children in the juvenile justice system). Despite existing anti-discrimination legislation and policies, the practice of separating groups of pupils in specific schools or classes may even be growing, including as a result of the current increase in the arrival of migrants and refugees in Europe.

Many states have adopted important measures to build more inclusive education systems and to guarantee the right of all children to education without discrimination. In practice, however, authorities at national and local level do not always abide by their obligations and often yield to pressure from different sources, including from school administrations, teachers and other professionals and from families.

Inclusive education should not be considered a utopian project. It is an achievable goal that has huge potential for improving social cohesion, intercultural relations and the educational opportunities of all children.
INTRODUCTION
I. SCHOOL SEGREGATION IN COUNCIL OF EUROPE MEMBER STATES: THE STATE OF PLAY
     1. Overview of segregation in the member states
     2. Main causes of segregation
II. THE CONSEQUENCES OF EDUCATING SEPARATELY
III. KEY PRINCIPLES FOR AN INCLUSIVE EDUCATION POLICY
     1. An expanded vision of the right to education
     2. The right to and the rights in education
     3. Education as a public responsibility
     4. Regulating school choice
     5. All children can learn
IV. MOVING TOWARDS INCLUSIVE EDUCATION: CONCLUSIONS AND RECOMMENDATIONS
     1. Ensuring a comprehensive legal prohibition of discrimination
     2. Adopting a school desegregation strategy
     3. Raising awareness of inclusive education
     4. Ensuring quality of education in all schools
     5. Planning educational supply with an inclusive lens
     6. Regulating and monitoring school admissions
     7. Prohibiting testing as a selection tool
     8. Assessing student needs
     9. Balancing the distribution of students from vulnerable groups
     10. Defining socially balanced school districts
     11. Allocating the best teachers to the most challenging schools
     12. Promoting parental participation in the school
APPENDIX – INTERNATIONAL REFERENCE DOCUMENTS
     International organisations
     Other references