Education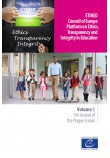 PDF - ETINED - Council of Europe Platform on Ethics, Transparency and Integrity in Education - Volume 1 – 7th Session of the Prague Forum (2016)
ISBN 978-92-871-8382-8
Type of document : Book
Format : PDF
Size : 2.33 MB
Language : English
Number of pages : 196
Other available languages
> French
Other available formats
> Paper book
A quality education must be free of corruption!

Further to the clear political commitment made by the European Ministers of Education at the Helsinki Ministerial Conference in April 2013, the Council of Europe launched its Platform on Ethics, Transparency and Integrity in Education, ETINED. ETINED is a network of specialists representing the 50 States Parties to the European Cultural Convention, which carries out initiatives at European, regional and national level to take effective action against corruption and encourage all the relevant stakeholders in society to commit fully to a set of fundamental ethical principles for public and professional life.
This publication reflects the discussions held at the 7th Session of the Prague Forum and provides strong evidence of the drive in Europe to promote high quality, corruption-free education based on common ethical principles. Offering many national examples and good practice in this area, it also raises several issues relating to the ethical behaviour of all education players, academic integrity and plagiarism, and the problem of the recognition of qualifications obtained by distance and online learning. It also covers how ETINED came into being, how it has developed and how it is applied in various countries.
INTRODUCTION
PROGRAMME OF THE 7TH SESSION OF THE PRAGUE FORUM
PART I: PRESENTATIONS MADE AT THE PRAGUE FORUM
LAUNCH OF THE PLATFORM
"SETTING THE FRAMEWORK: THE WORK OF THE COUNCIL OF EUROPE IN THE FIELD". AN INTRODUCTION TO THE WORK ON ETHICS, TRANSPARENCY AND INTEGRITY IN EDUCATION DONE BY THE COUNCIL OF EUROPE
WORKING GROUP A: ETHICAL BEHAVIOUR OF ALL ACTORS IN EDUCATION
WORKING GROUP B: ACADEMIC INTEGRITY/PLAGIARISM
WORKING GROUP C: RECOGNITION OF QUALIFICATIONS
PRESENTATION OF THE GENERAL REPORT OF THE FORUM
"INSPIRATION FOR THE FUTURE – THE ESSENTIALS OF EDUCATING THE COMMUNITY"
BIOGRAPHICAL NOTES
PART II: CONTRIBUTIONS FROM MEMBER STATES
ALBANIA
AZERBAIJAN
BELGIUM (FLEMISH COMMUNITY)
BULGARIA
CYPRUS
FRANCE
Teaching and education professions: reference framework of professional competences and the ethical dimension
Situation regarding the recent measures for combating fraud in the education sector, examination fraud in particular
National Ethical Charter for the research professions
HUNGARY
ITALY
Transparency in the evaluation of learning outcomes and relationships
LITHUANIA
Reform of academic recognition of foreign qualifications system in Lithuania
LUXEMBOURG
ROMANIA
RUSSIA
SLOVENIA
UKRAINE