Communication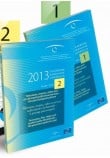 European Audiovisual Observatory: Yearbook 2013 - Collection of Volumes 1 and 2 - Television, cinema, video and on-demand audiovisual services in Europe, 19th edition (2014)
European Audiovisual Observatory
ISBN 978-92-871-7763-6
Type of document : Book
Format : Paper
Size : A4
Language : English
Number of pages : 592
Other available languages
> French
The Yearbook 2013 - a precise and comprehensive picture of the situation of the European audiovisual markets and industry in 39 European States. This is the 19th edition of this reference publication and provides figures and analyses on the position of the European audiovisual industry on the global market, on the developments of distribution platforms, television services and on-demand audiovisual services and on the European cinema and physical video market. For the first time, this Yearbook provides an analysis of the position of European fiction in the programming of television channels in the United States. It is composed of two volumes:
Volume 1 is dedicated to 39 national audiovisual media landscapes across Europe.
Volume 2 is the thematic approach to audiovisual media across Europe.
Trilingual edition (English, French and German)
Yearbook Volume 1
Television, cinema, video and on-demand audiovisual services in 39 European States
Unique selection of 39 country reports:
Summary of the national television landscape and latest developments
Household equipment
Advertising
Main market players
Financing of the public audiovisual media sector
Audiovisual services (television, on-demand audiovisual services)
Market trends
TV audience market share
Film market data
Video
List of tables and graphs of Volume 1 (as published in the Online Premium Service).
Yearbook Volume 2
Television, cinema, video and on-demand audiovisual services - the pan-European picture
The main chapters:
The world audiovisual landscape
The distribution infrastructure of audiovisual services
The economic trends of the broadcasting sector
Television services
Programming of European fiction on American channels
On-demand audiovisual services
The film industry 
Physical video market