Languages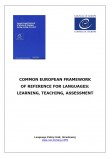 PDF - Common European Framework of Reference for Languages: Learning, Teaching and Assessment (2017)
ISBN CECRL_GBR
Type of document : Document
Format : PDF
Size : 1.14 MB
Language : English
Number of pages : 273
Other available languages
> French
The Common European Framework provides a common basis for the elaboration of language syllabuses, curriculum guidelines, examinations, textbooks, etc. across Europe. It describes in a comprehensive way what language learners have to learn to do in order to use a language for communication and what knowledge and skills they have to develop so as to be able to act effectively. The description also covers the cultural context in which language is set. The Framework also defines levels of proficiency which allow learners' progress to be measured at each stage of learning and on a life-long basis.

This restructured version of the Common European Framework of reference for language learning, teaching and assessment represents the latest stage in a process which has been actively
pursued since 1971 and owes much to the collaboration of many members of the teaching
profession across Europe and beyond.
You can download the document here
Prefatory Note
Notes for the user
Synopsis
Chapter 1: The Common European Framework in its political and educational context
Chapter 2: Approach adopted
Chapter 3: Common Reference Levels
Chapter 4: Language use and the language user/learner
Chapter 5: The user/learner's competences
Chapter 6: Language learning and teaching
Chapter 7: Tasks and their role in language teaching
Chapter 8: Linguistic diversification and the curriculum
Chapter 9: Assessment
General Bibliography
Appendix A: developing proficiency descriptors
Appendix B: The illustrative scales of descriptors
Appendix C: The DIALANG scales
Appendix D: The ALTE 'Can Do' statements
Index