Law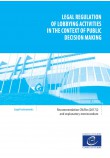 PDF - Legal regulation of lobbying activities in the context of public decision making (Recommendation CM/Rec(2017)2 and explanatory memorandum) (2017)
ISBN 978-92-871-8439-9PDF
Type of document : Book
Format : PDF
Size : 470 KB
Language : English
Number of pages : 37
Other available languages
> French
Other available formats
> Paper book
Recommendation CM/Rec(2017)2, accompanied by its explanatory memorandum, aims to promote transparency of lobbying in public decision making. It outlines the principles that member States of the Council of Europe are invited to apply in the manner most appropriate to their specific national circumstances.
Lobbying is an important and legitimate part of the democratic process within political systems. It concerns all social and economic actors, public and private. Thus, public concern over lobbying activities is growing and there is a wish to make them transparent.
The challenges and the impact of lobbying on public decision making are significant and it is only right that lobbyists should follow certain rules when trying to influence public officials and the political decision-making process, whether they be business lobbyists or civil society organisations. The aim of these rules is to strengthen transparency, accountability and public confidence in political systems. They may even serve as a basis for wider public participation in public life and public decision making. Without proper regulation, democratic principles and good governance may be undermined.
RECOMMENDATION CM/REC(2017)2
EXPLANATORY MEMORANDUM
Introduction
Definitions
A. Objective of legal regulation
B. Activities subject to legal regulation
C. Freedom of expression, political activities and participation in public life
D. Transparency
E. Public registers of lobbyists
F. Standards of ethical behaviour for lobbyists
G. Sanctions
H. Public sector integrity
I. Oversight, advice and awareness
J. Review