Law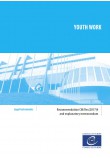 PDF - Youth work - Recommendation CM/Rec(2017)4 and explanatory memorandum (2017)
ISBN 978-92-871-8532-7
Type of document : Book
Format : PDF
Size : 448 KB
Language : English
Number of pages : 34
Other available languages
> Bosnian > French
Other available formats
> Paper book
This recommendation applies to youth work in all its diversity. It aims to encourage member States to develop their youth work policy and practice within their sphere of competence and invites them to adopt a range of measures that will strengthen the necessary support for youth work at local, regional, national and European levels.
Youth work is a broad term covering a wide variety of activities of a social, cultural, educational, environmental and/or political nature by, with and for young people, in groups or individually.
Youth work is delivered by paid and volunteer youth workers and is based on non-formal and informal learning processes focused on young people and on voluntary participation.
Youth work is quintessentially a social practice, working with young people and the societies in which they live, facilitating young people's active participation and inclusion in their communities and in decision making.
RECOMMENDATION CM/REC(2017)4
EXPLANATORY MEMORANDUM
     I. Introduction
     II. The drafting process
     III. Why a recommendation on youth work?
     IV. A vision for youth work in Europe
     V. What does the recommendation include?
     V. Follow-up
GLOSSARY