Education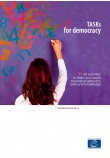 TASKs for democracy (Pestalozzi series No. 4) (2015)
ISBN 978-92-871-8001-8
Type of document : Book
Format : Paper
Size : A4
Language : English
Number of pages : 336
TASKs for democracy – 60 activities to learn and assess transversal attitudes, skills and knowledge is a handbook for practitioners in formal and non-formal educational settings developed within the Pestalozzi Programme Community of Practice.
It contains a rationale for the necessity to focus on competences for democracy in all areas of education, an explanation of what transversal attitudes, skills and knowledge mean and why they are important for and should be taken on board by all education professionals.
A list of components forms the heart of the publication, describing the core attitudes, skills and knowledge which need to be developed by every individual in order to be able to live in and to contribute to the development and maintenance of democratic societies in their full diversity. The collection of learning and "re-learning" activities will help practitioners to promote the development of these components in their day-to-day educational practice.
Contents

ACKNOWLEDGEMENTS
FOREWORD
          Josef Huber, series editor
INTRODUCTION
          Ildikó Lázár and Pascale Mompoint-Gaillard
PART ONE – PRINCIPLES AND PEDAGOGICAL APPROACHES
          Transversal attitudes, skills and knowledge (TASKs) – What are they and why are they important?
          Ildikó Lázár
          How to integrate TASKs in everyday practice
          Pascale Mompoint-Gaillard
          How does co-operative learning contribute to the prevention of discrimination and violence in schools?
          Ferenc Arató
PART TWO – TOOLBOX
          TASKs for democracy: core components of competences for democracy
          Pascale Mompoint-Gaillard
          Learning and training activities
          Ildikó Lázár and Pascale Mompoint-Gaillard
          On the importance of debriefing: a sample activity described in detail
          Pascale Mompoint-Gaillard
          Activities 1-6 – 15-25 minutes
          Activities 7-11 – 30-45 minutes
          Activities 12-20 – 60 minutes
          Activities 21-26 – 90 minutes
          Activities 27-36 – 120 minutes
          Activities 37-41 – 150 minutes
          Activities 42-50 – 180 minutes
          Activities 51-54 – Session evaluation activities
          Activities for recognising learning with regard to developing democratic competences
          Pascale Mompoint-Gaillard
FURTHER READING AND RESOURCES
ABOUT THE AUTHORS
APPENDIX
INDEX OF ACTIVITIES