Youth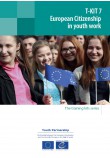 T-Kit 7 - European Citizenship in youth work (Revised edition) (2018)
Editor: Mara Georgescu Authors of the revised edition: Paola Bortini & Miguel Ángel García López
ISBN 978-92-871-8484-9
Type of document : Book
Format : Paper
Size : A4
Language : English
Number of pages : 96
Other available formats
> PDF file
At what level should young people engage in society? What impact can local youth organisations have, when faced with massive European or even global issues?

The concept of European Citizenship is deeply connected with the ideals of democracy, participation and human rights in Europe and beyond. On the one hand, many young people express those ideals in multiple ways, as active citizens, outside and inside formal democratic structures. On the other hand, it is still a challenge to stimulate many young people to engage more in society and feel concerned by wider European or global processes.
This T-Kit was written to find ways to stimulate young people to engage more in society, thus exploring citizenship, and to support them as they develop their sense of belonging to the wider community, Europe, as they become concerned about, and committed to, its values, its present and its future.
PREFACE
A word about language
1. INTRODUCTION
Approach
Structure and contents
2. ABOUT CITIZENSHIP
An ongoing quest
Current forms
3. A SOCIAL PRACTICE
The political, social, cultural and economic dimensions
The senses of belonging: a personal approach
A dynamic, complex and integral concept
4. YOUTH WORK AND EUROPEAN CITIZENSHIP
Young people's learning
5. BUILDING EUROPE TOGETHER
Concept and practice mutually feed each other
Beyond stereotypical representations
Voluntarily chosen status that becomes a social role
Human rights as the basis of European Citizenship
Citizen–citizen relations and civil society
Shared criteria of identity
Sense of belonging
Europe as collective memories – or ongoing construction
Europe as a mental territory
Culture as plastic, political, contingent
Present and future-oriented
Construct, deconstruct, reconstruct
6. OPEN QUESTIONS FROM YOUTH WORK PRACTICE
Informal learning of citizenship
The role of the community
Multiple identities
National heritage and Europe
Europe and the rest of the world
The role of faiths and religions
7. EDUCATION FOR CITIZENSHIP
Communitarian or civic republican understandings of education for citizenship
Individualist understandings of education for citizenship
Educational activities for European Citizenship
Starters
Exploring participants' views
Going deeper…
8. OTHER EDUCATIONAL ACTIVITIES ON EUROPEAN CITIZENSHIP THEMES
A tale of two cities
A mosque in Sleepyville
Can I come in?
Dreams
Euro-rail "à la carte"
Force the circle
How can we respect and live together with minorities?
Let every voice be heard
Limit 20
Making links
On the ladder
Tales of the world
To vote, or not to vote?
Trade union meeting
9. CITIZENSHIP IN EUROPE: ELEMENTS FOR A HISTORY
Citizenship in the ancient world
The Middle Ages
The European Enlightenment
The liberal understanding of citizenship
Revolutions
The nation state
Human rights are older than you might think…
Women
Citizenship in Europe since 1945
10. CALL TO ACTION AND REACTION
11. RELEVANT INSTITUTIONAL WORK ON CITIZENSHIP
Council of Europe
European Union
EU–Council of Europe youth partnership
12. BIBLIOGRAPHY