Youth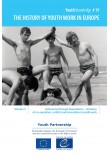 e-pub - The history of youth work in Europe, Volume 5 - Autonomy through dependency – Histories of co-operation, conflict and innovation in youth work (2016)
Lasse Siurala, Filip Coussée, Leena Suurpää and Howard Williamson (eds)
ISBN 978-92-871-8303-3
Type of document : Book
Format : Epub
Size : 801 KB
Language : English
Number of pages : 190
Other available formats
> PDF file > Paper book
The "History of youth work in Europe" series aims to achieve better understanding of current challenges in youth work and youth policy. Volume 5 addresses questions like: How have government policies and administrative practices over the past few decades affected youth work? What kind of strategies has youth work developed to react to them and to create a positive space for work with young people? Can educational approaches of youth work, like social pedagogy, help mediate between young people in their ever-changing lives and society? Co-operation between youth policy, youth research and youth work has been called "the Magic Triangle" – but is the magic still there?
This publication discusses these and other topics from a variety of perspectives. The authors come not only from Europe, but also from the USA, Australia and South Africa, providing a refreshing, comparative reflection on youth work issues and opportunities, which is revealed to be global in nature. They also have diverse and varied backgrounds in youth research, youth work, youth policy making and youth worker training. This comparative historical perspective puts some of the pieces of the "youth work puzzle" together, while many are left unconnected. It also becomes apparent that there is an element of randomness in the historical development of youth work. Many structures, policies, approaches and methods are not "historically necessary". Rather, many things could have come out differently. This volume on the history of youth work provides many readings: it provides a rich collection of national youth histories to complement and build upon the four earlier volumes, and histories and analyses of youth work for readers to compare with their own experience, sharpen their critical view and inspire their thinking.
Contents
PREFACE
PART I – MAKING YOUTH WORK MATTER: JAMMED STRATEGIES AND BLINKS OF HOPE
     Introduction
     Chapter 1 – Crafting the space between either and or: attending to the role of words, young people and public will
PART II – THE RISE AND FALL OF INTEGRATED YOUTH POLICIES
     Introduction
     Chapter 2 – The history of youth clubs in Iceland
     Chapter 3 – The genesis of youth policy: a case study of Finland
     Chapter 4 – From defence to human rights: the impact of youth policy on the professionalisation of youth work in Victoria, Australia
PART III – THE "MAGIC TRIANGLE": BALANCING AUTONOMY AND DEPENDENCY IN THE INTERESTS OF YOUTH WORK
     Introduction
     Chapter 5 – Autonomy, dependency, key actors and youth organisations in interwar Estonia
     Chapter 6 – Observations on the so-called "magic triangle" or: where has all the magic gone?
PART IV – HALF BOY AND HALF MAN
     Introduction
     Chapter 7 – Youth work curriculum in Northern Ireland: a history
     Chapter 8 – The importance of Aristotle's phronesis in resisting instrumentality in youth work in England
     Chapter 9 – Building alliances, taking sides: the effects of strong governmental guidance and control
PART V – NEGOTIATING SPACE IN THE MARGINS
     Introduction
     Chapter 10 – Youth work as interstitial practice between borders: a historical perspective on French animation
     Chapter 11 – Lifeworlds, spaces and citizenship: social pedagogy and youth work as mediating professions
     Chapter 12 – Autonomy through dependency: histories of co-operation, conflict and innovation in youth work
PART VI – CONCLUSIONS
     Chapter 13 – Bridging youth work, but on whose terms?