Human Rights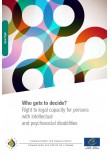 PDF - Who gets to decide? Right to legal capacity for persons with intellectual and psychosocial disabilities (2012)
Council of Europe Commissioner for Human Rights
ISBN 39912GBR
Type of document : Document
Format : PDF
Size : 712 KB
Language : English
Number of pages : 38
Other available languages
> French
The right of persons with disabilities to make choices about their lives and enjoy legal capacity on an equal basis with others is one of the most significant human rights issues in Europe today. Being recognised as someone who can make decisions is instrumental in taking control over one's life and participating in society with others.
This Issue Paper describes the challenges faced by Council of Europe member states in dealing with the issue. These include the flaws of current guardianship systems and procedures, the automatic loss of human rights of those placed under guardianship regimes and the pressing need to develop support alternatives giving persons with disabilities equal opportunities to shape their life paths. The paper outlines the applicable international human rights framework, including the UN Convention on the Rights of Persons with Disabilities and the relevant case-law of the European Court of Human Rights. It concludes with examples of good practice to show the way forward.
The Commissioner's Recommendations on legal capacity are published at the beginning of the document.
Summary
The Commissioner's recommendations
1.    Introduction
1.1.  What is legal capacity?  
1.2.  Why is legal capacity important?  
2. European challenges
2.1. Incapacitation procedures and guardianship systems  
2.2. Automatic loss of human rights  
2.3. Lack of support alternatives  
3.   Equal rights for persons with disabilities: a paradigm shift
3.1. Understanding disability in the human rights context  
3.2. Equality in the disability context  
4.    Human rights standards on legal capacity
4.1.   The Convention on the Rights of Persons with Disabilities: equality before the law  
4.2.   The European Convention on Human Rights
5. The way forward
5.1. Reform of existing systems  
5.2. Development of adequate support
List of references