Bookshop or sales agent? Don't hesitate to contact us at
[email protected]
to inquire about discounts.
Child sexual abuse in Europe
(2003)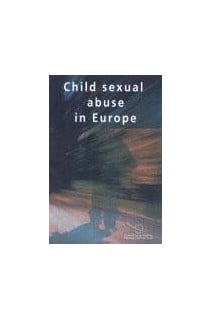  
Child sexual abuse and exploitation are significant problems in Europe today and it is estimated that between 10% and 20% of children are sexually assaulted during their childhood. There are many forms of abuse including incest, prostitution, pornography, date rape, peer sexual violence and institutional sexual abuse, and all are considered abnormal sexual behaviour. Since the 1996 Stockholm World Congress considerable progress has been made in developing measures to combat the sexual abuse and exploitation of children but there is still a long way to go, particularly because the crime usually happens in private and victims are often threatened or sworn to secrecy. Child sexual abuse in Europe offers a pan-European perspective on the issue, drawing on the rapidly growing evidence base and current policy. Individual country case studies highlight the difficulties facing Germany, Poland, Romania and the UK and key issues facing all countries are discussed. What known treatments are there to help prevent perpetrators from reoffending? How are cases dealt with in comparative legal processes? How can children and their families best be helped therapeutically? All of these questions are addressed by the European researchers and practitioners who have contributed to this book, which will be of interest to parents, teachers, social workers and all those who are interested in seeing how children's rights can be protected.
Foreword
Guy de Vel, Director General of Legal Affairs, Council of Europe
About the authors
Part 1 – Overview of the problem of child sexual abuse
     Chapter 1 – Introduction and overview of child sexual abuse in Europe
     Corinne May-Chahal and Maria Herczog
     Chapter 2 – Addressing sexual exploitation in the pan-European community
     Stewart Asquith
Part 2 – Country case studies
     Chapter 3 – Sexually abused children in Romania
     Maria Roth and Sorina Bumbulut
     Chapter 4 – Recognition and prevention of child sexual abuse in Germany
     Ute Thyen and Irene Johns
     Chapter 5 – Child sexual abuse in Poland: the process of uncovering a social problem
     Monika Sajkowska
     Chapter 6 – Child sexual abuse in England
     Ilan Katz
Part 3 – Key issues in responding to child sexual abuse
     Chapter 7 – Perpetrators and victims of child sexual abuse: identifying the legal obstacles to rehabilitation in three European countries
     María Angeles Cerezo, Kieran McGrath and Francien Lamers-Winkelman
     Chapter 8 – Therapeutic help for victims and their families
     Marc Gérard and Louisette de Ryck
     Chapter 9 – Working with perpetrators
     Friedemann Pfäfflin
     Chapter 10 – Collection and use of personal information on child sex offenders
     Terry Thomas
     Chapter 11 – Telephone helplines for children and young people
     Sarah Williams
Conclusion – towards effective responses
Corinne May-Chahal and Maria Herzcog
Appendices
Appendix A – European telephone helplines for children and young people
Appendix B – Recommendation Rec(2001)16 of the Committee of Ministers to member states on the protection of children against sexual exploitation
Appendix C – Extract from the Convention on Cybercrime
Bibliography and references