Bookshop or sales agent? Don't hesitate to contact us at
[email protected]
to inquire about discounts.
PDF - Integrated Management Tools in South East Europe
(2008)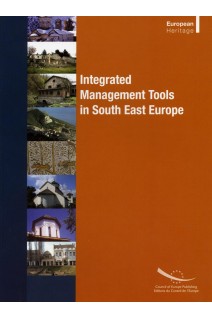  
As part of the Institutional Capacity Building Plan, which is the first of the three components of the Regional Programme for Cultural and Natural Heritage in South-East Europe launched in 2003, a "transnational theme-based debate" was organised. The second step in this debate stemmed from an assessment of requests from the countries/regions participating in the Regional Programme: Albania, Bosnia and Herzegovina, Bulgaria, Croatia, Kosovo/ UNMIK, Montenegro, Romania, Serbia and "the former Yugoslav Republic of Macedonia".The first step was concerned with current heritage policies and legislation. Its aim was to take stock of the position regarding legislative reforms and heritage policies in the countries of South-East Europe. It also highlighted the need for an in-depth analysis of certain key areas where difficulties still arose in implementation.The second step was concerned with tools for integrated management of the cultural and natural heritage, in the broad sense of the term "heritage" (the concept of cultural environment). It linked together three key topics previously identified:- documentation systems;- incorporating the heritage dimension in environment, regional development and town planning documents;- permits, controls and penalties related to heritage conservation work.The focus in this second step remained on the basic concept of "integrated conservation" of the cultural and natural heritage.
Foreword
Introduction
Part 1
National reports
Albania
1. Documentation systems
2. Integrated management studies, plans and regulations
3. Authorisation, supervision and penalties
Bosnia and Herzegovina
1. Documentation systems
2. Integrated management studies, plans and regulations
3. Authorisation, supervision and penalties
Bulgaria
1. Documentation systems
2. Integrated management studies, plans and regulations
3. Authorisation, supervision and penalties
Croatia
1. Documentation systems
2. Integrated management studies, plans and regulations
3. Authorisation, supervision and penalties
Montenegro
1. Documentation systems
2. Integrated management studies, plans and regulations
3. Authorisation, supervision and penalties
Romania
1. Documentation systems
2. Integrated management studies, plans and regulations
3. Authorisation, supervision and penalties
Serbia
1. Documentation systems
2. Integrated management studies, plans and regulations
3. Authorisation, supervision and penalties
"The former Yugoslav Republic of Macedonia"
1. Documentation systems
2. Plans for integrated management and regulations
3. Authorisation, supervision and penalties
PART 2
CHARACTERISATION AND DOCUMENTATION SYSTEMS
Comparative summary of documentation systems - RPSEE countries
Examples of good practice in documentation

PART 3
ENVIRONMENTAL ASSESSMENT
Comparative summary of environmental assessments- RPSEE countries
Examples of good practice in environmental assessment
PART 4
SPATIAL AND URBAN PLANNING SCHEMES AND REGULATIONS
Comparative summary of spatial and urban planning systems - RPSEE countries
Examples of good practice in planning systems
PART 5
AUTHORISATION, CONSULTATION, SUPERVISION AND PENALTY PROCEDURES
Comparative summary of permit, control and sanctions procedures - RPSEE countries
Examples of good practice in authorisation and enforcement
PART 6
CONCLUSIONS
Appendix 1 - Questionnaire forming the basis for national reports
Appendix 2 - List of contributors