Bookshop or sales agent? Don't hesitate to contact us at
[email protected]
to inquire about discounts.
PDF - Europeans and their rights - Freedom of religion
(2007)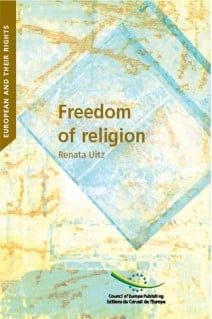  
The Universal Declaration of Human Rights and the European Convention on Human Rights proclaim that everyone has the right to freedom of thought, conscience and religion, including freedom to manifest their religion or belief in worship, teaching, practice and observance. Even today, in our democratic societies too, this fundamental right is still sometimes restricted and meets with hostility and intolerance.Using concrete examples, the author compares and analyses the protection of the right to freedom of religion in the case-law of European constitutional courts and of the European Court of Human Rights of the Council of Europe, in order to establish whether there is such a thing as general European law in this sphere.
1 - Introduction: Protection of freedom of religion or belief in European democracies
1.1. Freedom of religion in international documents and national constitutions in Europe
1.2. Secularity, tolerance and pluralism in European democracies
2 - Freedom of religion as an individual right
2.1. What amounts to religion or protected belief?
2.2. The scope of forum internum and protected manifestations of freedom of religion
Interference with the forum internum?
Revealing convictions: registration of religious affiliation
Refusing to take an oath: A decision within the forum internum or a proper manifestation of religious freedom?
Religious holiday, Sunday laws and faith-based days of rest
Manifestations of religious freedom: facially neutral limitations and the problem of ritual slaughter
Manifestations of religious freedom: refusing blood transfusion on grounds of conscience
2.3. Proselytism
2.4. Conscientious objection to military service
3 - Rights of religious communities and associations
3.1. The basis of church-state relations: Registering religious associations
Fundamental premises of religious association law
An overview of problems with conditions applicable to recognising religious organisations
Registration as a precondition of collective religious exercise
Proving social acceptance: membership criteria
Mandatory waiting periods
Further limitations of religious freedom stemming from legal defi nitions in regulations on religious association
Church autonomy: The role of religious perspectives in registration processes
3.2. Education and religious instruction
Introduction: parental rights and state duties
Denominational private schools
Religious education in public schools
Control over the educational environment and the prohibition of indoctrination
The right to be exempted from religious activities
Religious symbols in school: The limits of religious tolerance and pluralism
3.3. Accommodation in prisons and military establishments
Basic theoretical and practical problems with accommodation in restricted environments
Limitations of religious freedom in prisons and the military
Prohibition of taking advantage of a restricted environment
4 - Contemporary problems and challenges
4.1. The prohibition of blasphemy: Between freedom of expression and religious freedom
4.2. On the governmental obligation to protect against dangerous religions
New religious movements and the label of brainwashing
Enquete commissions and sect observatories
Select bibliography and suggested further reading