Bookshop or sales agent? Don't hesitate to contact us at
[email protected]
to inquire about discounts.
Reimagining democratic societies: a new era of personal and social responsibility (Council of Europe higher education series No. 18)
(2013)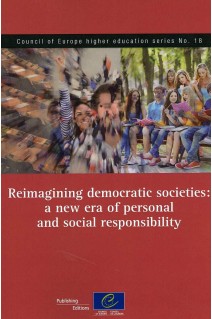  
Reimagining democratic societies, although a demanding task, is one in which higher education must engage. As societies change, our understanding of democracy must also evolve. We need democratic institutions, but also democratic culture and democratic innovation. Citizen participation, as a cornerstone of democracy, must go beyond citizen mobilisation on just a few issues. An educated, committed citizenry deeply involved in creating and sustaining diverse democratic societies is essential for human progress and advancing the quality of life for all.The authors - academics, policy makers and practitioners from Europe and the United States - argue this point, making the case for why democratic reimagination and innovation cannot succeed without higher education and why higher education cannot fulfil its educational, academic and societal missions without working for the common good. Case studies provide examples of how higher education can contribute to reimagining and reinvigorating democracy.
Introduction
1. A word from the Council of Europe's Director General for Democracy
2. A word from the Executive Director of the European Wergeland Centre
3. A word from the editors
Overview and context
4. Reimagining democratic society: a political view
5. The role of universities in reimagining democratic societies
6. Reimagining schools, universities and democracies
7. Reimagining democratic societies: what does education have to do with it?
Higher education perspectives
8. Reimagining democratic societies: a new era of personal and social responsibility
9. Reimagining democratic societies in challenging circumstances: the role of higher education
10. Europe's democracy under threat: how education can save our societies
11. Deliberative democracy and moral disturbance
12. Thinking about and doing democracy: higher education's twin obligations
13. Educating informed, engaged citizens: AASCU's American Democracy Project
Case studies
14. University of Western Sydney - a case study in equity and diversity
15. MF Norwegian School of Theology and lifelong learning the role of religious institutions in community development
16. Participatory democracy, neighbourhood revitalization and the promise of the University at Buffalo
17. We believe we are called to serve our neighbour: tragedy and community engagement
18. The university as a factor in a democratic society: Mykolas Romeris University, Lithuania
19. Act as though you live in a free society
20. Democracy and education: the Tuskegee University governance model
21. Building partnerships between universities and communities to strengthen university autonomy and democratic citizenship: the Artes liberates movement at the University of Warsaw
22. Democracy at De Anza College
23. Institutional change in a culture of democracy
24. The Anchor Institutions Task Force: promoting democratic engagement
25. Student-community engagement at Queen's University, Belfast
Ways forward
26. Reimagining democratic societies: personal reflections on a multi-faceted debate
27. Reimagining democratic societies: analysing a new era of personal and social responsibility
28. Reimagining democratic societies: thoughts for the road
Appendix I: About the editors and authors
Appendix II: Publications in the Council of Europe higher education series