Bookshop or sales agent? Don't hesitate to contact us at
[email protected]
to inquire about discounts.
PDF - Judicial review - A comparative analysis inside the European legal system
(2010)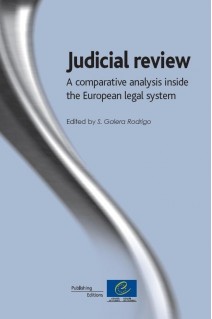  
The traditional state model, based on a domestic approach to rule of law, is currently evolving towards a new one, where international factors and relations play a prominent role. This trend is also characterised by the pre-eminence of executive powers, along with a weakening of parliamentary balances and judicial controls.This work seeks to answer two essential questions concerning the rule of law: how can citizens challenge public decisions affecting them, and what kinds of public decisions can be judicially controlled. Two groups of legal regulations are considered in this analysis: the so-called European legal tradition, covering nine national laws strongly influenced by Council of Europe legal standards since 1950, and the more recent body of European Union law.The authors conclude that the issue of individual guarantees vis-à-vis public powers should be carefully monitored in Europe.
Foreword
Part I - Preliminary
1. Law as a limit to power - The origins of the rule of law in the European legal tradition
1.1. Power and law
1.2. A first step: the appearance of written law
1.3. The law of God as a limit to power
1.4. lusnaturalism and the first secular justifications of political power and law
1.5. Law versus power: feudalism and the origins of the laissez-faire state model
1.6. The social question and its constitutional response: the total state
1.7. The contemporary reappearance of the social pact
1.8. The European reception of the constitutional rule-of-law model
2. European constitutionalism after the Second World War
2.1. Periods of constitutional development
2.2. European constitutionalism
2.3. The dynamics of European constitutional law
2.4. Constitutionalism and legal culture
Part II - The European legal tradition
3. National legal tradition - Czech Republic
3.1. The constitutional framework
3.2. Government and public administration
3.3. Judicial review of government and administration
4. National legal tradition - France
4.1. The constitutional framework
4.2. Government and public administration
4.3. Judicial review of government and administration
5. National legal tradition - Hungary
5.1. The constitutional system
5.2. Treaty law injustice and judicial review
5.3. Access to justice and the Constitutional Court
5.4. Rights to legal remedy and the Constitutional Court
5.5. Decisions on European law and its status
5.6. Conclusions
6. National legal tradition - Romania
6.1. The constitutional framework
6.2. Government and public administration
6.3. Judicial review of government and administration
7. National legal tradition - Spain
7.1. The constitutional framework
7.2. Government and public administration
7.3. Judicial review of government and administration
8. National legal tradition - Sweden
8.1. The constitutional framework
8.2. Government and public administration
8.3. Judicial review of government and administration
9. National legal tradition - United Kingdom
9.1. The constitutional framework
9.2. Government and public administration
9.3. Judicial review of government and administration

10. European regional tradition - The Council of Europe
10.1. The constitutional framework
10.2. Government and public administration
10.3. Judicial review of government and administration
Part III - The European Union legal order
11. The EU's first pillar - Constitutional basis
11.1. The constitutional framework
11.2. Government and public administration
11.3. Judicial review of government and administration
12. The EU's second pillar - Foreign and security policy
12.1. The test of equivalent protection
12.2. The constitutional framework
12.3. Organs of government in the framework of the CFSP
12.4. The legal instruments of the CFSP
12.5. The scope of judicial review
13. The EU's third pillar - Police and judicial co-operation in criminal matters
13.1. The constitutional framework
13.2. Organs of government of the third pillar
13.3. Legal instruments of the EU's third pillar
13.4. The third pillar's limited system of judicial review
Part IV - The European legal system: a complex legal order
14. European legal tradition and the EU legal system: understandings and premises about the rule of law's requirements
14.1. European legal tradition
14.2. Fundamental rights: defence and due process
14.3. The judicial review: access and scope
14.4. Judicial independence
15. The European contribution to an emerging global law
Appendix
Council of Europe - Recommendation Rec(2004)20 of the Committee of Ministers to member states on judicial review of administrative acts