Bookshop or sales agent? Don't hesitate to contact us at
[email protected]
to inquire about discounts.
PDF - The European Charter for Regional or Minority Languages and the media (Regional or Minority Languages, No.6)
(2008)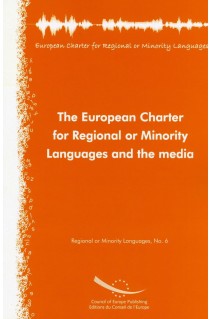  
This publication is based on a study that was prepared for the Secretariat of the European Charter for Regional or Minority Languages to inform the future application of those provisions of the charter relating to the media. At the charter secretariat it was felt that it would be appropriate to make this study accessible to a wider audience, in order to assist in the application of these charter provisions. In particular, it is hoped that this publication will be useful to governments which have signed and ratified, or are considering signature and ratification, of the charter, in order to better understand some of its obligations; to public servants charged with the task of implementing such obligations; to users of regional or minority languages, and those non-governmental organisations which represent them, in assessing the choice of obligations and the challenges of implementation; and to a broader public interested in these issues, not least media outlets themselves, which play no small part in the successful implementation of charter obligations.
1. Focus and methodology
2. Provisions for the media in the light of the purpose of the charter
3. A contextual discussion: institutional and functional aspects of media development
Institutional aspects
Functional aspects
4. New developments in the field of media
Digitalisation of broadcasting
New media platforms
5. A summary and commentary of the scope of the provisions
The core: Article 11 - Media
Other relevant articles: 7 (Objectives and principles), 12 (Cultural activities and facilities) and 14 (Transfrontier exchanges)
Particular issues arising in federal states - some examples
6. An analysis of the stance taken by the Committee of Experts
Sub-paragraph 11.1.a
Sub-paragraph 11.1.b
Sub-paragraph 11.1.c
Particular issues arising under Article 11, sub-paragraphs 1.6 and c-the licensing principles
Particular issues raised under Article 11, sub-paragraphs 1.6 and c - ambiguities in ratifications
Sub-paragraph 11.1.d
Sub-paragraph 11.1.e
Particular issues arising under sub-paragraph 11.1.e -public advertising
Particular issues arising under sub-paragraph 11.1.e - to encourage and/or facilitate
Sub-paragraph 11.1.f
Sub-paragraph 11.1.g
Paragraph 11.2
Paragraph 11.3
Article 7 - Objectives and principles of the charter
Article 7, sub-paragraph 1.d
Article 7, sub-paragraph 1.e
Article 7, sub-paragraph 1i
Article 7, paragraph 3
Articles 12 and 14
Article 12 - Cultural activities and facilities
Article 14 -Transfrontier exchanges
Some conclusions from observations regarding Articles 12 and 14
7. Consistency analysis in the boxes, findings and recommendations
8. Recommendations and findings
Recommendations
Findings
9. A user's checklist on implementation of charter provisions on the media
Article 7
Article 11
Paragraph 2
Paragraph 3
Article 12
Article 14
Paragraph a
Paragraph b
Appendix- Table of ratifications