Bookshop or sales agent? Don't hesitate to contact us at
[email protected]
to inquire about discounts.
PDF - The Parliamentary Assembly - Practice and Procedure (Tenth edition, 2008)
(2009)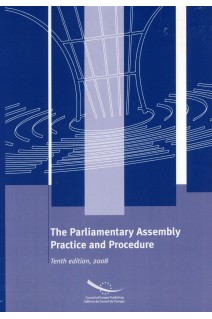  
The ninth edition of the book entitled Procedure and practice of the Assembly was published in 1990. Since then, significant political changes in Europe have also had an impact on the functioning of the Parliamentary Assembly. This new edition emphasises the practical way in which the Assembly operates and describes its political and institutional context. It will be of use both to the members of the Assembly and a wider audience: members and staff of national parliaments, representatives of civil society, and all those who wish to know more about the driving force of the Council of Europe.The 636 parliamentarians making up the Assembly come from the national parliaments of the 47 Council of Europe member states. They meet four times a year to discuss current affairs and ask European governments to take initiatives and report back. These parliamentarians speak on behalf of the 800 million Europeans who elected them. They are the democratic conscience of Europe.
Foreword
Introduction
Part I: The Council of Europe context
Chapter 1. The Origins and Growth of the Council of Europe
Chapter 2. The different parts of the Council of Europe
Chapter 3. Relations between the Assembly and the Committee of Ministers
Part II: The Parliamentary Assembly and its members
Chapter 4. The membership of the Assembly
Chapter 5. Appointment and terms of office of members
Part III: Structure, organisation and administration of the Assembly
Chapter 6. Presidency and Bureau
Chapter 7. National delegations
Chapter 8. Political groups of the Assembly
Chapter 9. Secretariat and budget of the Assembly
Chapter 10. Documents, information and communication
Part IV: The procedure and practice of the Assembly
Chapter 11. The Procedural Framework of the Assembly
Chapter 12. Elections and appointments
Chapter 13. The organisation of the Assembly's sessions and sittings
Chapter 14. The business of the Assembly
Chapter 15. Debates and decisions of the Assembly
Chapter 16. Standing Committee
Part V: The Assembly's committee system
Chapter 17. The Assembly's general committee system: an overview
Chapter 18. Membership, powers and procedure of committees
Part VI: External relations
Chapter 19. External relations: Introduction
Chapter 20. Relations with the European Union (EU)
Chapter 21. Relations with the Organisation for Economic Co-operation and Development (OECD)
Chapter 22. Relations with the Assembly of Western European Union (WEU)
Chapter 23. Relations with the Organisation for Security and Co-operation in Europe (OSCE)
Chapter 24. Relations with the European Bank for Reconstruction and Development (EBRD)
Chapter 25. Relations with other international bodies
Chapter 26. Relations with national parliaments and inter-parliamentary bodies
Chapter 27. Council of Europe Partial Agreements
Chapter 28. Relations with international non-governmental organisations (INGOs)
Appendices
Appendix A: Presidents of the Assembly
Appendix B: Clerks and Secretaries General of the Assembly
Appendix C: Secretaries General of the Council of Europe and Deputy Secretaries General of the Council of Europe