Bookshop or sales agent? Don't hesitate to contact us at
[email protected]
to inquire about discounts.
PDF - Manual for facilitators in non-formal education
(2009)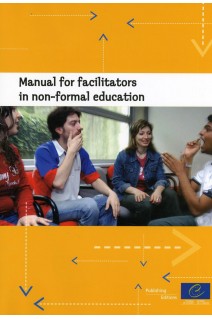  
The aim of the Council of Europe's youth policy is to provide young people -- girls and boys, young women and young men -- with equal opportunities and experience which will enable them to develop the knowledge, skills and competencies to play a full part in all aspects of society. The programme of activities aims at associating young people, through governmental and non-governmental youth partners, with the aims and priorities of the youth policy of the Council of Europe. The participants in the education and training activities are multipliers who, within their youth organisations or institutions, are involved in training other young people and/or in designing activities and programmes that put into practice the values, standards and objectives that preside over the youth policy of the Council of Europe.The use of non-formal learning principles is combined with experiential learning approaches, the most apt at making the learning experiences meaningful and relevant. Activities are implemented in accordance with quality standards agreed with partners of and participants in the activities.The quality of these activities depends, to a large extent, on the competences and abilities of the facilitators of these educational processes, many of whom are volunteers within youth and community organisations. This manual was developed in order to support them in that role, particularly when they are part of the educational teams of study sessions at the European Youth Centre. The manual provides essential information and practical tips for all who are involved in planning and delivering non-formal education intercultural activities on an occasional basis. This manual is part of the endeavour of the Council of Europe's youth sector to support and develop the quality of non-formal education activities across Europe and, in doing so, contribute to further their recognition.
1. Introduction
2. What is a study session?
2.1. The concept of a study session and its place in the programme of the Council of Europe/DYS
2.1.1. The study session as a holistic learning experience
2.1.2. The specificity and unique value of study sessions
2.2. The life cycle of a study session - from needs assessment to follow-up
2.2.1. Writing a proposal for a study session
2.2.2. Conclusions - preparing a proposal for a study session
2.3. Mapping qualities for successful study sessions (personal, team, organisational)
PERSONAL PREPARATION
3. Essentials of non-formal education for facilitators of DYS study sessions
3.1. Concepts of learning
3.2 Intercultural learning in study sessions
3.3. Human rights education in study sessions
4. Personal development for facilitators of study sessions (competences)
4.1. Facilitation skills
4.2. Presentation skills
4.3. Group dynamics
4.4. Ethics and values
4.5. Leadership/assertiveness and self-confidence
TEAM PREPARATION
5. Organisation of work within the team
5.1. The team
5.1.1. Team composition
5.1.2. How to work in a team/distribution of roles
5.2. The preparation process
5.2.1. Preparatory meeting
5.2.2. In between meetings
5.3. Programme design of study sessions
5.4. Educational essentials
5.4.1. Resources for developing programme elements
5.4.2. Design of individual programme elements
5.4.3. Debriefing and evaluation of educational activities
ORGANISATIONAL RESPONSIBILITIES
6. Evaluation of study sessions - Done by the organisers
7. Reporting on study sessions
8. Follow-up and dissemination of results
9. Conclusion
Appendix
1) Programme and methodology of the Training Course for Facilitators
2) Case studies - Ethics and values
3) Ethical conduct in youth work
4) Assertiveness training
5) Feedback within teams
6) Planning of a programme element
7) Template - Evaluation by participants
8) Outline for daily reports - Done by participants
9) Open questions regarding study sessions - Dealt with at the training course for Facilitators: Digestivo café