Youth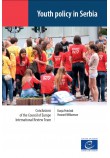 Youth policy in Serbia (2016)
Dunja Potočnik, Howard Williamson
ISBN 978-92-871-8115-2
Type of document : Book
Format : Paper
Size : 16 x 24 cm
Language : English
Number of pages : 90
In the late 2000s, Serbia impressed many in the youth field by creating almost the perfect storm in shaping its national youth strategy. As a result of widespread consultation with youth organisations and representatives, the carefully constructed strategy secured strong political support and a significant level of professional consensus.
But the true test of any youth strategy lies in its implementation. Political support can diminish, regional and local infrastructure and professional development can fail to keep pace with the aspirations of national action plans and targets, and line ministries may not give the level of priority to the youth agenda that was initially anticipated. Changing political administrations and less favourable economic circumstances can exacerbate this situation.
Youth policy in Serbia, the 21st international review of national youth policy conducted by the Council of Europe youth department since 1997, considers the state of Serbian youth policy in 2014. It is a story both of impressive achievements and unfulfilled dreams – as politicians of all persuasions in many countries are prone to say about policy development, things have come a long way in a short time, but there is still a long way to go.
Contents
EXECUTIVE SUMMARY
ACKNOWLEDGEMENTS
LIST OF ABBREVIATIONS
INTRODUCTION
     Background and focus
     Methodology
CHAPTER 1 – FRAMEWORK AND MAIN ACTORS OF YOUTH POLICY IN SERBIA
     Youth policy in Serbia
     Main actors in youth policy
     Local youth offices
     Youth organisations and organisations for youth
     Youth policy implementation
CHAPTER 2 – REVIEW TOPICS
     Education
     Employment
     Information, access to rights and visibility
     Participation
     Social inclusion
     Health and safety/security
     Mobility
CHAPTER 3 – CROSS-CUTTING TOPICS OF YOUTH POLICY IN SERBIA
     Centralisation and politicisation
     Transparency
     Civic versus traditional structures
     Horizontal and vertical communication
     Intersectoral co-operation
     Fragmentation of the youth field and resources
     Sustainability
CONCLUSION AND RECOMMENDATIONS
APPENDICES
     Programme of visits
     List of IRT questions following the first visit
BIBLIOGRAPHY