Bookshop or sales agent? Don't hesitate to contact us at
[email protected]
to inquire about discounts.
Focus 2020 - World Film Market Trends
(2020)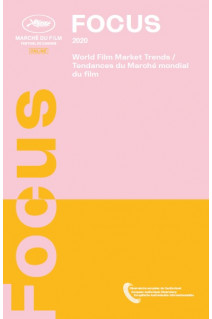  
Already in its 23th edition the FOCUS is commissioned from the European Audiovisual Observatory by the film market organiser at the Cannes Film Festival, the Marché du Film.
The FOCUS presents the latest trends on all the major film markets around the world regarding film production and distribution as well as admissions.

Published since 1998 by the Marché du film (Cannes, France), FOCUS is edited by the Department for Market Information of the European Audiovisual Observatory.
Introduction
World
Top 10 markets worldwide by gross box office (2015-2019)
Top 10 markets worldwide by admissions (2015-2019)
Top 10 markets worldwide by number of screens (2015-2019)
Worldwide number of digital and 3D screens (2015-2019)
Top 10 markets worldwide by feature film production (2015-2019)
Top 20 films by gross box office worldwide (2019)
European Union
Admissions and gross box office in the EU (2015-2019 prov.)
Breakdown of European Union admissions by nationality of films (2015-2019)
Number of feature films produced in the European Union (2015-2019 prov.)
Admissions in the European Union (2015-2019 prov.)
Number of screens in the EU by country (December 2019)
Digital screen penetration in the EU by country (December 2019)
Top 25 films by admissions in the EU (2019 prov.)
Top 25 European films (incl. EUR inc) by admissions in the EU (2019 prov.)
Top 25 EU films by admissions in the Europa Cinemas Network (2019)
Top 25 European films (incl EUR inc) by admissions in the US & Canada (2019)
National figures for France, Germany, Italy, Spain, United Kingdom, Russian Federation, Poland, Turkey
Data sheet - Key figures of the market 2019:
Population / GDP per capita / Gross box office / Admissions / Average ticket price / Average admissions per capita / Screens / Digital screens / Digital 3D screens / Market shares
Number of feature films produced (2015-2019)
Admissions and gross box office (2015-2019)
Top 20 films by admissions (2019)
Distribution and exhibition
Production and funding
Other Western Europe
Data sheet - Key figures of the market 2019:
Population / GDP per capita / Gross box office / Admissions / Average ticket price / Average admissions per capita / Screens / Digital screens / Digital 3D screens / National market shares
Number of feature films produced by selected Western European countries (2015-2019)
Admissions in selected Western European countries (2015-2019)
Top 10 films by admissions in the Netherlands (2019)
Top 10 films by admissions in Belgium (2019)
Top 10 films by admissions in Portugal (2019)
Top 10 films by admissions in Austria (2019)
Nordic Countries
Data sheet - Key figures of the market 2019:
Population / GDP per capita / Gross box office / Admissions / Average ticket price / Average admissions per capita / Screens / Digital screens / Digital 3D screens / National market shares
Number of feature films produced by Nordic countries (2015-2019)
Admissions in Nordic countries (2015-2019)
Top 10 films by admissions in Sweden (2019)
Top 10 films by admissions in Denmark (2019)
Top 10 films by admissions in Norway (2019)
Top 10 films by admissions in Finland (2019)
Baltics and Central Europe
Data sheet - Key figures of the market 2019:
Population / GDP per capita / Gross box office / Admissions / Average ticket price / Average admissions per capita / Screens / Digital screens / Digital 3D screens / Films produced / Market shares
Top 10 films by admissions in the Czech Republic (2019)
Top 10 films by admissions in Slovakia (2019)
Top 10 films by admissions in Lithuania (2019)
South-Eastern Europe
Data sheet - Key figures of the market 2019:
Population / GDP per capita / Gross box office / Admissions / Average ticket price / Average admissions per capita / Screens / Digital screens / Digital 3D screens / Films produced / National market shares
Top 10 films by admissions in Romania (2019)
Top 10 films by admissions in Bulgaria (2019)
Top 10 films by admissions in Croatia (2019)
North America
Data sheet - Key figures of the market 2019:
Population / GDP per capita / Gross box office / Admissions / Average ticket price / Average admissions per capita / Screens / Digital screens / Digital 3D screens / Market shares
Number of US and Canadian feature films produced (2015-2019)
Admissions and gross box office in the US & Canada (2015-2019)
Top 20 films by admissions in North America (2019)
Distribution and exhibition
Production and funding
Latin America
Data sheet - Key figures of the market 2019:
Population / GDP per capita / Gross box office / Admissions / Average ticket price / Average admissions per capita / Screens / Digital screens / Digital 3D screens / National market shares
Number of national feature films released in Latin America (2015-2019)
Admissions in Latin America (2015-2019)
Mexico
Brazil
Argentina
Top 10 films by admissions in Argentina (2019)
Top 10 films by admissions in Brazil (2019)
Top 10 films by admissions in Chile (2019)
Top 10 films by admissions in Colombia (2019)
Top 10 films by admissions in Costa Rica (2019)
Top 10 films by admissions in Ecuador (2019)
Top 10 films by admissions in Mexico (2019)
Top 10 films by admissions in Peru (2019)
Australia and New Zealand
Data sheet - Key figures of the market 2019:
Population / GDP per capita / Gross box office / Admissions / Average ticket price / Average admissions per capita / Screens / Digital screens / Digital 3D screens / Market shares
Number of Australian and New Zealand feature films produced (2015-2019)
Admissions and gross box office in Australia and New Zealand (2015-2019)
Top 10 films by admissions in Australia (2019)
Top 10 films by admissions in New Zealand (2019)
Distribution and exhibition
Production and funding
People's Republic of China
Data sheet - Key figures of the market 2019:
Population / GDP per capita / Gross box office / Admissions / Average ticket price / Average admissions per capita / Screens / Digital screens / Digital 3D screens / Market shares
Number of feature films produced in China (2015-2019)
Admissions and gross box office in China (2015-2019)
Top 20 films by admissions in China (2019)
Distribution and exhibition
Production and funding
Japan
Data sheet - Key figures of the market 2019:
Population / GDP per capita / Gross box office / Admissions / Average ticket price / Average admissions per capita / Screens / Digital screens / Digital 3D screens / Market shares
Number of Japanese feature films released (2015-2019)
Admissions and gross box office (2015-2019)
Top 20 films by admissions in Japan (2019)
Distribution and exhibition
Production and funding
India
Data sheet - Key figures of the market 2019:
Population / GDP per capita / Gross box office / Admissions / Average ticket price / Average admissions per capita / Screens / D-Cinema screens / 3D screens / Market shares
Number of Indian feature films certified (2015-2019)
Admissions and gross box office in India (2015-2019)
Top 10 Bollywood films by gross box office in India (2019)
Top 10 US films by gross box office in India (2019)
Distribution and exhibition
Production and funding
South Korea
Data sheet - Key figures of the market 2019:
Population / GDP per capita / Gross box office / Admissions / Average ticket price / Average admissions per capita / Screens / Digital screens / Digital 3D screens / Market shares
Number of Korean feature films released (2015-2019)
Admissions and gross box office in South Korea (2015-2019)
Top 20 films by admissions in South Korea (2019)
Distribution and exhibition
Production and funding
Other Asia
Data sheet - Key figures of the market 2019:
Population / GDP per capita / Gross box office / Admissions / Average ticket price / Average admissions per capita / Screens / Digital screens / Digital 3D screens / National market shares
Number of feature films produced in selected Asian countries (2015-2019): Indonesia, Thailand, Taiwan, Malaysia, Hong Kong, Singapore, Philippines
Admissions in selected Asian countries (2015-2019): Indonesia, Malaysia, Taiwan, Hong Kong, Philippines, Singapore
Top 10 films by admissions in Hong Kong (2019)
Top 10 films by gross box office in Singapore (2019)
Distribution and exhibition
Production and funding
Africa
Data sheet - Key figures of the market 2019:
Population / GDP per capita / Gross box office / Admissions / Admissions per capita / Average ticket price / Screens / Digital screens / National market shares
Number of feature films produced in selected African Countries (2015-2019): Egypt, South Africa, Morocco
Gross box office in selected African countries (2015-2019): South Africa, Egypt, Morocco
Top 10 films by gross box office in South Africa (2019)
Top 10 films by admissions in Morocco (2019)
South Africa
Egypt
Morocco
Middle East
Data sheet - Key figures of the market 2019:
Population / GDP per capita / Gross box office / Admissions / Admissions per capita / Average ticket price / Screens / Digital screens / National market shares
Number of films produced in selected Middle East countries (2015-2019): Iran, Israel, Lebanon, United Arab Emirated
Admissions in selected Middle Eastern countries (2015-2019): Iran, United Arab Emirates, Israel, Lebanon
Top 10 films by admissions in the United Arab Emirates (2019)
Top 10 films by admissions in Saudi Arabia (2019)
Iran
United Arab Emirates
Saudi Arabia
Sources