Bookshop or sales agent? Don't hesitate to contact us at
[email protected]
to inquire about discounts.
PDF - Improving recognition in the European Higher Education Area: an analysis of national action plans (Council of Europe higher education series No.12)
(2010)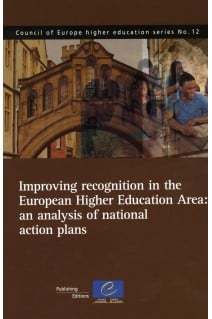  
In 2007, ministers responsible for the implementation of the Bologna Process submitted national action plans for improving the recognition of qualifications, which is one of the priorities of this process. While the international legal framework for recognition is largely in place, there is still much to be done to improve the framework's implementation.The authors analyse the national action plans, demonstrating that there is great variety in practice among European countries. While some national action plans provide a clear agenda for further improvement, others merely describe the current state of affairs, offering little indication for further action. This book will be of interest to policy makers and practitioners, and it is hoped that the analysis it provides will encourage further discussion and, above all, improved practice.
Foreword and acknowledgements
Preface
Summary
Introduction
1.   Legislation
1.1. Lisbon Recognition Convention
Ratification of the Lisbon Recognition Convention
1.2. Review of national legislation relevant to recognition
Review of legislation
The terminology issue
Summary on legislation review
Legal and institutional autonomy issues in the implementation of the Lisbon Recognition Convention
Follow-up measures planned
1.3. Bilateral or regional recognition agreements
Conformity with the principles of the Lisbon Recognition
Convention
Summary on bilateral agreements
2.   Recognition practice
2.1. Criteria and procedures
Overview of the practice of competent recognition authorities
Measures to improve implementation
2.2. Joint degrees
Legislation relating to joint degrees
Obstacles
Typical conditions for recognition
2.3. Overview of institutional practice
Institutional practices
2.4. Transparency tools for recognition
Implementation of the European Credit Transfer
and Accumulation System
The joint European Diploma Supplement
2.5. Borderless/transnational education
Cross-border and transnational education
3.   Information provision
3.1. Provision of information on recognition
3.2. Information package for applicants
4.   Structures
4.1. National information centre
The formal status of the national information centre
Role of national information centre in academic and professional recognition
Legal competence
Staff and budget
Capacity building in terms of expertise and service to the public
Networking and co-operation at national and international levels
4.2. Co-operation recognition/quality assurance bodies
Information exchange between the bodies responsible for recognition and quality assurance
Discussion of and agreement on working methods between these bodies
Use of information on the outcomes of quality assessment in the recognition of qualifications
Use of membership of international networks
National action plans as a collection of best practices
5.   Final remarks
Appendix I - Collection of good and not so good practices
Appendix II - Guidelines for National Action Plans for Recognition
Appendix III - Recommendation on Criteria and Procedures for the Assessment of Foreign Qualifications and Periods of Study
Appendix IV - Explanatory memorandum to the Recommendation on Criteria and Procedures for the Assessment of Foreign Qualifications and Periods of Study
Appendix V - Standards and Guidelines for Quality Assurance in the European Higher Education Area