Our online bookshop is currently undergoing major maintenance: please accept our apologies for the unsolicited email regarding shipped publications
Array ( [id] => 2 [link] => [name] => [desc] => [children] => Array ( [0] => Array ( [id] => 6 [link] => https://book.coe.int/en/6-online-bookshop [name] => Online Bookshop [desc] => [children] => Array ( [0] => Array ( [id] => 40 [link] => https://book.coe.int/en/40-committee-of-ministers [name] => Committee of Ministers [desc] => [children] => Array ( [0] => Array ( [id] => 41 [link] => https://book.coe.int/en/41-texts-of-council-of-europe-treaties [name] => Texts of Council of Europe Treaties [desc] => [children] => Array ( ) ) [1] => Array ( [id] => 43 [link] => https://book.coe.int/en/43-council-of-europe-treaties-and-explanatory-reports [name] => Council of Europe Treaties and explanatory reports [desc] => [children] => Array ( ) ) [2] => Array ( [id] => 44 [link] => https://book.coe.int/en/44-collected-edition-of-the-council-of-europe-treaties-series [name] => Collected edition of the Council of Europe Treaties Series [desc] => [children] => Array ( ) ) [3] => Array ( [id] => 45 [link] => https://book.coe.int/en/45-committee-of-ministers-compendium-of-adopted-texts [name] => Committee of Ministers - Compendium of adopted texts [desc] => [children] => Array ( ) ) [4] => Array ( [id] => 42 [link] => https://book.coe.int/en/42-committee-of-ministers-other-publications [name] => Committee of Ministers - Other publications [desc] => [children] => Array ( ) ) ) ) [1] => Array ( [id] => 46 [link] => https://book.coe.int/en/46-parliamentary-assembly [name] => Parliamentary Assembly [desc] => [children] => Array ( [0] => Array ( [id] => 47 [link] => https://book.coe.int/en/47-parliamentary-assembly-adopted-texts [name] => Parliamentary Assembly / Adopted texts [desc] => [children] => Array ( ) ) [1] => Array ( [id] => 48 [link] => https://book.coe.int/en/48-parliamentary-assembly-orders-of-the-day-minutes [name] => Parliamentary Assembly / Orders of the Day, Minutes [desc] => [children] => Array ( ) ) [2] => Array ( [id] => 49 [link] => https://book.coe.int/en/49-parliamentary-assembly-official-reports-of-debates [name] => Parliamentary Assembly / Official Reports of Debates [desc] => [children] => Array ( ) ) [3] => Array ( [id] => 50 [link] => https://book.coe.int/en/50-parliamentary-assembly-documents-working-papers [name] => Parliamentary Assembly / Documents, Working Papers [desc] => [children] => Array ( ) ) [4] => Array ( [id] => 51 [link] => https://book.coe.int/en/51-parliamentary-assembly-general-publications [name] => Parliamentary Assembly / General publications [desc] => [children] => Array ( ) ) ) ) [2] => Array ( [id] => 52 [link] => https://book.coe.int/en/52-congress [name] => Congress [desc] => [children] => Array ( [0] => Array ( [id] => 53 [link] => https://book.coe.int/en/53-congress-local-and-regional-action-series [name] => Congress / Local and Regional Action Series [desc] => [children] => Array ( ) ) [1] => Array ( [id] => 54 [link] => https://book.coe.int/en/54-congress-studies-and-texts-series [name] => Congress/ Studies and Texts Series [desc] => [children] => Array ( ) ) [2] => Array ( [id] => 55 [link] => https://book.coe.int/en/55-congress-adopted-texts [name] => Congress / Adopted Texts [desc] => [children] => Array ( ) ) [3] => Array ( [id] => 56 [link] => https://book.coe.int/en/56-congress-official-report-of-debates [name] => Congress / Official Report of Debates [desc] => [children] => Array ( ) ) ) ) [3] => Array ( [id] => 57 [link] => https://book.coe.int/en/57-human-rights [name] => Human Rights [desc] => [children] => Array ( [0] => Array ( [id] => 58 [link] => https://book.coe.int/en/58-human-rights-and-democracy [name] => Human Rights and Democracy [desc] => [children] => Array ( ) ) [1] => Array ( [id] => 59 [link] => https://book.coe.int/en/59-children-s-rights-and-family-law [name] => Children's rights and family law [desc] => [children] => Array ( ) ) [2] => Array ( [id] => 60 [link] => https://book.coe.int/en/60-making-democratic-institutions-work [name] => Making democratic institutions work [desc] => [children] => Array ( ) ) [3] => Array ( [id] => 61 [link] => https://book.coe.int/en/61-minorities [name] => Minorities [desc] => [children] => Array ( ) ) [4] => Array ( [id] => 62 [link] => https://book.coe.int/en/62-human-rights-files [name] => Human Rights Files [desc] => [children] => Array ( ) ) [5] => Array ( [id] => 63 [link] => https://book.coe.int/en/63-european-social-charter [name] => European Social Charter [desc] => [children] => Array ( ) ) [6] => Array ( [id] => 64 [link] => https://book.coe.int/en/64-social-charter-monographs [name] => Social Charter Monographs [desc] => [children] => Array ( ) ) [7] => Array ( [id] => 65 [link] => https://book.coe.int/en/65-gender-equality [name] => Gender equality [desc] => [children] => Array ( ) ) [8] => Array ( [id] => 66 [link] => https://book.coe.int/en/66-european-court-of-human-rights [name] => European Court of Human Rights [desc] => [children] => Array ( ) ) [9] => Array ( [id] => 376 [link] => https://book.coe.int/en/376-commissioner-for-human-rights [name] => Commissioner for Human Rights [desc] => [children] => Array ( ) ) [10] => Array ( [id] => 67 [link] => https://book.coe.int/en/67-european-commission-of-human-rights [name] => European Commission of Human Rights [desc] => [children] => Array ( ) ) ) ) [4] => Array ( [id] => 68 [link] => https://book.coe.int/en/68-law [name] => Law [desc] => [children] => Array ( [0] => Array ( [id] => 71 [link] => https://book.coe.int/en/71-international-law [name] => International Law [desc] => [children] => Array ( ) ) [1] => Array ( [id] => 75 [link] => https://book.coe.int/en/75-constitutional-law [name] => Constitutional Law [desc] => [children] => Array ( ) ) [2] => Array ( [id] => 77 [link] => https://book.coe.int/en/77-legal-instruments [name] => Legal instruments [desc] => [children] => Array ( ) ) [3] => Array ( [id] => 76 [link] => https://book.coe.int/en/76-penal-law-and-criminology [name] => Penal Law and criminology [desc] => [children] => Array ( ) ) [4] => Array ( [id] => 79 [link] => https://book.coe.int/en/79-computers-and-law [name] => Computers and law [desc] => [children] => Array ( ) ) [5] => Array ( [id] => 74 [link] => https://book.coe.int/en/74-economy-and-crime-fight-against-corruption [name] => Economy and crime, fight against corruption [desc] => [children] => Array ( ) ) [6] => Array ( [id] => 72 [link] => https://book.coe.int/en/72-terrorism-and-law [name] => Terrorism and Law [desc] => [children] => Array ( ) ) [7] => Array ( [id] => 69 [link] => https://book.coe.int/en/69-points-of-view-points-of-law [name] => Points of view - Points of Law [desc] => [children] => Array ( ) ) [8] => Array ( [id] => 70 [link] => https://book.coe.int/en/70-europeans-and-their-rights [name] => Europeans and their rights [desc] => [children] => Array ( ) ) [9] => Array ( [id] => 73 [link] => https://book.coe.int/en/73-migrants-rights [name] => Migrants rights [desc] => [children] => Array ( ) ) [10] => Array ( [id] => 78 [link] => https://book.coe.int/en/78-themis-programme [name] => Themis Programme [desc] => [children] => Array ( ) ) ) ) [5] => Array ( [id] => 80 [link] => https://book.coe.int/en/80-health [name] => Health [desc] => [children] => Array ( [0] => Array ( [id] => 81 [link] => https://book.coe.int/en/81-health-and-society-ethics [name] => Health and society, Ethics [desc] => [children] => Array ( ) ) [1] => Array ( [id] => 82 [link] => https://book.coe.int/en/82-blood-transfusion-and-organ-transplantation [name] => Blood transfusion and organ transplantation [desc] => [children] => Array ( ) ) [2] => Array ( [id] => 83 [link] => https://book.coe.int/en/83-health-protection-of-the-consumer [name] => Health protection of the consumer [desc] => [children] => Array ( ) ) [3] => Array ( [id] => 84 [link] => https://book.coe.int/en/84-integration-of-people-with-disabilities [name] => Integration of people with disabilities [desc] => [children] => Array ( ) ) [4] => Array ( [id] => 85 [link] => https://book.coe.int/en/85-european-directorate-for-the-quality-of-medicines-and-healthcare-edqm [name] => European Directorate for the Quality of Medicines and HealthCare (EDQM) [desc] => [children] => Array ( ) ) ) ) [6] => Array ( [id] => 86 [link] => https://book.coe.int/en/86-society [name] => Society [desc] => [children] => Array ( [0] => Array ( [id] => 87 [link] => https://book.coe.int/en/87-demography [name] => Demography [desc] => [children] => Array ( ) ) [1] => Array ( [id] => 88 [link] => https://book.coe.int/en/88-trends-in-social-cohesion-series [name] => Trends in Social Cohesion Series [desc] => [children] => Array ( ) ) [2] => Array ( [id] => 89 [link] => https://book.coe.int/en/89-responses-to-violence-in-everyday-life-in-a-democratic-society-series [name] => Responses to violence in everyday life in a democratic society Series [desc] => [children] => Array ( ) ) [3] => Array ( [id] => 90 [link] => https://book.coe.int/en/90-drugs-and-addiction [name] => Drugs and addiction [desc] => [children] => Array ( ) ) [4] => Array ( [id] => 91 [link] => https://book.coe.int/en/91-social-security [name] => Social Security [desc] => [children] => Array ( ) ) [5] => Array ( [id] => 92 [link] => https://book.coe.int/en/92-community-relations [name] => Community relations [desc] => [children] => Array ( ) ) [6] => Array ( [id] => 93 [link] => https://book.coe.int/en/93-social-co-operation-in-europe [name] => Social co-operation in Europe [desc] => [children] => Array ( ) ) [7] => Array ( [id] => 94 [link] => https://book.coe.int/en/94-population-studies-series [name] => Population Studies Series [desc] => [children] => Array ( ) ) ) ) [7] => Array ( [id] => 95 [link] => https://book.coe.int/en/95-environment [name] => Environment [desc] => [children] => Array ( [0] => Array ( [id] => 96 [link] => https://book.coe.int/en/96-nature-and-environment-series [name] => Nature and environment Series [desc] => [children] => Array ( ) ) [1] => Array ( [id] => 97 [link] => https://book.coe.int/en/97-environmental-encounters-series [name] => Environmental Encounters Series [desc] => [children] => Array ( ) ) [2] => Array ( [id] => 98 [link] => https://book.coe.int/en/98-territory-and-landscape-series [name] => Territory and Landscape Series [desc] => [children] => Array ( ) ) [3] => Array ( [id] => 99 [link] => https://book.coe.int/en/99-european-regional-planning-series [name] => European Regional Planning Series [desc] => [children] => Array ( ) ) [4] => Array ( [id] => 100 [link] => https://book.coe.int/en/100-environment-general-publications [name] => Environment / General publications [desc] => [children] => Array ( ) ) ) ) [8] => Array ( [id] => 101 [link] => https://book.coe.int/en/101-local-and-regional-democracy [name] => Local and Regional Democracy [desc] => [children] => Array ( [0] => Array ( [id] => 102 [link] => https://book.coe.int/en/102-co-operation-for-local-and-regional-democracy [name] => Co-operation for Local and Regional Democracy [desc] => [children] => Array ( ) ) [1] => Array ( [id] => 103 [link] => https://book.coe.int/en/103-local-and-regional-authorities-in-europe-series [name] => Local and Regional Authorities in Europe Series [desc] => [children] => Array ( ) ) [2] => Array ( [id] => 104 [link] => https://book.coe.int/en/104-structure-and-operation-of-local-and-regional-democracy-series [name] => Structure and operation of Local and Regional Democracy Series [desc] => [children] => Array ( ) ) ) ) [9] => Array ( [id] => 105 [link] => https://book.coe.int/en/105-education [name] => Education [desc] => [children] => Array ( [0] => Array ( [id] => 406 [link] => https://book.coe.int/en/406-education-policy [name] => Education policy [desc] => [children] => Array ( ) ) [1] => Array ( [id] => 108 [link] => https://book.coe.int/en/108-human-rights-democratic-citizenship-and-interculturalism [name] => Human rights, democratic citizenship and interculturalism [desc] => [children] => Array ( ) ) [2] => Array ( [id] => 112 [link] => https://book.coe.int/en/112-higher-education-and-research [name] => Higher education and research [desc] => [children] => Array ( ) ) [3] => Array ( [id] => 110 [link] => https://book.coe.int/en/110-secondary-education [name] => Secondary education [desc] => [children] => Array ( ) ) [4] => Array ( [id] => 107 [link] => https://book.coe.int/en/107-history-teaching [name] => History teaching [desc] => [children] => Array ( ) ) [5] => Array ( [id] => 106 [link] => https://book.coe.int/en/106-pestalozzi-series [name] => Pestalozzi series [desc] => [children] => Array ( ) ) ) ) [10] => Array ( [id] => 113 [link] => https://book.coe.int/en/113-languages [name] => Languages [desc] => [children] => Array ( [0] => Array ( [id] => 114 [link] => https://book.coe.int/en/114-education-and-modern-languages [name] => Education and modern languages [desc] => [children] => Array ( ) ) [1] => Array ( [id] => 115 [link] => https://book.coe.int/en/115-language-policy [name] => Language policy [desc] => [children] => Array ( ) ) [2] => Array ( [id] => 116 [link] => https://book.coe.int/en/116-regional-and-minority-languages [name] => Regional and minority languages [desc] => [children] => Array ( ) ) [3] => Array ( [id] => 117 [link] => https://book.coe.int/en/117-terminology [name] => Terminology [desc] => [children] => Array ( ) ) ) ) [11] => Array ( [id] => 118 [link] => https://book.coe.int/en/118-youth [name] => Youth [desc] => [children] => Array ( [0] => Array ( [id] => 119 [link] => https://book.coe.int/en/119-training-kits-youth [name] => Training Kits / Youth [desc] => [children] => Array ( ) ) [1] => Array ( [id] => 120 [link] => https://book.coe.int/en/120-national-youth-policies [name] => National Youth Policies [desc] => [children] => Array ( ) ) [2] => Array ( [id] => 121 [link] => https://book.coe.int/en/121-youth-other-publications [name] => Youth / Other publications [desc] => [children] => Array ( ) ) [3] => Array ( [id] => 396 [link] => https://book.coe.int/en/396-perspectives-on-youth [name] => Perspectives on youth [desc] => [children] => Array ( ) ) ) ) [12] => Array ( [id] => 122 [link] => https://book.coe.int/en/122-culture [name] => Culture [desc] => [children] => Array ( [0] => Array ( [id] => 123 [link] => https://book.coe.int/en/123-cultural-development [name] => Cultural development [desc] => [children] => Array ( ) ) [1] => Array ( [id] => 124 [link] => https://book.coe.int/en/124-cultural-heritage [name] => Cultural heritage [desc] => [children] => Array ( ) ) [2] => Array ( [id] => 125 [link] => https://book.coe.int/en/125-cultural-policies [name] => Cultural Policies [desc] => [children] => Array ( ) ) [3] => Array ( [id] => 126 [link] => https://book.coe.int/en/126-culture-and-neighbourhoods [name] => Culture and neighbourhoods [desc] => [children] => Array ( ) ) ) ) [13] => Array ( [id] => 127 [link] => https://book.coe.int/en/127-sport [name] => Sport [desc] => [children] => Array ( [0] => Array ( [id] => 128 [link] => https://book.coe.int/en/128-sports-monographs [name] => Sports - Monographs [desc] => [children] => Array ( ) ) ) ) [14] => Array ( [id] => 129 [link] => https://book.coe.int/en/129-communication [name] => Communication [desc] => [children] => Array ( [0] => Array ( [id] => 130 [link] => https://book.coe.int/en/130-mass-media [name] => Mass media [desc] => [children] => Array ( ) ) [1] => Array ( [id] => 131 [link] => https://book.coe.int/en/131-european-audiovisual-observatory [name] => European Audiovisual Observatory [desc] => [children] => Array ( ) ) [2] => Array ( [id] => 132 [link] => https://book.coe.int/en/132-new-information-technologies [name] => New information technologies [desc] => [children] => Array ( ) ) [3] => Array ( [id] => 412 [link] => https://book.coe.int/en/412-artificial-intelligence [name] => Artificial intelligence [desc] => [children] => Array ( ) ) ) ) [15] => Array ( [id] => 133 [link] => https://book.coe.int/en/133-european-issues [name] => European issues [desc] => [children] => Array ( [0] => Array ( [id] => 134 [link] => https://book.coe.int/en/134-activities-annual-report [name] => Activities Annual Report [desc] => [children] => Array ( ) ) [1] => Array ( [id] => 135 [link] => https://book.coe.int/en/135-democracy-debates [name] => Democracy Debates [desc] => [children] => Array ( ) ) [2] => Array ( [id] => 136 [link] => https://book.coe.int/en/136-european-debates [name] => European debates [desc] => [children] => Array ( ) ) [3] => Array ( [id] => 137 [link] => https://book.coe.int/en/137-books-on-europe [name] => Books on Europe [desc] => [children] => Array ( ) ) [4] => Array ( [id] => 138 [link] => https://book.coe.int/en/138-other-fields [name] => Other fields [desc] => [children] => Array ( ) ) [5] => Array ( [id] => 373 [link] => https://book.coe.int/en/373-catalogues-of-publications [name] => Catalogues of publications [desc] => [children] => Array ( ) ) ) ) ) ) [1] => Array ( [id] => 7 [link] => https://book.coe.int/en/7-online-resources [name] => Online resources [desc] => [children] => Array ( [0] => Array ( [id] => 378 [link] => https://book.coe.int/en/378-the-council-of-europe-in-brief [name] => The Council of Europe in brief [desc] => [children] => Array ( ) ) [1] => Array ( [id] => 170 [link] => https://book.coe.int/en/170-human-rights [name] => Human Rights [desc] => [children] => Array ( [0] => Array ( [id] => 187 [link] => https://book.coe.int/en/187-children-s-rights [name] => Children's rights [desc] => [children] => Array ( ) ) [1] => Array ( [id] => 172 [link] => https://book.coe.int/en/172-european-convention-on-human-rights [name] => European Convention on Human Rights [desc] => [children] => Array ( ) ) [2] => Array ( [id] => 191 [link] => https://book.coe.int/en/191-violence-against-women-and-domestic-violence [name] => Violence against women and domestic violence [desc] => [children] => Array ( ) ) [3] => Array ( [id] => 176 [link] => https://book.coe.int/en/176-death-penalty [name] => Death penalty [desc] => [children] => Array ( ) ) [4] => Array ( [id] => 192 [link] => https://book.coe.int/en/192-trafficking-in-human-beings [name] => Trafficking in human beings [desc] => [children] => Array ( ) ) [5] => Array ( [id] => 177 [link] => https://book.coe.int/en/177-prevention-of-torture [name] => Prevention of torture [desc] => [children] => Array ( ) ) [6] => Array ( [id] => 178 [link] => https://book.coe.int/en/178-racism [name] => Racism [desc] => [children] => Array ( ) ) ) ) [2] => Array ( [id] => 179 [link] => https://book.coe.int/en/179-democracy [name] => Democracy [desc] => [children] => Array ( [0] => Array ( [id] => 180 [link] => https://book.coe.int/en/180-democracy-through-law [name] => Democracy Through Law [desc] => [children] => Array ( ) ) [1] => Array ( [id] => 181 [link] => https://book.coe.int/en/181-forum-for-the-future-of-democracy [name] => Forum for the Future of Democracy [desc] => [children] => Array ( ) ) [2] => Array ( [id] => 182 [link] => https://book.coe.int/en/182-civil-society [name] => Civil society [desc] => [children] => Array ( ) ) ) ) [3] => Array ( [id] => 186 [link] => https://book.coe.int/en/186-human-dignity [name] => Human dignity [desc] => [children] => Array ( ) ) [4] => Array ( [id] => 193 [link] => https://book.coe.int/en/193-society [name] => Society [desc] => [children] => Array ( [0] => Array ( [id] => 194 [link] => https://book.coe.int/en/194-living-together-diversity-and-freedom-in-europe [name] => Living Together - Diversity and Freedom in Europe [desc] => [children] => Array ( ) ) [1] => Array ( [id] => 195 [link] => https://book.coe.int/en/195-european-social-charter [name] => European Social Charter [desc] => [children] => Array ( ) ) [2] => Array ( [id] => 205 [link] => https://book.coe.int/en/205-drugs [name] => Drugs [desc] => [children] => Array ( ) ) [3] => Array ( [id] => 196 [link] => https://book.coe.int/en/196-migration [name] => Migration [desc] => [children] => Array ( ) ) [4] => Array ( [id] => 190 [link] => https://book.coe.int/en/190-gender-equality [name] => Gender Equality [desc] => [children] => Array ( ) ) [5] => Array ( [id] => 197 [link] => https://book.coe.int/en/197-council-of-europe-development-bank [name] => Council of Europe Development Bank [desc] => [children] => Array ( ) ) [6] => Array ( [id] => 222 [link] => https://book.coe.int/en/222-lgbt [name] => LGBT [desc] => [children] => Array ( ) ) [7] => Array ( [id] => 223 [link] => https://book.coe.int/en/223-people-with-disabilities [name] => People with disabilities [desc] => [children] => Array ( ) ) ) ) [5] => Array ( [id] => 198 [link] => https://book.coe.int/en/198-internet-media [name] => Internet, Media [desc] => [children] => Array ( [0] => Array ( [id] => 199 [link] => https://book.coe.int/en/199-internet [name] => Internet [desc] => [children] => Array ( ) ) [1] => Array ( [id] => 200 [link] => https://book.coe.int/en/200-children-and-the-internet [name] => Children and the Internet [desc] => [children] => Array ( ) ) [2] => Array ( [id] => 201 [link] => https://book.coe.int/en/201-media-freedom [name] => Media freedom [desc] => [children] => Array ( ) ) [3] => Array ( [id] => 202 [link] => https://book.coe.int/en/202-cybercrime [name] => Cybercrime [desc] => [children] => Array ( ) ) ) ) [6] => Array ( [id] => 203 [link] => https://book.coe.int/en/203-health [name] => Health [desc] => [children] => Array ( [0] => Array ( [id] => 204 [link] => https://book.coe.int/en/204-bioethics [name] => Bioethics [desc] => [children] => Array ( ) ) [1] => Array ( [id] => 206 [link] => https://book.coe.int/en/206-pharmaceutical-and-healthcare-europe [name] => Pharmaceutical and healthcare Europe [desc] => [children] => Array ( ) ) [2] => Array ( [id] => 207 [link] => https://book.coe.int/en/207-health-protection [name] => Health protection [desc] => [children] => Array ( ) ) ) ) [7] => Array ( [id] => 208 [link] => https://book.coe.int/en/208-culture-heritage-nature [name] => Culture, Heritage, Nature [desc] => [children] => Array ( [0] => Array ( [id] => 210 [link] => https://book.coe.int/en/210-european-cultural-convention [name] => European Cultural Convention [desc] => [children] => Array ( ) ) [1] => Array ( [id] => 211 [link] => https://book.coe.int/en/211-intercultural-and-interreligious-dialogue [name] => Intercultural and interreligious dialogue [desc] => [children] => Array ( ) ) [2] => Array ( [id] => 212 [link] => https://book.coe.int/en/212-biological-diversity-bern-convention [name] => Biological diversity - Bern Convention [desc] => [children] => Array ( ) ) [3] => Array ( [id] => 214 [link] => https://book.coe.int/en/214-climate-change [name] => Climate change [desc] => [children] => Array ( ) ) ) ) [8] => Array ( [id] => 215 [link] => https://book.coe.int/en/215-council-of-europe-and-the-eu [name] => Council of Europe and the EU [desc] => [children] => Array ( [0] => Array ( [id] => 216 [link] => https://book.coe.int/en/216-council-of-europe-and-european-union-different-roles-shared-values [name] => Council of Europe and European Union : different roles, shared values [desc] => [children] => Array ( ) ) [1] => Array ( [id] => 217 [link] => https://book.coe.int/en/217-eu-accession-to-the-european-convention-on-human-rights [name] => EU accession to the European Convention on Human Rights [desc] => [children] => Array ( ) ) ) ) [9] => Array ( [id] => 218 [link] => https://book.coe.int/en/218-minorities-rights [name] => Minorities' Rights [desc] => [children] => Array ( [0] => Array ( [id] => 219 [link] => https://book.coe.int/en/219-national-minorities [name] => National minorities [desc] => [children] => Array ( ) ) [1] => Array ( [id] => 220 [link] => https://book.coe.int/en/220-minority-languages [name] => Minority languages [desc] => [children] => Array ( ) ) [2] => Array ( [id] => 221 [link] => https://book.coe.int/en/221-roma-and-travellers [name] => Roma and Travellers [desc] => [children] => Array ( ) ) ) ) [10] => Array ( [id] => 224 [link] => https://book.coe.int/en/224-education-languages-sport-youth [name] => Education, languages, sport, youth [desc] => [children] => Array ( [0] => Array ( [id] => 226 [link] => https://book.coe.int/en/226-teaching-history [name] => Teaching History [desc] => [children] => Array ( ) ) ) ) [11] => Array ( [id] => 233 [link] => https://book.coe.int/en/233-law [name] => Law [desc] => [children] => Array ( [0] => Array ( [id] => 234 [link] => https://book.coe.int/en/234-organised-crime [name] => Organised crime [desc] => [children] => Array ( ) ) [1] => Array ( [id] => 235 [link] => https://book.coe.int/en/235-corruption [name] => Corruption [desc] => [children] => Array ( ) ) [2] => Array ( [id] => 237 [link] => https://book.coe.int/en/237-personal-data [name] => Personal data [desc] => [children] => Array ( ) ) [3] => Array ( [id] => 175 [link] => https://book.coe.int/en/175-european-prison-reform [name] => European prison reform [desc] => [children] => Array ( ) ) [4] => Array ( [id] => 238 [link] => https://book.coe.int/en/238-terrorism [name] => Terrorism [desc] => [children] => Array ( ) ) [5] => Array ( [id] => 239 [link] => https://book.coe.int/en/239-efficiency-of-justice [name] => Efficiency of justice [desc] => [children] => Array ( ) ) ) ) [12] => Array ( [id] => 240 [link] => https://book.coe.int/en/240-institutions [name] => Institutions [desc] => [children] => Array ( [0] => Array ( [id] => 242 [link] => https://book.coe.int/en/242-parliamentary-assembly [name] => Parliamentary Assembly  [desc] => [children] => Array ( ) ) [1] => Array ( [id] => 243 [link] => https://book.coe.int/en/243-congress-of-local-and-regional-authorities [name] => Congress of Local and Regional Authorities  [desc] => [children] => Array ( ) ) [2] => Array ( [id] => 244 [link] => https://book.coe.int/en/244-european-court-of-human-rights [name] => European Court of Human Rights [desc] => [children] => Array ( ) ) [3] => Array ( [id] => 246 [link] => https://book.coe.int/en/246-conference-of-ingos [name] => Conference of INGOs [desc] => [children] => Array ( ) ) [4] => Array ( [id] => 247 [link] => https://book.coe.int/en/247-secretary-general [name] => Secretary General [desc] => [children] => Array ( ) ) ) ) ) ) ) ) 1
Catalog
Newsletter
Stay informed
Subscribe to our newsletter
Subscribe to our newsletter
PDF - Policies on irregular migrants - Volume III: France, Portugal and Poland
(2010)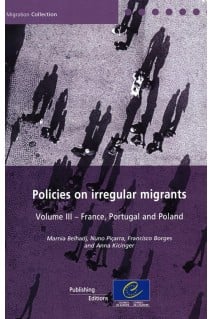  
Irregular migrants, who by definition are in an unlawful situation, face insecurity on a daily basis. This prompted the Council of Europe's European Committee on Migration (CDMG) to assess the policy and practice in member states. The aim of the exercise was to identify and evaluate national experiences regarding regularisation proceedings and to draw up proposals for dealing with irregular migration and improving co-operation between countries of origin and host countries.Volumes I and II cover five countries that participated in the first series of evaluations: Armenia, Germany, Greece, Italy and the Russian Federation.Volume III and IV include reports prepared within the second series and cover five other countries: France, Poland, Portugal, Spain and the United Kingdom.
Synthesis report
1. General remarks
2. Country reports
3. Conclusions
France - Exceptional entitlement to residence and return policy
1. Preamble
2. Definition and aims
3. Analysis of aspects of irregular immigration in France
4. Main features of the policy on exceptional entitlement to residence and assisted return
5. Impact of the policy on the influx of irregular migrants
6. Conclusions
7. Bibliographical references
Portugal - Exceptional grant of residence permits to irregular migrants
1. Executive summary
2. Short analysis of irregular migration in Portugal
3. Presentation of the main characteristics of the policy under evaluation
4. Evaluation of the impact of the specific policy on the irregular migration influx and irregular migrants
5. Summary of conclusions
6. Appendices
Poland - Return and regularisation procedures as possible responses to the phenomenon of irregular migration
1. Executive summary
2. Irregular migrants in Poland: brief overview
3. Policy responses to the irregular migration in Poland: return and regularisation measures
4. Evaluation of the impact that return and regularisation measures have on the irregular migrants in Poland
5. Summary of conclusions
6. References
7. Appendix
Download an extract (1000)
PDF - Policies on irregular migrants - Volume III: France, Portugal and Poland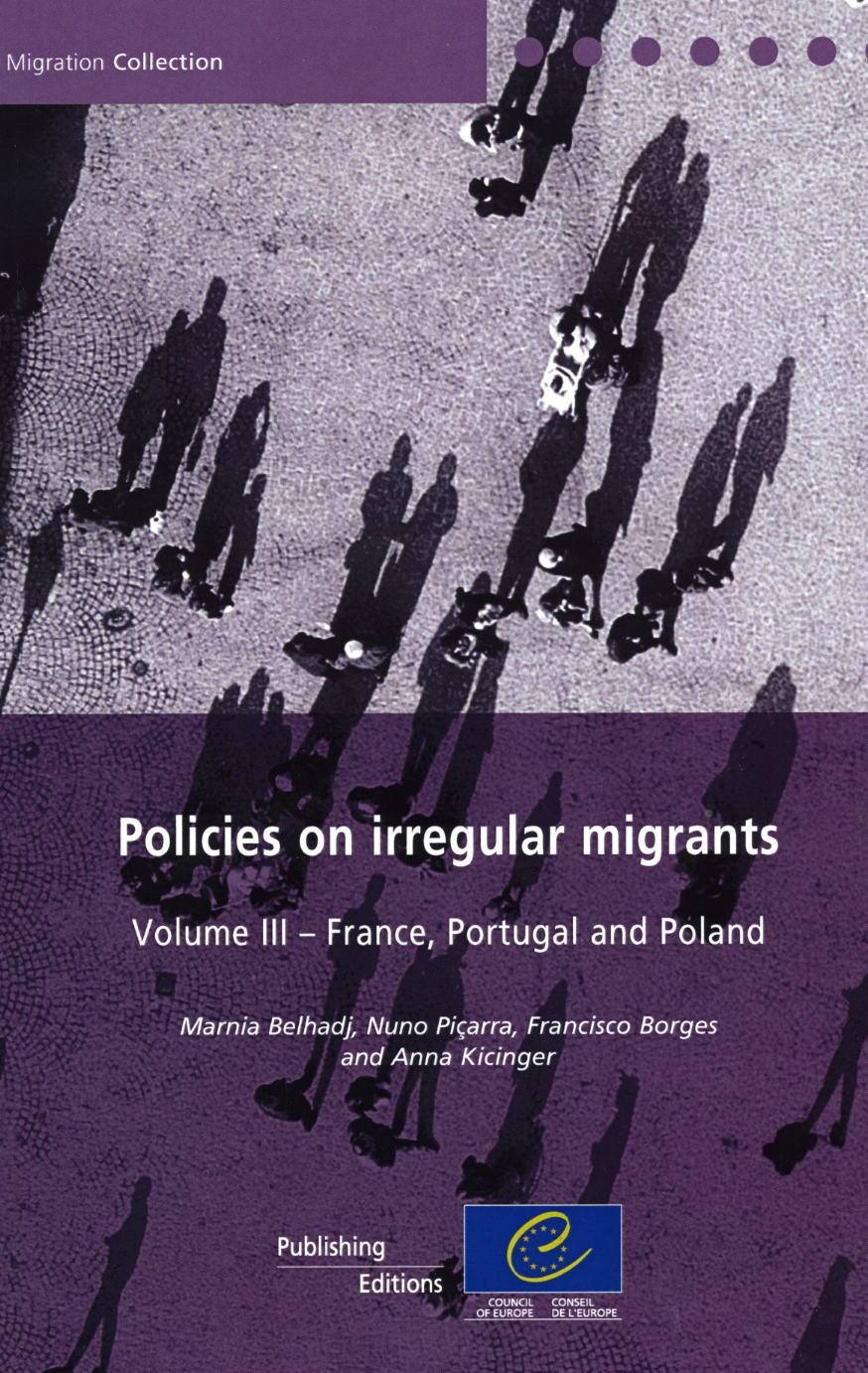 Please note that in accordance with our terms & conditions, PDF/epubs may only be purchased by private individuals.