Law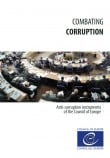 PDF - Combating corruption - Instruments of the Council of Europe (2013)
ISBN 089016GBR
Type of document : Document
Format : PDF
Size : 1.11 MB
Language : English
Number of pages : 104
Other available languages
> French
Fighting corruption: a priority for the Council of Europe
Several milestones have marked the development of the Council of Europe's activities against corruption. In 1994, the Ministers of Justice of Council of Europe member States recommended that corruption be addressed at European level, as it poses a serious threat to the stability of democratic institutions and the functioning of the market economy.
The Ministers recognised that an effective fight against corruption must take a broad approach and recommended that a Multidisciplinary Group on Corruption (GMC) be set up to prepare a comprehensive programme of action and to examine the possibility of drafting legal instruments in this field. With the creation of the GMC in 1995 the fight against corruption was firmly established as one of the Council of Europe's priorities.
As a result of the GMC's work, the Committee of Ministers of the Council of Europe adopted several anti-corruption standard setting instruments, which are grouped together in this booklet.
The GMC's mandate extended beyond standard setting; it was equally felt important to establish a mechanism to monitor the implementation of the standards adopted, and in May 1999 the Group of States against Corruption (GRECO) was set up as an enlarged partial agreement. More information about GRECO can be found at the end of this booklet.
Contents
Standard-setting instruments (in chronological order)
• Resolution (97) 24 on the twenty guiding principles for the fight against Corruption
• Criminal Law Convention on Corruption (ETS No. 173)
• Civil Law Convention on Corruption (ETS No. 174)
• Recommendation No. R (2000) 10 of the Committee of Ministers to Member states on codes of conduct for public officials (including a model code)
• Additional Protocol to the Criminal Law Convention on Corruption (ETS No. 191)
• Recommendation Rec(2003)4 of the Committee of Ministers to member states on common rules against corruption in the funding of political parties and electoral campaigns
The Group of States against Corruption
Resolution (99) 5 establishing the Group of States against Corruption (GRECO)
Information about GRECO