Communication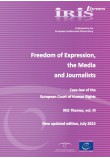 PDF - IRIS Themes – Freedom of Expression, the Media and Journalists (2015)
European Audiovisual Observatory
ISBN Iris Themes vol III
Type of document : Document
Format : PDF
Size : 3.65 MB
Language : English
Number of pages : 412
Other available languages
> French
In the times of whistleblowers, hate speech, data protection, good and bad "buzz", this new publication provides vital background analysis of the European legislation which gives us a right to speak… or not…

Question: What do Caroline of Monaco, Linford Christie and Gerhard Schröder have in common?
Answer: their names have all figured in important European case law concerning journalistic freedom of speech and the media.
All of these important media cases feature in IRIS Themes – Freedom of Expression, the Media and Journalists – downloadable free of charge here. This 400 page report by the European Audiovisual Observatory, part of the Council of Europe in Strasbourg, offers an unparalleled overview of 240 different high profile court cases based on or around article 10 of the European Convention of Human Rights – guaranteeing freedom of speech and information. Links to the full transcription for each case are provided.

This publication has been authored by Dirk Voorhoof (Ghent and Copenhagen Universities) and edited by Tarlach McGonagle of Amsterdam's Institute for Information Law (IViR).
PDF only