Human Rights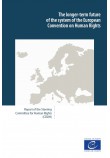 PDF - The longer-term future of the system of the European Convention on Human Rights (2016)
Steering Committee for Human Rights (CDDH)
ISBN 158815GBR
Type of document : Document
Format : PDF
Size : 2.31 MB
Language : English
Number of pages : 127
Other available languages
> French
What are the present and future challenges to the longer-term future of the system of the European Convention on Human Rights? How should they be addressed?
This report is the result of the intergovernmental work undertaken throughout the biennium 2014-2015 by the Steering Committee for Human Rights (CDDH) and its subordinate bodies, the Committee of Experts on the Reform of the Court (DH-GDR) and its Drafting Group "F" on the Reform of the Court (GT-GDR-F), in response to paragraphs 35. c to 35.f of the Brighton Declaration.
In order to think outside the box and carry out a comprehensive analysis of the whole Convention system, a number of particularly innovative working methods have been adopted. Seven independent external experts have been involved in all of the preparatory work. An open call for contributions was launched throughout Europe and ad hoc experts from academia and civil society contributed to the work, with additional input from the Conference on the long-term future of the Court, organised by the PluriCourts academic network in Oslo in April 2014. The report also reflects the work carried out in other bodies of the Council of Europe and considers the follow-up to be given to the Brussels Declaration (27 March 2015) on "the implementation of the European Convention on Human Rights, our shared responsibility".
Four overarching areas are crucial for the longer-term effectiveness and viability of the Convention system:
► national implementation of the Convention;
► the authority of the Court;
► the execution of judgments and its supervision;
► the place of the Convention in the European and international legal order.
The challenges inherent in each of these fields are identified, along with the responses to be given by all actors in the Convention system.
Foreword
Executive summary
Introduction
     A. Terms of reference for the work on the longer-term future of the system of the European Convention on Human Rights
     B. Working methods
     C. Methodology
Chapter I – The system of the European Convention on Human Rights as it stands today
     The Convention's control mechanism
     Effect of Court judgments
     The Convention in the wider context of the work of the Council of Europe
     Evolution of the Convention system
Chapter II – The authority of the Convention: national implementation
     A. Challenges
     B. Possible responses within the framework of the existing structures
          Effect of judgments on High Contracting Parties
          Awareness-raising / education
          Domestic remedies
          The legislative process and the role of national parliaments
          Role of national human rights structures and civil society
          Role of the Council of Europe
     C. Possible responses outside the framework of the existing structures
          Effect of judgments on High Contracting Parties other than the respondent Party
          Domestic remedies
          Role of national parliaments
          Role of the Council of Europe
     D. Conclusions
Chapter III – The authority of the Court
     Section I – The challenge of the caseload
     A. Possible responses within the framework of the existing structures
          Clearance of backlog
          The annual influx of cases
          Maintaining the ability to revise the working methods to respond to changing circumstances
          Large-scale violations
          Systemic issues
     B. Possible responses outside the framework of the existing structures
     Section II – The challenge regarding the authority of the case law
     A. Possible responses within the framework of the existing structures
          The quality of judges
          The quality of the Registry
          The quality and consistency of the case law
          General interpretative guidance while maintaining the individual adjudication
          The relationship between the Strasbourg Court and national courts
     B. Possible responses outside the existing structures
          The quality of the judges and of the Registry
          An enhanced interpretative function while maintaining individual adjudication
          The relationship between the Strasbourg Court and national courts
     Section III – Conclusions
Chapter IV – The authority of the Court's judgments: execution of judgments and its supervision
     A. Challenges
     B. Possible responses within the framework of the existing structures
          Execution of judgments
          Supervision of execution of the Court's judgments
     C. Possible responses outside the framework of the existing structures
          Execution of Court judgments
          Supervision of execution of the Court's judgments
     D. Conclusions
Chapter V – The place of the Convention mechanism in the European and International legal order
     A. Challenges
          The interaction between the Convention and other instruments of the Council of Europe
          The interaction between the Convention and other regional organisations
          The interaction between the Convention and other international human rights instruments to which Council of Europe member States are parties
          The interaction between human rights law and other branches of international law
     B. Possible responses within the framework of the existing structures
          The interaction between the Convention mechanism and the UN treaty bodies
          Ensuring consistency with States' commitments under other treaties and international customary law
          Ensuring coherency with the EU legal order
     C. Possible responses outside the framework of the existing structures
          Ensuring consistency with States' commitments under other treaties and international customary law
     D. Conclusions
Chapter VI – Conclusions
Appendix – List of reference documents