Array ( [id] => 2 [link] => [name] => [desc] => [children] => Array ( [0] => Array ( [id] => 6 [link] => https://book.coe.int/en/6-online-bookshop [name] => Online Bookshop [desc] => [children] => Array ( [0] => Array ( [id] => 40 [link] => https://book.coe.int/en/40-committee-of-ministers [name] => Committee of Ministers [desc] => [children] => Array ( [0] => Array ( [id] => 41 [link] => https://book.coe.int/en/41-texts-of-council-of-europe-treaties [name] => Texts of Council of Europe Treaties [desc] => [children] => Array ( ) ) [1] => Array ( [id] => 43 [link] => https://book.coe.int/en/43-council-of-europe-treaties-and-explanatory-reports [name] => Council of Europe Treaties and explanatory reports [desc] => [children] => Array ( ) ) [2] => Array ( [id] => 44 [link] => https://book.coe.int/en/44-collected-edition-of-the-council-of-europe-treaties-series [name] => Collected edition of the Council of Europe Treaties Series [desc] => [children] => Array ( ) ) [3] => Array ( [id] => 45 [link] => https://book.coe.int/en/45-committee-of-ministers-compendium-of-adopted-texts [name] => Committee of Ministers - Compendium of adopted texts [desc] => [children] => Array ( ) ) [4] => Array ( [id] => 42 [link] => https://book.coe.int/en/42-committee-of-ministers-other-publications [name] => Committee of Ministers - Other publications [desc] => [children] => Array ( ) ) ) ) [1] => Array ( [id] => 46 [link] => https://book.coe.int/en/46-parliamentary-assembly [name] => Parliamentary Assembly [desc] => [children] => Array ( [0] => Array ( [id] => 47 [link] => https://book.coe.int/en/47-parliamentary-assembly-adopted-texts [name] => Parliamentary Assembly / Adopted texts [desc] => [children] => Array ( ) ) [1] => Array ( [id] => 48 [link] => https://book.coe.int/en/48-parliamentary-assembly-orders-of-the-day-minutes [name] => Parliamentary Assembly / Orders of the Day, Minutes [desc] => [children] => Array ( ) ) [2] => Array ( [id] => 49 [link] => https://book.coe.int/en/49-parliamentary-assembly-official-reports-of-debates [name] => Parliamentary Assembly / Official Reports of Debates [desc] => [children] => Array ( ) ) [3] => Array ( [id] => 50 [link] => https://book.coe.int/en/50-parliamentary-assembly-documents-working-papers [name] => Parliamentary Assembly / Documents, Working Papers [desc] => [children] => Array ( ) ) [4] => Array ( [id] => 51 [link] => https://book.coe.int/en/51-parliamentary-assembly-general-publications [name] => Parliamentary Assembly / General publications [desc] => [children] => Array ( ) ) ) ) [2] => Array ( [id] => 52 [link] => https://book.coe.int/en/52-congress [name] => Congress [desc] => [children] => Array ( [0] => Array ( [id] => 53 [link] => https://book.coe.int/en/53-congress-local-and-regional-action-series [name] => Congress / Local and Regional Action Series [desc] => [children] => Array ( ) ) [1] => Array ( [id] => 54 [link] => https://book.coe.int/en/54-congress-studies-and-texts-series [name] => Congress/ Studies and Texts Series [desc] => [children] => Array ( ) ) [2] => Array ( [id] => 55 [link] => https://book.coe.int/en/55-congress-adopted-texts [name] => Congress / Adopted Texts [desc] => [children] => Array ( ) ) [3] => Array ( [id] => 56 [link] => https://book.coe.int/en/56-congress-official-report-of-debates [name] => Congress / Official Report of Debates [desc] => [children] => Array ( ) ) ) ) [3] => Array ( [id] => 57 [link] => https://book.coe.int/en/57-human-rights [name] => Human Rights [desc] => [children] => Array ( [0] => Array ( [id] => 58 [link] => https://book.coe.int/en/58-human-rights-and-democracy [name] => Human Rights and Democracy [desc] => [children] => Array ( ) ) [1] => Array ( [id] => 59 [link] => https://book.coe.int/en/59-children-s-rights-and-family-law [name] => Children's rights and family law [desc] => [children] => Array ( ) ) [2] => Array ( [id] => 60 [link] => https://book.coe.int/en/60-making-democratic-institutions-work [name] => Making democratic institutions work [desc] => [children] => Array ( ) ) [3] => Array ( [id] => 61 [link] => https://book.coe.int/en/61-minorities [name] => Minorities [desc] => [children] => Array ( ) ) [4] => Array ( [id] => 62 [link] => https://book.coe.int/en/62-human-rights-files [name] => Human Rights Files [desc] => [children] => Array ( ) ) [5] => Array ( [id] => 63 [link] => https://book.coe.int/en/63-european-social-charter [name] => European Social Charter [desc] => [children] => Array ( ) ) [6] => Array ( [id] => 64 [link] => https://book.coe.int/en/64-social-charter-monographs [name] => Social Charter Monographs [desc] => [children] => Array ( ) ) [7] => Array ( [id] => 65 [link] => https://book.coe.int/en/65-gender-equality [name] => Gender equality [desc] => [children] => Array ( ) ) [8] => Array ( [id] => 66 [link] => https://book.coe.int/en/66-european-court-of-human-rights [name] => European Court of Human Rights [desc] => [children] => Array ( ) ) [9] => Array ( [id] => 376 [link] => https://book.coe.int/en/376-commissioner-for-human-rights [name] => Commissioner for Human Rights [desc] => [children] => Array ( ) ) [10] => Array ( [id] => 67 [link] => https://book.coe.int/en/67-european-commission-of-human-rights [name] => European Commission of Human Rights [desc] => [children] => Array ( ) ) ) ) [4] => Array ( [id] => 68 [link] => https://book.coe.int/en/68-law [name] => Law [desc] => [children] => Array ( [0] => Array ( [id] => 71 [link] => https://book.coe.int/en/71-international-law [name] => International Law [desc] => [children] => Array ( ) ) [1] => Array ( [id] => 75 [link] => https://book.coe.int/en/75-constitutional-law [name] => Constitutional Law [desc] => [children] => Array ( ) ) [2] => Array ( [id] => 77 [link] => https://book.coe.int/en/77-legal-instruments [name] => Legal instruments [desc] => [children] => Array ( ) ) [3] => Array ( [id] => 76 [link] => https://book.coe.int/en/76-penal-law-and-criminology [name] => Penal Law and criminology [desc] => [children] => Array ( ) ) [4] => Array ( [id] => 79 [link] => https://book.coe.int/en/79-computers-and-law [name] => Computers and law [desc] => [children] => Array ( ) ) [5] => Array ( [id] => 74 [link] => https://book.coe.int/en/74-economy-and-crime-fight-against-corruption [name] => Economy and crime, fight against corruption [desc] => [children] => Array ( ) ) [6] => Array ( [id] => 72 [link] => https://book.coe.int/en/72-terrorism-and-law [name] => Terrorism and Law [desc] => [children] => Array ( ) ) [7] => Array ( [id] => 69 [link] => https://book.coe.int/en/69-points-of-view-points-of-law [name] => Points of view - Points of Law [desc] => [children] => Array ( ) ) [8] => Array ( [id] => 70 [link] => https://book.coe.int/en/70-europeans-and-their-rights [name] => Europeans and their rights [desc] => [children] => Array ( ) ) [9] => Array ( [id] => 73 [link] => https://book.coe.int/en/73-migrants-rights [name] => Migrants rights [desc] => [children] => Array ( ) ) [10] => Array ( [id] => 78 [link] => https://book.coe.int/en/78-themis-programme [name] => Themis Programme [desc] => [children] => Array ( ) ) ) ) [5] => Array ( [id] => 80 [link] => https://book.coe.int/en/80-health [name] => Health [desc] => [children] => Array ( [0] => Array ( [id] => 81 [link] => https://book.coe.int/en/81-health-and-society-ethics [name] => Health and society, Ethics [desc] => [children] => Array ( ) ) [1] => Array ( [id] => 82 [link] => https://book.coe.int/en/82-blood-transfusion-and-organ-transplantation [name] => Blood transfusion and organ transplantation [desc] => [children] => Array ( ) ) [2] => Array ( [id] => 83 [link] => https://book.coe.int/en/83-health-protection-of-the-consumer [name] => Health protection of the consumer [desc] => [children] => Array ( ) ) [3] => Array ( [id] => 84 [link] => https://book.coe.int/en/84-integration-of-people-with-disabilities [name] => Integration of people with disabilities [desc] => [children] => Array ( ) ) [4] => Array ( [id] => 85 [link] => https://book.coe.int/en/85-european-directorate-for-the-quality-of-medicines-and-healthcare-edqm [name] => European Directorate for the Quality of Medicines and HealthCare (EDQM) [desc] => [children] => Array ( ) ) ) ) [6] => Array ( [id] => 86 [link] => https://book.coe.int/en/86-society [name] => Society [desc] => [children] => Array ( [0] => Array ( [id] => 87 [link] => https://book.coe.int/en/87-demography [name] => Demography [desc] => [children] => Array ( ) ) [1] => Array ( [id] => 88 [link] => https://book.coe.int/en/88-trends-in-social-cohesion-series [name] => Trends in Social Cohesion Series [desc] => [children] => Array ( ) ) [2] => Array ( [id] => 89 [link] => https://book.coe.int/en/89-responses-to-violence-in-everyday-life-in-a-democratic-society-series [name] => Responses to violence in everyday life in a democratic society Series [desc] => [children] => Array ( ) ) [3] => Array ( [id] => 90 [link] => https://book.coe.int/en/90-drugs-and-addiction [name] => Drugs and addiction [desc] => [children] => Array ( ) ) [4] => Array ( [id] => 91 [link] => https://book.coe.int/en/91-social-security [name] => Social Security [desc] => [children] => Array ( ) ) [5] => Array ( [id] => 92 [link] => https://book.coe.int/en/92-community-relations [name] => Community relations [desc] => [children] => Array ( ) ) [6] => Array ( [id] => 93 [link] => https://book.coe.int/en/93-social-co-operation-in-europe [name] => Social co-operation in Europe [desc] => [children] => Array ( ) ) [7] => Array ( [id] => 94 [link] => https://book.coe.int/en/94-population-studies-series [name] => Population Studies Series [desc] => [children] => Array ( ) ) ) ) [7] => Array ( [id] => 95 [link] => https://book.coe.int/en/95-environment [name] => Environment [desc] => [children] => Array ( [0] => Array ( [id] => 96 [link] => https://book.coe.int/en/96-nature-and-environment-series [name] => Nature and environment Series [desc] => [children] => Array ( ) ) [1] => Array ( [id] => 97 [link] => https://book.coe.int/en/97-environmental-encounters-series [name] => Environmental Encounters Series [desc] => [children] => Array ( ) ) [2] => Array ( [id] => 98 [link] => https://book.coe.int/en/98-territory-and-landscape-series [name] => Territory and Landscape Series [desc] => [children] => Array ( ) ) [3] => Array ( [id] => 99 [link] => https://book.coe.int/en/99-european-regional-planning-series [name] => European Regional Planning Series [desc] => [children] => Array ( ) ) [4] => Array ( [id] => 100 [link] => https://book.coe.int/en/100-environment-general-publications [name] => Environment / General publications [desc] => [children] => Array ( ) ) ) ) [8] => Array ( [id] => 101 [link] => https://book.coe.int/en/101-local-and-regional-democracy [name] => Local and Regional Democracy [desc] => [children] => Array ( [0] => Array ( [id] => 102 [link] => https://book.coe.int/en/102-co-operation-for-local-and-regional-democracy [name] => Co-operation for Local and Regional Democracy [desc] => [children] => Array ( ) ) [1] => Array ( [id] => 103 [link] => https://book.coe.int/en/103-local-and-regional-authorities-in-europe-series [name] => Local and Regional Authorities in Europe Series [desc] => [children] => Array ( ) ) [2] => Array ( [id] => 104 [link] => https://book.coe.int/en/104-structure-and-operation-of-local-and-regional-democracy-series [name] => Structure and operation of Local and Regional Democracy Series [desc] => [children] => Array ( ) ) ) ) [9] => Array ( [id] => 105 [link] => https://book.coe.int/en/105-education [name] => Education [desc] => [children] => Array ( [0] => Array ( [id] => 406 [link] => https://book.coe.int/en/406-education-policy [name] => Education policy [desc] => [children] => Array ( ) ) [1] => Array ( [id] => 108 [link] => https://book.coe.int/en/108-human-rights-democratic-citizenship-and-interculturalism [name] => Human rights, democratic citizenship and interculturalism [desc] => [children] => Array ( ) ) [2] => Array ( [id] => 112 [link] => https://book.coe.int/en/112-higher-education-and-research [name] => Higher education and research [desc] => [children] => Array ( ) ) [3] => Array ( [id] => 110 [link] => https://book.coe.int/en/110-secondary-education [name] => Secondary education [desc] => [children] => Array ( ) ) [4] => Array ( [id] => 107 [link] => https://book.coe.int/en/107-history-teaching [name] => History teaching [desc] => [children] => Array ( ) ) [5] => Array ( [id] => 106 [link] => https://book.coe.int/en/106-pestalozzi-series [name] => Pestalozzi series [desc] => [children] => Array ( ) ) ) ) [10] => Array ( [id] => 113 [link] => https://book.coe.int/en/113-languages [name] => Languages [desc] => [children] => Array ( [0] => Array ( [id] => 114 [link] => https://book.coe.int/en/114-education-and-modern-languages [name] => Education and modern languages [desc] => [children] => Array ( ) ) [1] => Array ( [id] => 115 [link] => https://book.coe.int/en/115-language-policy [name] => Language policy [desc] => [children] => Array ( ) ) [2] => Array ( [id] => 116 [link] => https://book.coe.int/en/116-regional-and-minority-languages [name] => Regional and minority languages [desc] => [children] => Array ( ) ) [3] => Array ( [id] => 117 [link] => https://book.coe.int/en/117-terminology [name] => Terminology [desc] => [children] => Array ( ) ) ) ) [11] => Array ( [id] => 118 [link] => https://book.coe.int/en/118-youth [name] => Youth [desc] => [children] => Array ( [0] => Array ( [id] => 119 [link] => https://book.coe.int/en/119-training-kits-youth [name] => Training Kits / Youth [desc] => [children] => Array ( ) ) [1] => Array ( [id] => 120 [link] => https://book.coe.int/en/120-national-youth-policies [name] => National Youth Policies [desc] => [children] => Array ( ) ) [2] => Array ( [id] => 121 [link] => https://book.coe.int/en/121-youth-other-publications [name] => Youth / Other publications [desc] => [children] => Array ( ) ) [3] => Array ( [id] => 396 [link] => https://book.coe.int/en/396-perspectives-on-youth [name] => Perspectives on youth [desc] => [children] => Array ( ) ) ) ) [12] => Array ( [id] => 122 [link] => https://book.coe.int/en/122-culture [name] => Culture [desc] => [children] => Array ( [0] => Array ( [id] => 123 [link] => https://book.coe.int/en/123-cultural-development [name] => Cultural development [desc] => [children] => Array ( ) ) [1] => Array ( [id] => 124 [link] => https://book.coe.int/en/124-cultural-heritage [name] => Cultural heritage [desc] => [children] => Array ( ) ) [2] => Array ( [id] => 125 [link] => https://book.coe.int/en/125-cultural-policies [name] => Cultural Policies [desc] => [children] => Array ( ) ) [3] => Array ( [id] => 126 [link] => https://book.coe.int/en/126-culture-and-neighbourhoods [name] => Culture and neighbourhoods [desc] => [children] => Array ( ) ) ) ) [13] => Array ( [id] => 127 [link] => https://book.coe.int/en/127-sport [name] => Sport [desc] => [children] => Array ( [0] => Array ( [id] => 128 [link] => https://book.coe.int/en/128-sports-monographs [name] => Sports - Monographs [desc] => [children] => Array ( ) ) ) ) [14] => Array ( [id] => 129 [link] => https://book.coe.int/en/129-communication [name] => Communication [desc] => [children] => Array ( [0] => Array ( [id] => 130 [link] => https://book.coe.int/en/130-mass-media [name] => Mass media [desc] => [children] => Array ( ) ) [1] => Array ( [id] => 131 [link] => https://book.coe.int/en/131-european-audiovisual-observatory [name] => European Audiovisual Observatory [desc] => [children] => Array ( ) ) [2] => Array ( [id] => 132 [link] => https://book.coe.int/en/132-new-information-technologies [name] => New information technologies [desc] => [children] => Array ( ) ) [3] => Array ( [id] => 412 [link] => https://book.coe.int/en/412-artificial-intelligence [name] => Artificial intelligence [desc] => [children] => Array ( ) ) ) ) [15] => Array ( [id] => 133 [link] => https://book.coe.int/en/133-european-issues [name] => European issues [desc] => [children] => Array ( [0] => Array ( [id] => 134 [link] => https://book.coe.int/en/134-activities-annual-report [name] => Activities Annual Report [desc] => [children] => Array ( ) ) [1] => Array ( [id] => 135 [link] => https://book.coe.int/en/135-democracy-debates [name] => Democracy Debates [desc] => [children] => Array ( ) ) [2] => Array ( [id] => 136 [link] => https://book.coe.int/en/136-european-debates [name] => European debates [desc] => [children] => Array ( ) ) [3] => Array ( [id] => 137 [link] => https://book.coe.int/en/137-books-on-europe [name] => Books on Europe [desc] => [children] => Array ( ) ) [4] => Array ( [id] => 138 [link] => https://book.coe.int/en/138-other-fields [name] => Other fields [desc] => [children] => Array ( ) ) [5] => Array ( [id] => 373 [link] => https://book.coe.int/en/373-catalogues-of-publications [name] => Catalogues of publications [desc] => [children] => Array ( ) ) ) ) ) ) ) ) 1
Catalog
Newsletter
Stay informed
Subscribe to our newsletter
Subscribe to our newsletter
Az Európa Tanács Miniszteri Bizottságának magyar elnöksége
Published : 05/21/2021 14:28:40
Categories :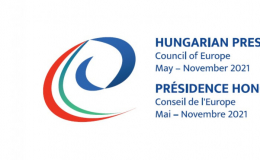 Magyarország a mai napon (május 21-én) Németországot váltotta az Európa Tanács Miniszteri Bizottságának elnöki tisztségében a szervezet 47 tagállamának képviselőivel tartott videokonferencián. Az új elnökség prioritásai között szerepel a nemzeti kisebbségek hatékony védelmének előmozdítása, a vallások közötti párbeszéd, a "következő generáció": a gyermekek jogai, a fiatalok részvétele és a romák integrációja, a technológiai és környezeti kihívások.
Ebből az alkalomból az Európa Tanács Kommunikációs Igazgatósága meghívja Önt, hogy fedezze fel a magyar nyelven elérhető kiadványok válogatását: kérésre elérhető kiadványok (http://book.coe.int) és ingyenesen letölthető információs anyagok (http://edoc.coe.int). 


Megrendelhető kiadványok (papír és pdf): book.coe.int

Bevezetés az Emberi Jogok Európai Egyezményébe

Az élethez való jog, a kínzás tilalma, gondolat-, lelkiismeret- és vallásszabadság, a véleménynyilvánítás szabadsága, házassághoz való jog ... Tudta, hogy ezeket és még sok más jogot véd az Európai Emberi Jogi Egyezmény? A könyv szerzője egyszerűen és érthetően, konkrét példákon keresztül mutatja be a fenti jogok mindegyikét. A szerző ismerteti az Emberi Jogok Európai Bíróságának tevékenységét is, amely az Európa Tanács keretében ugyanezen eszmények megvalósulását szolgálja.

Böngésző - Emberi jogi neveléssel az online gyűlöletbeszéd ellen

A "Böngésző" kézikönyv értékes eszközül szolgálhat azoknak, akik tenni szeretnének a gyűlöletbeszéd terjedésének megállításáért és az emberi jogok megerősítésért. A gyűlöletbeszéd napjainkra az intolerancia és az idegengyűlölet egyik legáltalánosabb formájává vált Európában. Különösen aggasztó, hogy a gyűlöletbeszéd a politikai diskurzusban is egyre inkább jelen van, és a közbeszédben is általánossá, megszokottá válik, kiváltképp az interneten. Amikor kezdjük elfogadni az elfogadhatatlant, amikor "normává" válik, akkor az már igazi fenyegetést jelent mindannyiunk számára. Az Európa Tanács azzal a céllal indította útjára a No Hate Speech Mozgalmat, hogy csökkentse az online gyűlöletbeszéd elfogadottságát, és gátat szabjon "normalizálódásának".

Tükrök – Kézikönyv Emberi jogi neveléssel a cigányellenesség leküzdéséért

A cigányellenesség elleni küzdelem mindannyiunk feladata, és az oktatás központi szerepet játszik a cigányellenesség leküzdésében és legyőzésében, mivel az évszázados előítéletek következményeit nem lehet csak törvényekkel és bíróságokkal kezelni. Ez a kézikönyv a nem formális oktatásban részt vevő tanárokat, oktatókat és csoportvezetőket látja el azokkal az információkkal és módszertani eszközökkel, amelyekre a cigányellenesség gyakorlásához szükségük van minden korú és szociokulturális hátterű fiatalokkal.

Az Európa Tanács Miniszteri Bizottságának iránymutatása a gyermekbarát igazságszolgáltatásról

Az Európa Tanács által 2010-ben elfogadott, a meglévő nemzetközi és európai normákon, különösen az ENSZ gyermekjogi egyezményén és az emberi jogok európai egyezményén alapuló iránymutatások célja annak biztosítása, hogy a gyermekek ténylegesen hozzáférjenek az igazságszolgáltatáshoz, és az igazságszolgáltatásban megfelelő bánásmódban részesüljenek.

Kiskompasz - Kézikönyv a gyermekek emberi jogi neveléséhez

Az Európa Tanács nagyra becsült Emberi Jogi Képzés Ifjúsági Programjának tapasztalataira és a Kompasz ‑ Kézikönyv a fiatalok emberi jogi képzéséhez sikerére támaszkodva készült a gyerekek és az őket tanító-nevelő pedagógusok, szülők és más szakemberek számára a Kiskompasz. A könyvben leírt gyakorlatok és módszerek elősegítik, hogy a gyerekek kreatív és számukra vonzó módon ismerkedhessenek meg az emberi jogokkal. Ez a kézikönyv kiindulópont: a Kiskompasz iránymutatásul szolgál, de a gyerekeken és a gyerekekkel foglalkozókon múlik, hogy használják-e, és hogy a lehető legjobb módon használják-e a könyvet.

A fiatalok és az eröszak megelözése – ifjúságpolitikai ajánlások

Ez a kiadvány olyan szakpolitikai ajánlásokat mutat be, amelyek támogathatják a fiatalok, a kormányok és a nem kormányzati szervezetek munkáját az erőszak megelőzése és következményeinek kezelése érdekében.


A dokumentáció ingyenesen letölthető: edoc.coe.int



Ez a brosúra gyors áttekintést nyújt az Európa Tanács tevékenységéről és működéséről.

Az Európa Tanács – Az emberi jogok védelmezöje

Ez a szórólap az Európa Tanácsot, az emberi jogok őrét mutatja be. Bemutatja különböző intézményeinek működését és nemzetközi együttműködési tevékenységeit.

Az Európai Emberi Jogi Egyezmény - Élő jog

Az 1950. november 4-én Rómában aláírt Európai Emberi Jogi Egyezmény volt az első olyan eszköz, amely kikristályosította és kikényszeríthetővé tette az Emberi Jogok Egyetemes Nyilatkozatában meghatározott jogokat. Az eredeti szöveg a kiegészítő jegyzőkönyvek elfogadásával számos további joggal bővült, különös tekintettel a halálbüntetés tilalmára, a tulajdon védelmére, a szabad választásokhoz való jogra vagy a mozgás szabadságára.

Az ifjúsági szektor 2030- Ig tartó idöszakra szóló stratégiája - A fiatalok elkötelezése az Európa Tanács értékei iránt

Az ifjúsági szektor célja, hogy "az európai fiatalokat képessé tegye az Európa Tanács által vallott alapértékek (az emberi jogok, a demokrácia és a jogállamiság) aktív fenntartására, védelmezésére, előmozdítására és kiaknázására."

Ez a képzési csomag a tanároknak szóló szakmai fejlesztési program, amelynek célja, hogy támogassa és elősegítse az ellentmondásos témák oktatását az európai iskolákban. Célja, hogy az ellentmondásos kérdések tanításával kapcsolatos kihívásokat egy átfogó képzési és szakmai fejlesztési anyagcsomag kidolgozásával kezelje.

Az Európa Tanács Emberkereskedelem Elleni Fellépéséről szóló Egyezménye - Az áldozatok jogai

Az Egyezmény az emberkereskedelmet az emberi jogok megsértéseként és az emberi méltóság és sértetlenség elleni támadásként határozza meg. Ez azt jelenti, hogy a nemzeti hatóságok felelőssé tehetők, amennyiben nem teszik meg az emberkereskedelem megelőzésére szolgáló intézkedéseket, nem védik meg az áldozatokat és nem nyomoznak hatékonyan ezekben az esetekben.

Az Európa Tanács Emberkereskedelem Elleni Fellépéséről szóló Egyezménye - Ellenőrző mechanizmus

Az Egyezmény egy független ellenőrző mechanizmust hozott létre annak az értékelésére, mennyire jól alkalmazzák rendelkezéseit a gyakorlatban. Ez az ellenőrző mechanizmus, amely az Egyezmény fő erősségének is tekinthető, két pilléren nyugszik: az Emberkereskedelem Elleni Fellépés Szakértői Csoportján (GRETA) és a Felek Bizottságán.

A " Ez már szexuális zaklatás?" című új, gyermekbarát kiadvány tizenévesek (12 éves kortól) számára készült, hogy feltárja a gyermekek szexuális visszaélésének és kizsákmányolásának néhány mai formáját. A kiadvány fő üzenete, hogy a gyerekek nincsenek egyedül, ha kérdéseik vannak.

Nekem vannak jogaim, neked vannak jogaid, neki vannak jogai ...

Mindenkinek vannak jogai. Sőt, a 18 év alatti fiúknak és lányoknak bizonyos külön jogaik is vannak. A Gyermek Jogairól szóló ENSZ Egyezmény (1989) felsorolja ezeket a jogokat, valamint azokat az intézkedéseket, amelyeket a kormányoknak meg kell tenniük, hogy segítsenek téged ezeknek a jogoknak a gyakorlásában.
Please note that in accordance with our terms & conditions, PDF/epubs may only be purchased by private individuals.