Our online bookshop is currently undergoing major maintenance: please accept our apologies for the unsolicited email regarding shipped publications
Array ( [id] => 2 [link] => [name] => [desc] => [children] => Array ( [0] => Array ( [id] => 6 [link] => https://book.coe.int/en/6-online-bookshop [name] => Online Bookshop [desc] => [children] => Array ( [0] => Array ( [id] => 40 [link] => https://book.coe.int/en/40-committee-of-ministers [name] => Committee of Ministers [desc] => [children] => Array ( [0] => Array ( [id] => 41 [link] => https://book.coe.int/en/41-texts-of-council-of-europe-treaties [name] => Texts of Council of Europe Treaties [desc] => [children] => Array ( ) ) [1] => Array ( [id] => 43 [link] => https://book.coe.int/en/43-council-of-europe-treaties-and-explanatory-reports [name] => Council of Europe Treaties and explanatory reports [desc] => [children] => Array ( ) ) [2] => Array ( [id] => 44 [link] => https://book.coe.int/en/44-collected-edition-of-the-council-of-europe-treaties-series [name] => Collected edition of the Council of Europe Treaties Series [desc] => [children] => Array ( ) ) [3] => Array ( [id] => 45 [link] => https://book.coe.int/en/45-committee-of-ministers-compendium-of-adopted-texts [name] => Committee of Ministers - Compendium of adopted texts [desc] => [children] => Array ( ) ) [4] => Array ( [id] => 42 [link] => https://book.coe.int/en/42-committee-of-ministers-other-publications [name] => Committee of Ministers - Other publications [desc] => [children] => Array ( ) ) ) ) [1] => Array ( [id] => 46 [link] => https://book.coe.int/en/46-parliamentary-assembly [name] => Parliamentary Assembly [desc] => [children] => Array ( [0] => Array ( [id] => 47 [link] => https://book.coe.int/en/47-parliamentary-assembly-adopted-texts [name] => Parliamentary Assembly / Adopted texts [desc] => [children] => Array ( ) ) [1] => Array ( [id] => 48 [link] => https://book.coe.int/en/48-parliamentary-assembly-orders-of-the-day-minutes [name] => Parliamentary Assembly / Orders of the Day, Minutes [desc] => [children] => Array ( ) ) [2] => Array ( [id] => 49 [link] => https://book.coe.int/en/49-parliamentary-assembly-official-reports-of-debates [name] => Parliamentary Assembly / Official Reports of Debates [desc] => [children] => Array ( ) ) [3] => Array ( [id] => 50 [link] => https://book.coe.int/en/50-parliamentary-assembly-documents-working-papers [name] => Parliamentary Assembly / Documents, Working Papers [desc] => [children] => Array ( ) ) [4] => Array ( [id] => 51 [link] => https://book.coe.int/en/51-parliamentary-assembly-general-publications [name] => Parliamentary Assembly / General publications [desc] => [children] => Array ( ) ) ) ) [2] => Array ( [id] => 52 [link] => https://book.coe.int/en/52-congress [name] => Congress [desc] => [children] => Array ( [0] => Array ( [id] => 53 [link] => https://book.coe.int/en/53-congress-local-and-regional-action-series [name] => Congress / Local and Regional Action Series [desc] => [children] => Array ( ) ) [1] => Array ( [id] => 54 [link] => https://book.coe.int/en/54-congress-studies-and-texts-series [name] => Congress/ Studies and Texts Series [desc] => [children] => Array ( ) ) [2] => Array ( [id] => 55 [link] => https://book.coe.int/en/55-congress-adopted-texts [name] => Congress / Adopted Texts [desc] => [children] => Array ( ) ) [3] => Array ( [id] => 56 [link] => https://book.coe.int/en/56-congress-official-report-of-debates [name] => Congress / Official Report of Debates [desc] => [children] => Array ( ) ) ) ) [3] => Array ( [id] => 57 [link] => https://book.coe.int/en/57-human-rights [name] => Human Rights [desc] => [children] => Array ( [0] => Array ( [id] => 58 [link] => https://book.coe.int/en/58-human-rights-and-democracy [name] => Human Rights and Democracy [desc] => [children] => Array ( ) ) [1] => Array ( [id] => 59 [link] => https://book.coe.int/en/59-children-s-rights-and-family-law [name] => Children's rights and family law [desc] => [children] => Array ( ) ) [2] => Array ( [id] => 60 [link] => https://book.coe.int/en/60-making-democratic-institutions-work [name] => Making democratic institutions work [desc] => [children] => Array ( ) ) [3] => Array ( [id] => 61 [link] => https://book.coe.int/en/61-minorities [name] => Minorities [desc] => [children] => Array ( ) ) [4] => Array ( [id] => 62 [link] => https://book.coe.int/en/62-human-rights-files [name] => Human Rights Files [desc] => [children] => Array ( ) ) [5] => Array ( [id] => 63 [link] => https://book.coe.int/en/63-european-social-charter [name] => European Social Charter [desc] => [children] => Array ( ) ) [6] => Array ( [id] => 64 [link] => https://book.coe.int/en/64-social-charter-monographs [name] => Social Charter Monographs [desc] => [children] => Array ( ) ) [7] => Array ( [id] => 65 [link] => https://book.coe.int/en/65-gender-equality [name] => Gender equality [desc] => [children] => Array ( ) ) [8] => Array ( [id] => 66 [link] => https://book.coe.int/en/66-european-court-of-human-rights [name] => European Court of Human Rights [desc] => [children] => Array ( ) ) [9] => Array ( [id] => 376 [link] => https://book.coe.int/en/376-commissioner-for-human-rights [name] => Commissioner for Human Rights [desc] => [children] => Array ( ) ) [10] => Array ( [id] => 67 [link] => https://book.coe.int/en/67-european-commission-of-human-rights [name] => European Commission of Human Rights [desc] => [children] => Array ( ) ) ) ) [4] => Array ( [id] => 68 [link] => https://book.coe.int/en/68-law [name] => Law [desc] => [children] => Array ( [0] => Array ( [id] => 71 [link] => https://book.coe.int/en/71-international-law [name] => International Law [desc] => [children] => Array ( ) ) [1] => Array ( [id] => 75 [link] => https://book.coe.int/en/75-constitutional-law [name] => Constitutional Law [desc] => [children] => Array ( ) ) [2] => Array ( [id] => 77 [link] => https://book.coe.int/en/77-legal-instruments [name] => Legal instruments [desc] => [children] => Array ( ) ) [3] => Array ( [id] => 76 [link] => https://book.coe.int/en/76-penal-law-and-criminology [name] => Penal Law and criminology [desc] => [children] => Array ( ) ) [4] => Array ( [id] => 79 [link] => https://book.coe.int/en/79-computers-and-law [name] => Computers and law [desc] => [children] => Array ( ) ) [5] => Array ( [id] => 74 [link] => https://book.coe.int/en/74-economy-and-crime-fight-against-corruption [name] => Economy and crime, fight against corruption [desc] => [children] => Array ( ) ) [6] => Array ( [id] => 72 [link] => https://book.coe.int/en/72-terrorism-and-law [name] => Terrorism and Law [desc] => [children] => Array ( ) ) [7] => Array ( [id] => 69 [link] => https://book.coe.int/en/69-points-of-view-points-of-law [name] => Points of view - Points of Law [desc] => [children] => Array ( ) ) [8] => Array ( [id] => 70 [link] => https://book.coe.int/en/70-europeans-and-their-rights [name] => Europeans and their rights [desc] => [children] => Array ( ) ) [9] => Array ( [id] => 73 [link] => https://book.coe.int/en/73-migrants-rights [name] => Migrants rights [desc] => [children] => Array ( ) ) [10] => Array ( [id] => 78 [link] => https://book.coe.int/en/78-themis-programme [name] => Themis Programme [desc] => [children] => Array ( ) ) ) ) [5] => Array ( [id] => 80 [link] => https://book.coe.int/en/80-health [name] => Health [desc] => [children] => Array ( [0] => Array ( [id] => 81 [link] => https://book.coe.int/en/81-health-and-society-ethics [name] => Health and society, Ethics [desc] => [children] => Array ( ) ) [1] => Array ( [id] => 82 [link] => https://book.coe.int/en/82-blood-transfusion-and-organ-transplantation [name] => Blood transfusion and organ transplantation [desc] => [children] => Array ( ) ) [2] => Array ( [id] => 83 [link] => https://book.coe.int/en/83-health-protection-of-the-consumer [name] => Health protection of the consumer [desc] => [children] => Array ( ) ) [3] => Array ( [id] => 84 [link] => https://book.coe.int/en/84-integration-of-people-with-disabilities [name] => Integration of people with disabilities [desc] => [children] => Array ( ) ) [4] => Array ( [id] => 85 [link] => https://book.coe.int/en/85-european-directorate-for-the-quality-of-medicines-and-healthcare-edqm [name] => European Directorate for the Quality of Medicines and HealthCare (EDQM) [desc] => [children] => Array ( ) ) ) ) [6] => Array ( [id] => 86 [link] => https://book.coe.int/en/86-society [name] => Society [desc] => [children] => Array ( [0] => Array ( [id] => 87 [link] => https://book.coe.int/en/87-demography [name] => Demography [desc] => [children] => Array ( ) ) [1] => Array ( [id] => 88 [link] => https://book.coe.int/en/88-trends-in-social-cohesion-series [name] => Trends in Social Cohesion Series [desc] => [children] => Array ( ) ) [2] => Array ( [id] => 89 [link] => https://book.coe.int/en/89-responses-to-violence-in-everyday-life-in-a-democratic-society-series [name] => Responses to violence in everyday life in a democratic society Series [desc] => [children] => Array ( ) ) [3] => Array ( [id] => 90 [link] => https://book.coe.int/en/90-drugs-and-addiction [name] => Drugs and addiction [desc] => [children] => Array ( ) ) [4] => Array ( [id] => 91 [link] => https://book.coe.int/en/91-social-security [name] => Social Security [desc] => [children] => Array ( ) ) [5] => Array ( [id] => 92 [link] => https://book.coe.int/en/92-community-relations [name] => Community relations [desc] => [children] => Array ( ) ) [6] => Array ( [id] => 93 [link] => https://book.coe.int/en/93-social-co-operation-in-europe [name] => Social co-operation in Europe [desc] => [children] => Array ( ) ) [7] => Array ( [id] => 94 [link] => https://book.coe.int/en/94-population-studies-series [name] => Population Studies Series [desc] => [children] => Array ( ) ) ) ) [7] => Array ( [id] => 95 [link] => https://book.coe.int/en/95-environment [name] => Environment [desc] => [children] => Array ( [0] => Array ( [id] => 96 [link] => https://book.coe.int/en/96-nature-and-environment-series [name] => Nature and environment Series [desc] => [children] => Array ( ) ) [1] => Array ( [id] => 97 [link] => https://book.coe.int/en/97-environmental-encounters-series [name] => Environmental Encounters Series [desc] => [children] => Array ( ) ) [2] => Array ( [id] => 98 [link] => https://book.coe.int/en/98-territory-and-landscape-series [name] => Territory and Landscape Series [desc] => [children] => Array ( ) ) [3] => Array ( [id] => 99 [link] => https://book.coe.int/en/99-european-regional-planning-series [name] => European Regional Planning Series [desc] => [children] => Array ( ) ) [4] => Array ( [id] => 100 [link] => https://book.coe.int/en/100-environment-general-publications [name] => Environment / General publications [desc] => [children] => Array ( ) ) ) ) [8] => Array ( [id] => 101 [link] => https://book.coe.int/en/101-local-and-regional-democracy [name] => Local and Regional Democracy [desc] => [children] => Array ( [0] => Array ( [id] => 102 [link] => https://book.coe.int/en/102-co-operation-for-local-and-regional-democracy [name] => Co-operation for Local and Regional Democracy [desc] => [children] => Array ( ) ) [1] => Array ( [id] => 103 [link] => https://book.coe.int/en/103-local-and-regional-authorities-in-europe-series [name] => Local and Regional Authorities in Europe Series [desc] => [children] => Array ( ) ) [2] => Array ( [id] => 104 [link] => https://book.coe.int/en/104-structure-and-operation-of-local-and-regional-democracy-series [name] => Structure and operation of Local and Regional Democracy Series [desc] => [children] => Array ( ) ) ) ) [9] => Array ( [id] => 105 [link] => https://book.coe.int/en/105-education [name] => Education [desc] => [children] => Array ( [0] => Array ( [id] => 406 [link] => https://book.coe.int/en/406-education-policy [name] => Education policy [desc] => [children] => Array ( ) ) [1] => Array ( [id] => 108 [link] => https://book.coe.int/en/108-human-rights-democratic-citizenship-and-interculturalism [name] => Human rights, democratic citizenship and interculturalism [desc] => [children] => Array ( ) ) [2] => Array ( [id] => 112 [link] => https://book.coe.int/en/112-higher-education-and-research [name] => Higher education and research [desc] => [children] => Array ( ) ) [3] => Array ( [id] => 110 [link] => https://book.coe.int/en/110-secondary-education [name] => Secondary education [desc] => [children] => Array ( ) ) [4] => Array ( [id] => 107 [link] => https://book.coe.int/en/107-history-teaching [name] => History teaching [desc] => [children] => Array ( ) ) [5] => Array ( [id] => 106 [link] => https://book.coe.int/en/106-pestalozzi-series [name] => Pestalozzi series [desc] => [children] => Array ( ) ) ) ) [10] => Array ( [id] => 113 [link] => https://book.coe.int/en/113-languages [name] => Languages [desc] => [children] => Array ( [0] => Array ( [id] => 114 [link] => https://book.coe.int/en/114-education-and-modern-languages [name] => Education and modern languages [desc] => [children] => Array ( ) ) [1] => Array ( [id] => 115 [link] => https://book.coe.int/en/115-language-policy [name] => Language policy [desc] => [children] => Array ( ) ) [2] => Array ( [id] => 116 [link] => https://book.coe.int/en/116-regional-and-minority-languages [name] => Regional and minority languages [desc] => [children] => Array ( ) ) [3] => Array ( [id] => 117 [link] => https://book.coe.int/en/117-terminology [name] => Terminology [desc] => [children] => Array ( ) ) ) ) [11] => Array ( [id] => 118 [link] => https://book.coe.int/en/118-youth [name] => Youth [desc] => [children] => Array ( [0] => Array ( [id] => 119 [link] => https://book.coe.int/en/119-training-kits-youth [name] => Training Kits / Youth [desc] => [children] => Array ( ) ) [1] => Array ( [id] => 120 [link] => https://book.coe.int/en/120-national-youth-policies [name] => National Youth Policies [desc] => [children] => Array ( ) ) [2] => Array ( [id] => 121 [link] => https://book.coe.int/en/121-youth-other-publications [name] => Youth / Other publications [desc] => [children] => Array ( ) ) [3] => Array ( [id] => 396 [link] => https://book.coe.int/en/396-perspectives-on-youth [name] => Perspectives on youth [desc] => [children] => Array ( ) ) ) ) [12] => Array ( [id] => 122 [link] => https://book.coe.int/en/122-culture [name] => Culture [desc] => [children] => Array ( [0] => Array ( [id] => 123 [link] => https://book.coe.int/en/123-cultural-development [name] => Cultural development [desc] => [children] => Array ( ) ) [1] => Array ( [id] => 124 [link] => https://book.coe.int/en/124-cultural-heritage [name] => Cultural heritage [desc] => [children] => Array ( ) ) [2] => Array ( [id] => 125 [link] => https://book.coe.int/en/125-cultural-policies [name] => Cultural Policies [desc] => [children] => Array ( ) ) [3] => Array ( [id] => 126 [link] => https://book.coe.int/en/126-culture-and-neighbourhoods [name] => Culture and neighbourhoods [desc] => [children] => Array ( ) ) ) ) [13] => Array ( [id] => 127 [link] => https://book.coe.int/en/127-sport [name] => Sport [desc] => [children] => Array ( [0] => Array ( [id] => 128 [link] => https://book.coe.int/en/128-sports-monographs [name] => Sports - Monographs [desc] => [children] => Array ( ) ) ) ) [14] => Array ( [id] => 129 [link] => https://book.coe.int/en/129-communication [name] => Communication [desc] => [children] => Array ( [0] => Array ( [id] => 130 [link] => https://book.coe.int/en/130-mass-media [name] => Mass media [desc] => [children] => Array ( ) ) [1] => Array ( [id] => 131 [link] => https://book.coe.int/en/131-european-audiovisual-observatory [name] => European Audiovisual Observatory [desc] => [children] => Array ( ) ) [2] => Array ( [id] => 132 [link] => https://book.coe.int/en/132-new-information-technologies [name] => New information technologies [desc] => [children] => Array ( ) ) [3] => Array ( [id] => 412 [link] => https://book.coe.int/en/412-artificial-intelligence [name] => Artificial intelligence [desc] => [children] => Array ( ) ) ) ) [15] => Array ( [id] => 133 [link] => https://book.coe.int/en/133-european-issues [name] => European issues [desc] => [children] => Array ( [0] => Array ( [id] => 134 [link] => https://book.coe.int/en/134-activities-annual-report [name] => Activities Annual Report [desc] => [children] => Array ( ) ) [1] => Array ( [id] => 135 [link] => https://book.coe.int/en/135-democracy-debates [name] => Democracy Debates [desc] => [children] => Array ( ) ) [2] => Array ( [id] => 136 [link] => https://book.coe.int/en/136-european-debates [name] => European debates [desc] => [children] => Array ( ) ) [3] => Array ( [id] => 137 [link] => https://book.coe.int/en/137-books-on-europe [name] => Books on Europe [desc] => [children] => Array ( ) ) [4] => Array ( [id] => 138 [link] => https://book.coe.int/en/138-other-fields [name] => Other fields [desc] => [children] => Array ( ) ) [5] => Array ( [id] => 373 [link] => https://book.coe.int/en/373-catalogues-of-publications [name] => Catalogues of publications [desc] => [children] => Array ( ) ) ) ) ) ) [1] => Array ( [id] => 7 [link] => https://book.coe.int/en/7-online-resources [name] => Online resources [desc] => [children] => Array ( [0] => Array ( [id] => 378 [link] => https://book.coe.int/en/378-the-council-of-europe-in-brief [name] => The Council of Europe in brief [desc] => [children] => Array ( ) ) [1] => Array ( [id] => 170 [link] => https://book.coe.int/en/170-human-rights [name] => Human Rights [desc] => [children] => Array ( [0] => Array ( [id] => 187 [link] => https://book.coe.int/en/187-children-s-rights [name] => Children's rights [desc] => [children] => Array ( ) ) [1] => Array ( [id] => 172 [link] => https://book.coe.int/en/172-european-convention-on-human-rights [name] => European Convention on Human Rights [desc] => [children] => Array ( ) ) [2] => Array ( [id] => 191 [link] => https://book.coe.int/en/191-violence-against-women-and-domestic-violence [name] => Violence against women and domestic violence [desc] => [children] => Array ( ) ) [3] => Array ( [id] => 176 [link] => https://book.coe.int/en/176-death-penalty [name] => Death penalty [desc] => [children] => Array ( ) ) [4] => Array ( [id] => 192 [link] => https://book.coe.int/en/192-trafficking-in-human-beings [name] => Trafficking in human beings [desc] => [children] => Array ( ) ) [5] => Array ( [id] => 177 [link] => https://book.coe.int/en/177-prevention-of-torture [name] => Prevention of torture [desc] => [children] => Array ( ) ) [6] => Array ( [id] => 178 [link] => https://book.coe.int/en/178-racism [name] => Racism [desc] => [children] => Array ( ) ) ) ) [2] => Array ( [id] => 179 [link] => https://book.coe.int/en/179-democracy [name] => Democracy [desc] => [children] => Array ( [0] => Array ( [id] => 180 [link] => https://book.coe.int/en/180-democracy-through-law [name] => Democracy Through Law [desc] => [children] => Array ( ) ) [1] => Array ( [id] => 181 [link] => https://book.coe.int/en/181-forum-for-the-future-of-democracy [name] => Forum for the Future of Democracy [desc] => [children] => Array ( ) ) [2] => Array ( [id] => 182 [link] => https://book.coe.int/en/182-civil-society [name] => Civil society [desc] => [children] => Array ( ) ) ) ) [3] => Array ( [id] => 186 [link] => https://book.coe.int/en/186-human-dignity [name] => Human dignity [desc] => [children] => Array ( ) ) [4] => Array ( [id] => 193 [link] => https://book.coe.int/en/193-society [name] => Society [desc] => [children] => Array ( [0] => Array ( [id] => 194 [link] => https://book.coe.int/en/194-living-together-diversity-and-freedom-in-europe [name] => Living Together - Diversity and Freedom in Europe [desc] => [children] => Array ( ) ) [1] => Array ( [id] => 195 [link] => https://book.coe.int/en/195-european-social-charter [name] => European Social Charter [desc] => [children] => Array ( ) ) [2] => Array ( [id] => 205 [link] => https://book.coe.int/en/205-drugs [name] => Drugs [desc] => [children] => Array ( ) ) [3] => Array ( [id] => 196 [link] => https://book.coe.int/en/196-migration [name] => Migration [desc] => [children] => Array ( ) ) [4] => Array ( [id] => 190 [link] => https://book.coe.int/en/190-gender-equality [name] => Gender Equality [desc] => [children] => Array ( ) ) [5] => Array ( [id] => 197 [link] => https://book.coe.int/en/197-council-of-europe-development-bank [name] => Council of Europe Development Bank [desc] => [children] => Array ( ) ) [6] => Array ( [id] => 222 [link] => https://book.coe.int/en/222-lgbt [name] => LGBT [desc] => [children] => Array ( ) ) [7] => Array ( [id] => 223 [link] => https://book.coe.int/en/223-people-with-disabilities [name] => People with disabilities [desc] => [children] => Array ( ) ) ) ) [5] => Array ( [id] => 198 [link] => https://book.coe.int/en/198-internet-media [name] => Internet, Media [desc] => [children] => Array ( [0] => Array ( [id] => 199 [link] => https://book.coe.int/en/199-internet [name] => Internet [desc] => [children] => Array ( ) ) [1] => Array ( [id] => 200 [link] => https://book.coe.int/en/200-children-and-the-internet [name] => Children and the Internet [desc] => [children] => Array ( ) ) [2] => Array ( [id] => 201 [link] => https://book.coe.int/en/201-media-freedom [name] => Media freedom [desc] => [children] => Array ( ) ) [3] => Array ( [id] => 202 [link] => https://book.coe.int/en/202-cybercrime [name] => Cybercrime [desc] => [children] => Array ( ) ) ) ) [6] => Array ( [id] => 203 [link] => https://book.coe.int/en/203-health [name] => Health [desc] => [children] => Array ( [0] => Array ( [id] => 204 [link] => https://book.coe.int/en/204-bioethics [name] => Bioethics [desc] => [children] => Array ( ) ) [1] => Array ( [id] => 206 [link] => https://book.coe.int/en/206-pharmaceutical-and-healthcare-europe [name] => Pharmaceutical and healthcare Europe [desc] => [children] => Array ( ) ) [2] => Array ( [id] => 207 [link] => https://book.coe.int/en/207-health-protection [name] => Health protection [desc] => [children] => Array ( ) ) ) ) [7] => Array ( [id] => 208 [link] => https://book.coe.int/en/208-culture-heritage-nature [name] => Culture, Heritage, Nature [desc] => [children] => Array ( [0] => Array ( [id] => 210 [link] => https://book.coe.int/en/210-european-cultural-convention [name] => European Cultural Convention [desc] => [children] => Array ( ) ) [1] => Array ( [id] => 211 [link] => https://book.coe.int/en/211-intercultural-and-interreligious-dialogue [name] => Intercultural and interreligious dialogue [desc] => [children] => Array ( ) ) [2] => Array ( [id] => 212 [link] => https://book.coe.int/en/212-biological-diversity-bern-convention [name] => Biological diversity - Bern Convention [desc] => [children] => Array ( ) ) [3] => Array ( [id] => 214 [link] => https://book.coe.int/en/214-climate-change [name] => Climate change [desc] => [children] => Array ( ) ) ) ) [8] => Array ( [id] => 215 [link] => https://book.coe.int/en/215-council-of-europe-and-the-eu [name] => Council of Europe and the EU [desc] => [children] => Array ( [0] => Array ( [id] => 216 [link] => https://book.coe.int/en/216-council-of-europe-and-european-union-different-roles-shared-values [name] => Council of Europe and European Union : different roles, shared values [desc] => [children] => Array ( ) ) [1] => Array ( [id] => 217 [link] => https://book.coe.int/en/217-eu-accession-to-the-european-convention-on-human-rights [name] => EU accession to the European Convention on Human Rights [desc] => [children] => Array ( ) ) ) ) [9] => Array ( [id] => 218 [link] => https://book.coe.int/en/218-minorities-rights [name] => Minorities' Rights [desc] => [children] => Array ( [0] => Array ( [id] => 219 [link] => https://book.coe.int/en/219-national-minorities [name] => National minorities [desc] => [children] => Array ( ) ) [1] => Array ( [id] => 220 [link] => https://book.coe.int/en/220-minority-languages [name] => Minority languages [desc] => [children] => Array ( ) ) [2] => Array ( [id] => 221 [link] => https://book.coe.int/en/221-roma-and-travellers [name] => Roma and Travellers [desc] => [children] => Array ( ) ) ) ) [10] => Array ( [id] => 224 [link] => https://book.coe.int/en/224-education-languages-sport-youth [name] => Education, languages, sport, youth [desc] => [children] => Array ( [0] => Array ( [id] => 226 [link] => https://book.coe.int/en/226-teaching-history [name] => Teaching History [desc] => [children] => Array ( ) ) ) ) [11] => Array ( [id] => 233 [link] => https://book.coe.int/en/233-law [name] => Law [desc] => [children] => Array ( [0] => Array ( [id] => 234 [link] => https://book.coe.int/en/234-organised-crime [name] => Organised crime [desc] => [children] => Array ( ) ) [1] => Array ( [id] => 235 [link] => https://book.coe.int/en/235-corruption [name] => Corruption [desc] => [children] => Array ( ) ) [2] => Array ( [id] => 237 [link] => https://book.coe.int/en/237-personal-data [name] => Personal data [desc] => [children] => Array ( ) ) [3] => Array ( [id] => 175 [link] => https://book.coe.int/en/175-european-prison-reform [name] => European prison reform [desc] => [children] => Array ( ) ) [4] => Array ( [id] => 238 [link] => https://book.coe.int/en/238-terrorism [name] => Terrorism [desc] => [children] => Array ( ) ) [5] => Array ( [id] => 239 [link] => https://book.coe.int/en/239-efficiency-of-justice [name] => Efficiency of justice [desc] => [children] => Array ( ) ) ) ) [12] => Array ( [id] => 240 [link] => https://book.coe.int/en/240-institutions [name] => Institutions [desc] => [children] => Array ( [0] => Array ( [id] => 242 [link] => https://book.coe.int/en/242-parliamentary-assembly [name] => Parliamentary Assembly  [desc] => [children] => Array ( ) ) [1] => Array ( [id] => 243 [link] => https://book.coe.int/en/243-congress-of-local-and-regional-authorities [name] => Congress of Local and Regional Authorities  [desc] => [children] => Array ( ) ) [2] => Array ( [id] => 244 [link] => https://book.coe.int/en/244-european-court-of-human-rights [name] => European Court of Human Rights [desc] => [children] => Array ( ) ) [3] => Array ( [id] => 246 [link] => https://book.coe.int/en/246-conference-of-ingos [name] => Conference of INGOs [desc] => [children] => Array ( ) ) [4] => Array ( [id] => 247 [link] => https://book.coe.int/en/247-secretary-general [name] => Secretary General [desc] => [children] => Array ( ) ) ) ) ) ) ) ) 1
Catalog
Newsletter
Stay informed
Subscribe to our newsletter
Subscribe to our newsletter
PDF - L'abolition des châtiments corporels: Un impératif pour les droits de l'enfant en Europe (2e édition)
(2008)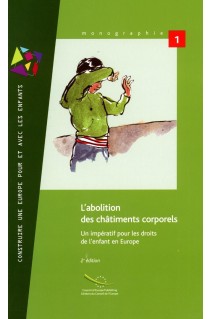  
L'abolition des châtiments corporels - Un impératif pour les droits de I'enfant en Europe fait la lumière sur la question controversée des châtiments corporels infligés aux enfants.L'ouvrage aborde la question sous quatre angles différents: I'obligation, faite par la législation et les principes relatifs aux droits de I'homme, d'interdire les châtiments corporels infligés aux enfants, qui est définie par des conventions et accords régionaux et internationaux; le statut des châtiments corporels dans les pays européens d'aujourd'hui; les résultats des recherches récentes sur les effets et la prévalence de ces châtiments, notamment la perception qu'en ont les enfants; et I'abolition des châtiments corporels, processus qui passe par révolution du droit, des politiques et de I'opinion publique.Bien trop de pays acceptent que les châtiments physiques servent à sanctionner les enfants, si bien qu'il peut être impopulaire pour les responsables politiques et les parents de contester cette forme de violence très répandue. Cependant, le fait de frapper les enfants, même légèrement, est une violation des droits fondamentaux de ceux-ci, à savoir le droit de ne pas faire I'objet d'une peine ou d'un traitement dégradants et le droit à une égale protection devant la loi.Ce livre est destiné aux professionnels de I'enfance et de la famille, aux décideurs politiques et au grand public qui souhaite en savoir davantage sur le sujet. Cet ouvrage confortera les idées des convaincus et leur donnera de solides arguments en faveur de I'abolition; il permettra aux autres de mieux comprendre la contradiction morale et juridique inhérente au fait de recourir à la violence pour sanctionner les enfants.
Avant-propos
Guide de lecture
Résumé
1. Obligations en matière de droits de l'homme pour éliminer toutes les formes de châtiments corporels infligés aux enfants
Introduction
La date limite d'interdiction fixée par les Nations Unies
La Convention européenne des Droits de l'Homme:l'évolution de la jurisprudence
Le Comité européen des droits sociaux - Contrôle de la conformité à la Charte sociale européenne
Le Comité des Ministres - Recommandations pour éliminer les châtiments corporels
La Convention des Nations Unies relative aux droits de l'enfant et son organe de surveillance, le Comité des droits de l'enfant
Etude du Secrétaire général de l'Organisation des Nations Unies sur la violence à l'encontre des enfants
Les autres instruments internationaux de défense des droits de l'homme et leurs mécanismes de suivi
2. Vers l'élimination des châtiments corporels à l'encontre des enfants dans les Etats membres du Conseil de l'Europe
Historique de l'abolition
Les 16 Etats membres qui interdisent expressément tous les châtiments corporels
Les progrès vers l'abolition dans d'autres Etats européens
Le Réseau européen des médiateurs pour enfants
3. Lever le voile sur les châtiments corporels infligés aux enfants
Multiplier les recherches sur les effets néfastes des châtiments corporels
Recherches sur la prévalence des châtiments corporels dans le milieu familial
Recherches sur l'impact des reformes juridiques en Suède
Enquêtes sur l'opinion et l'expérience des enfants
4. Eliminer les châtiments corporels infligés aux enfants: la voie à suivre
Les reformes législatives visant à abolir les châtiments corporels
Faire respecter l'interdiction
Appliquer les lois contre les châtiments corporels dans le cadre familial
Sensibiliser et informer le public
Aide aux parents et à la parentalité
Avis, conseils et représentation juridique à l'intention des enfants
Incorporer l'élimination des châtiments corporels dans les stratégies de lutte contre les violences domestiques ou familiales
Evaluation de l'efficacité de la protection
Lectures choisies -- Pour en savoir plus
Annexes
I.   Recommandation 1666 (2004) de l'Assemblée parlementaire du Conseil de l'Europe «Interdire le châtiment corporel des enfants en Europe»
II. Recommandation Rec(2006)19 du Comité des Ministres aux Etats membres relative aux politiques visant à soutenir une parentalité positive
III.Commentaire général du Comité européen des droits sociaux - Extrait
IV. Construire une Europe pour et avec les enfants - Publications
Se reporter également aux quatre annexes en ligne. Voir «Guide de lecture»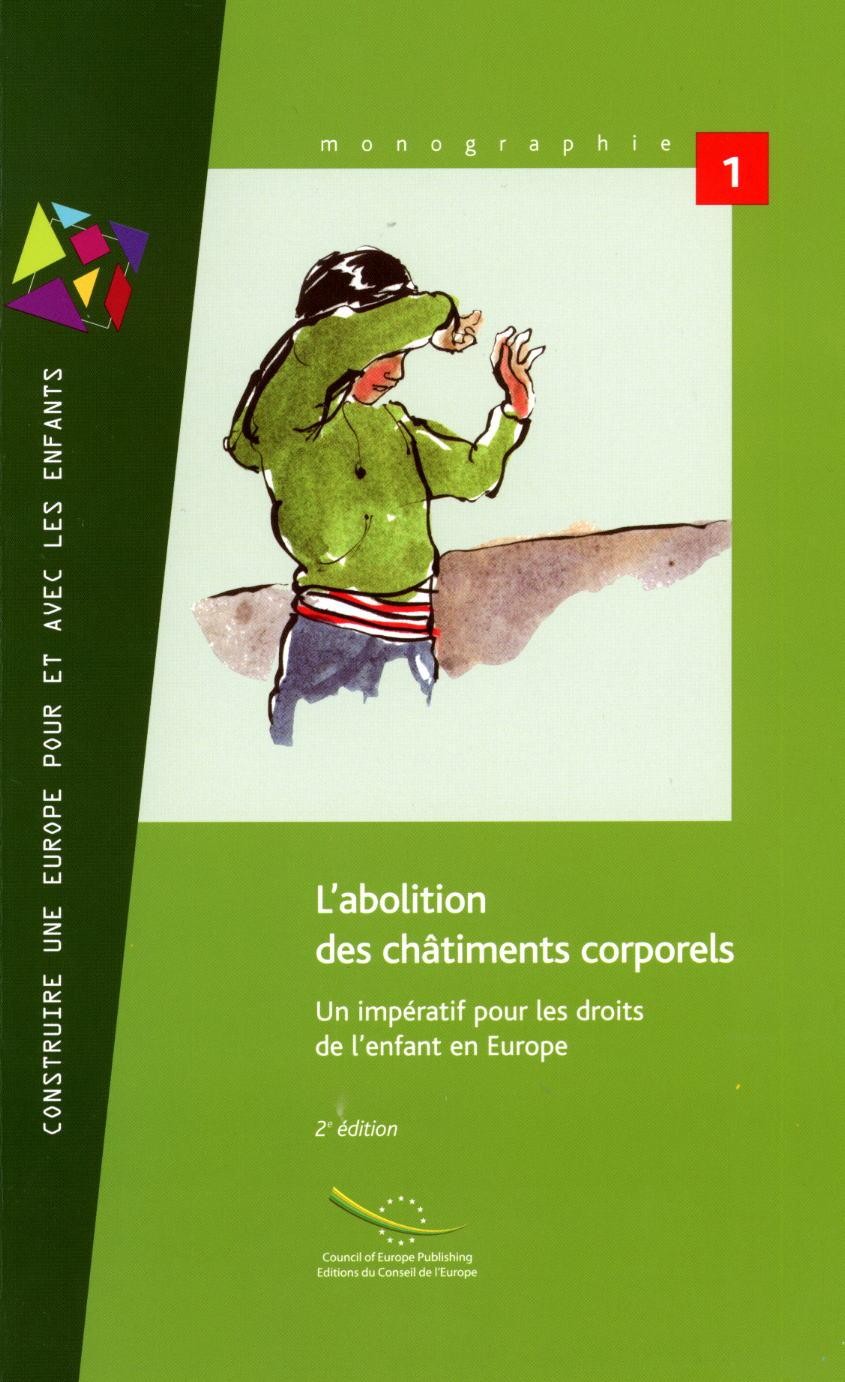 Please note that in accordance with our terms & conditions, PDF/epubs may only be purchased by private individuals.