Bookshop or sales agent? Don't hesitate to contact us at
[email protected]
to inquire about discounts.
PDF - Policies and practices for teaching sociocultural diversity - Concepts, principles and challenges in teacher education
(2009)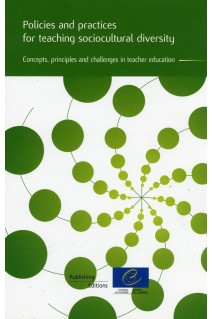  
The project "Policies and practices for teaching sociocultural diversity" was launched by the Steering Committee for Education (CDED) in 2006, with the primary aim of promoting the recognition of diversity in pre-service teacher training and the management of diversity at school.This publication is aimed at all staff in teacher education institutions. It intends to raise discussion about how teacher education, particularly in-service training, can prepare student teachers to become reflective professionals responsive to diversity in schools and classrooms. It addresses the urgent need to develop courses and practical training which stimulate the competence and reflection necessary to enhance inclusive environments where children and young people can learn to live together respecting differences.This work offers an outline of the main principles underpinning work in the diversity area. It also introduces some key concepts related to sociocultural diversity in education while analysing some challenges in teacher education and development. It identifies policy measures and guidelines for teachers' pre-service training institutions.
Chapter 1
The Council of Europe project on Policies and Practices for Teaching Sociocultural Diversity
The political context- Introduction
1.1. Teacher training: a priority for Council of Europe intergovernmental co-operation in the field of education
1.1.1. The project and its objectives (2006-2009)
1.1.2. Sociocultural diversity: content and context
1.2. The legal framework - Council of Europe reference texts
1.2.1. Treaties, conventions and agreements
1.2.2. Declarations and action plans
1.2.3. Recommendations of the Committee of Ministers, Parliamentary Assembly and the Congress
Chapter 2
Understanding diversity
Introduction
2.1. Sociocultural diversity
2.2. Dimensions of structural diversity
2.2.1. Cultural diversity
2.2.2. Linguistic diversity
2.2.3. Religion
2.2.4. Gender
2.2.5. Disability
2.2.6. Sexual orientation
2.3. Principles
2.3.1. Respect for human rights
2.3.2. Recognition and respect for cultural rights
2.3.3. Inclusion
2.4. Sociocultural diversity in education - key concepts
2.4.1. Diversity-sensitive and inclusive classroom practices
2.4.2. Multiculturality and intercultural education
2.4.3. Education for democratic citizenship and human rights
2.4.4. Social cohesion
2.4.5. Intercultural dialogue
2.4.6. Language learning and multilingual education
2.4.7. Educational (dis)advantage
2.4.8. Enrichment approach in education
2.4.9. Empowerment
2.5. Conclusion
Chapter 3
New challenges in teacher education
Introduction
3.1. Teacher education and pre-service teachers
3.2. A teacher education model
3.2.1. Meaningful knowledge of self and the other
3.2.2. Pedagogical content knowledge for enhancing diversity
3.2.3. Enactment and critical reflection
3.3. Conclusion
Chapter 4
Teacher education for diversity: responding to the challenge
Introduction
4.1. Strategies and actions by teacher educators and trainers
4.1.1. Working with students
4.1.2. Curriculum design and planning
4.1.3. Research and development work with a focus on diversity
4.2. Open questions for teacher educators
4.3. Institutional management and support
4.3.1. Designing
4.3.2. Implementing
4.3.3. Evaluating/monitoring
4.4. Open questions for managers
4.5. Conclusion

References
Appendix
Selection of conventions, declarations, recommendations and other Council of Europe reference texts dealing with cultural diversity, education and teacher training