Bookshop or sales agent? Don't hesitate to contact us at
[email protected]
to inquire about discounts.
PDF - Democracy and human rights for Europe - The Council of Europe's contribution
(2009)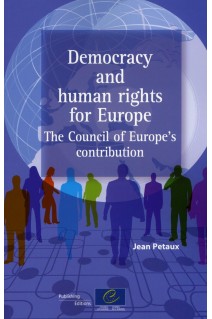  
Over 800 million Europeans can individually obtain a ruling from a European court against their State if it has violated their human rights. There is an assembly in Strasbourg where members of the Icelandic, Russian, Portuguese, German, Georgian and other European parliaments all sit together. A Congress exists whose sessions are attended by representatives of 200 000 local and regional authorities of Europe... All these statements relate to the Council of Europe, the first of the European institutions to be founded. Now 47 member states strong, the Council - which is to celebrate its 60th anniversary this year - has become one of the main institutions of intergovernmental co-operation.This book looks at the political role of the Council of Europe, which is now not only a forum for democracy and a gage of stability, the home of human rights and the forum of cultural diversity, but also the crucible of Europe and the future for politics. The author examines all that is specific to the Council of Europe within the European architecture, particularly vis-à-vis the European Union. This book is essential reading for anyone wishing to study the Strasbourg-based Council of Europe, understand how it operates and find out about the contribution that it makes.
Introduction
Words to say it, an institution to do it
A question of words: politics/politique and role
A question of aims: Europe's values
A question of instruments: standard-setting texts
A question of custom: seeking Europe's identity - And saving its soul?
Some problems - And how the Council may help to solve them
Part I - Forum for democracy, gage of stability
Chapter 1 - An institution born of history - And compromise
1. Blueprints for union - Bordeaux 1940, The Hague 1948
2. Compromise in London: the treaty of 5 May 1949
3. From paper to practice: striking the right balance
4. Develop, diversify, expand
5. Point of departure: building on compromise
Chapter 2 - Reuniting Europe, fostering democracy
1. History - Process ongoing or completed?
2. "Making politics" - What Europe's leaders wanted
3. Democratic engineering: Demosthenes, Venice Commission, CEPEJ
Chapter 3 - Grass-roots Europe: garden of delights - And seedbed of democracy
1. The Congress: "Act local, think European"
2. Broadening and deepening: the tension behind the democratic ideal
Part II - The home of human rights and the forum of cultural diversity
Chapter 1 - An exceptional achievement with a political content: human rights
1. A code: the European Convention on Human Rights
2. An arbiter: the European Court of Human Rights
3. Court practice: some emblematic - and political - cases
Chapter 2 - Europe right side out: culture at the heart and cultural diversity at the head
1. The European Cultural Convention: a policy of audacity
2. The defence of diverse cultures and protection of the heritage
3. The response to the instrumentalisation of culture
Chapter 3 - The culture of human rights: law at the service of a political ambition
1. The cognitive function of the combat for human rights
2. The championing of human rights
3. The pedagogic function of human and social rights education
Part III - The crucible of Europe and the future for politics
Chapter 1 - The Council of Europe and the European Union: a new and vital synergy
1. The stork and the cuckoo: the ambiguities of a common ancestry
2. The institutional aspect of relations with the European Union
3. Stronger partnerships, effective but sometimes too low-profile

Chapter 2 - The Council of Europe: regenerating a Europe stuck in the mud
1. Remembering tragedies to gain release from them
2. Taking a chance on citizens and following different approaches (European Pharmacopoeia, Eurimages, etc.): a long-standing practice of enhanced co-operation
3. Playing a full political role and putting Europe on the world map
Conclusion
Bibliography