Human Rights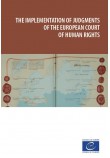 PDF - The implementation of judgments of the European Court of Human Rights (2018)
ISBN 978-92-871-8585-3
Type of document : Book
Format : PDF
Size : 1.25 MB
Language : English
Number of pages : 76
Other available languages
> French
Other available formats
> Epub file > Paper book
Delays in implementing the Court's judgments, lack of political will in certain states parties, attempts to discredit the Court…

In ratifying the European Convention on Human Rights, the signatory states accept the Court's jurisdiction and authority and "undertake to abide by the final judgment of the Court in any case to which they are parties" (Article 46 of the Convention).

While certain member states have made real progress in implementing the judgments of the European Court of Human Rights, some others face serious structural and political problems forming real "pockets of resistance" that delay or prevent the execution of judgments.  The Committee of Ministers is still supervising the execution of some 10 000 judgments, although they are not all at the same stage of implementation.

This publication highlights the difficulties in implementing certain judgments encountered in the 10 countries which have the highest number of non-implemented judgments against them (Italy, the Russian Federation, Turkey, Ukraine, Romania, Hungary, Greece, Bulgaria, the Republic of Moldova and Poland).  It also analyses judgments whose execution raises complex political issues.
FOREWORD
PREFACE
THE IMPLEMENTATION OF JUDGMENTS OF THE EUROPEAN COURT OF HUMAN RIGHTS
I. Summary
II. Adopted texts
     A. Resolution 2178 (2017)
     B. Recommendation 2110 (2017)
III. Explanatory memorandum
     1. Introduction
     2. Member states having the most judgments pending before the Committee of Ministers
     3. General data on the implementation of the Court's judgments between 2015 and 2017
     4. Specific challenges for the execution of Court judgments: selected examples
     5. Assessment of recent reforms and other measures taken within the Council of Europe and in certain member states to improve the implementation of judgments of the European Court of Human Rights
     6. Conclusions
APPENDIXES
Appendix 1 – Major problems encountered in the execution of judgments of the European Court of Human Rights identified in the 2015 report by Mr de Vries and the Committee of Ministers' 2016 Annual Report in respect of 10 States Parties to the European Convention on Human Rights
Appendix 2 – List of cited reports, resolutions and recommendations of the Parliamentary Assembly of the Council of Europe
Appendix 3 – List of cited resolutions of the Committee of Ministers on the execution of judgments of the European Court of Human Rights
Appendix 4 – Cited case law