Array ( [id] => 2 [link] => [name] => [desc] => [children] => Array ( [0] => Array ( [id] => 6 [link] => https://book.coe.int/en/6-online-bookshop [name] => Online Bookshop [desc] => [children] => Array ( [0] => Array ( [id] => 40 [link] => https://book.coe.int/en/40-committee-of-ministers [name] => Committee of Ministers [desc] => [children] => Array ( [0] => Array ( [id] => 41 [link] => https://book.coe.int/en/41-texts-of-council-of-europe-treaties [name] => Texts of Council of Europe Treaties [desc] => [children] => Array ( ) ) [1] => Array ( [id] => 43 [link] => https://book.coe.int/en/43-council-of-europe-treaties-and-explanatory-reports [name] => Council of Europe Treaties and explanatory reports [desc] => [children] => Array ( ) ) [2] => Array ( [id] => 44 [link] => https://book.coe.int/en/44-collected-edition-of-the-council-of-europe-treaties-series [name] => Collected edition of the Council of Europe Treaties Series [desc] => [children] => Array ( ) ) [3] => Array ( [id] => 45 [link] => https://book.coe.int/en/45-committee-of-ministers-compendium-of-adopted-texts [name] => Committee of Ministers - Compendium of adopted texts [desc] => [children] => Array ( ) ) [4] => Array ( [id] => 42 [link] => https://book.coe.int/en/42-committee-of-ministers-other-publications [name] => Committee of Ministers - Other publications [desc] => [children] => Array ( ) ) ) ) [1] => Array ( [id] => 46 [link] => https://book.coe.int/en/46-parliamentary-assembly [name] => Parliamentary Assembly [desc] => [children] => Array ( [0] => Array ( [id] => 47 [link] => https://book.coe.int/en/47-parliamentary-assembly-adopted-texts [name] => Parliamentary Assembly / Adopted texts [desc] => [children] => Array ( ) ) [1] => Array ( [id] => 48 [link] => https://book.coe.int/en/48-parliamentary-assembly-orders-of-the-day-minutes [name] => Parliamentary Assembly / Orders of the Day, Minutes [desc] => [children] => Array ( ) ) [2] => Array ( [id] => 49 [link] => https://book.coe.int/en/49-parliamentary-assembly-official-reports-of-debates [name] => Parliamentary Assembly / Official Reports of Debates [desc] => [children] => Array ( ) ) [3] => Array ( [id] => 50 [link] => https://book.coe.int/en/50-parliamentary-assembly-documents-working-papers [name] => Parliamentary Assembly / Documents, Working Papers [desc] => [children] => Array ( ) ) [4] => Array ( [id] => 51 [link] => https://book.coe.int/en/51-parliamentary-assembly-general-publications [name] => Parliamentary Assembly / General publications [desc] => [children] => Array ( ) ) ) ) [2] => Array ( [id] => 52 [link] => https://book.coe.int/en/52-congress [name] => Congress [desc] => [children] => Array ( [0] => Array ( [id] => 53 [link] => https://book.coe.int/en/53-congress-local-and-regional-action-series [name] => Congress / Local and Regional Action Series [desc] => [children] => Array ( ) ) [1] => Array ( [id] => 54 [link] => https://book.coe.int/en/54-congress-studies-and-texts-series [name] => Congress/ Studies and Texts Series [desc] => [children] => Array ( ) ) [2] => Array ( [id] => 55 [link] => https://book.coe.int/en/55-congress-adopted-texts [name] => Congress / Adopted Texts [desc] => [children] => Array ( ) ) [3] => Array ( [id] => 56 [link] => https://book.coe.int/en/56-congress-official-report-of-debates [name] => Congress / Official Report of Debates [desc] => [children] => Array ( ) ) ) ) [3] => Array ( [id] => 57 [link] => https://book.coe.int/en/57-human-rights [name] => Human Rights [desc] => [children] => Array ( [0] => Array ( [id] => 58 [link] => https://book.coe.int/en/58-human-rights-and-democracy [name] => Human Rights and Democracy [desc] => [children] => Array ( ) ) [1] => Array ( [id] => 59 [link] => https://book.coe.int/en/59-children-s-rights-and-family-law [name] => Children's rights and family law [desc] => [children] => Array ( ) ) [2] => Array ( [id] => 60 [link] => https://book.coe.int/en/60-making-democratic-institutions-work [name] => Making democratic institutions work [desc] => [children] => Array ( ) ) [3] => Array ( [id] => 61 [link] => https://book.coe.int/en/61-minorities [name] => Minorities [desc] => [children] => Array ( ) ) [4] => Array ( [id] => 62 [link] => https://book.coe.int/en/62-human-rights-files [name] => Human Rights Files [desc] => [children] => Array ( ) ) [5] => Array ( [id] => 63 [link] => https://book.coe.int/en/63-european-social-charter [name] => European Social Charter [desc] => [children] => Array ( ) ) [6] => Array ( [id] => 64 [link] => https://book.coe.int/en/64-social-charter-monographs [name] => Social Charter Monographs [desc] => [children] => Array ( ) ) [7] => Array ( [id] => 65 [link] => https://book.coe.int/en/65-gender-equality [name] => Gender equality [desc] => [children] => Array ( ) ) [8] => Array ( [id] => 66 [link] => https://book.coe.int/en/66-european-court-of-human-rights [name] => European Court of Human Rights [desc] => [children] => Array ( ) ) [9] => Array ( [id] => 376 [link] => https://book.coe.int/en/376-commissioner-for-human-rights [name] => Commissioner for Human Rights [desc] => [children] => Array ( ) ) [10] => Array ( [id] => 67 [link] => https://book.coe.int/en/67-european-commission-of-human-rights [name] => European Commission of Human Rights [desc] => [children] => Array ( ) ) ) ) [4] => Array ( [id] => 68 [link] => https://book.coe.int/en/68-law [name] => Law [desc] => [children] => Array ( [0] => Array ( [id] => 71 [link] => https://book.coe.int/en/71-international-law [name] => International Law [desc] => [children] => Array ( ) ) [1] => Array ( [id] => 75 [link] => https://book.coe.int/en/75-constitutional-law [name] => Constitutional Law [desc] => [children] => Array ( ) ) [2] => Array ( [id] => 77 [link] => https://book.coe.int/en/77-legal-instruments [name] => Legal instruments [desc] => [children] => Array ( ) ) [3] => Array ( [id] => 76 [link] => https://book.coe.int/en/76-penal-law-and-criminology [name] => Penal Law and criminology [desc] => [children] => Array ( ) ) [4] => Array ( [id] => 79 [link] => https://book.coe.int/en/79-computers-and-law [name] => Computers and law [desc] => [children] => Array ( ) ) [5] => Array ( [id] => 74 [link] => https://book.coe.int/en/74-economy-and-crime-fight-against-corruption [name] => Economy and crime, fight against corruption [desc] => [children] => Array ( ) ) [6] => Array ( [id] => 72 [link] => https://book.coe.int/en/72-terrorism-and-law [name] => Terrorism and Law [desc] => [children] => Array ( ) ) [7] => Array ( [id] => 69 [link] => https://book.coe.int/en/69-points-of-view-points-of-law [name] => Points of view - Points of Law [desc] => [children] => Array ( ) ) [8] => Array ( [id] => 70 [link] => https://book.coe.int/en/70-europeans-and-their-rights [name] => Europeans and their rights [desc] => [children] => Array ( ) ) [9] => Array ( [id] => 73 [link] => https://book.coe.int/en/73-migrants-rights [name] => Migrants rights [desc] => [children] => Array ( ) ) [10] => Array ( [id] => 78 [link] => https://book.coe.int/en/78-themis-programme [name] => Themis Programme [desc] => [children] => Array ( ) ) ) ) [5] => Array ( [id] => 80 [link] => https://book.coe.int/en/80-health [name] => Health [desc] => [children] => Array ( [0] => Array ( [id] => 81 [link] => https://book.coe.int/en/81-health-and-society-ethics [name] => Health and society, Ethics [desc] => [children] => Array ( ) ) [1] => Array ( [id] => 82 [link] => https://book.coe.int/en/82-blood-transfusion-and-organ-transplantation [name] => Blood transfusion and organ transplantation [desc] => [children] => Array ( ) ) [2] => Array ( [id] => 83 [link] => https://book.coe.int/en/83-health-protection-of-the-consumer [name] => Health protection of the consumer [desc] => [children] => Array ( ) ) [3] => Array ( [id] => 84 [link] => https://book.coe.int/en/84-integration-of-people-with-disabilities [name] => Integration of people with disabilities [desc] => [children] => Array ( ) ) [4] => Array ( [id] => 85 [link] => https://book.coe.int/en/85-european-directorate-for-the-quality-of-medicines-and-healthcare-edqm [name] => European Directorate for the Quality of Medicines and HealthCare (EDQM) [desc] => [children] => Array ( ) ) ) ) [6] => Array ( [id] => 86 [link] => https://book.coe.int/en/86-society [name] => Society [desc] => [children] => Array ( [0] => Array ( [id] => 87 [link] => https://book.coe.int/en/87-demography [name] => Demography [desc] => [children] => Array ( ) ) [1] => Array ( [id] => 88 [link] => https://book.coe.int/en/88-trends-in-social-cohesion-series [name] => Trends in Social Cohesion Series [desc] => [children] => Array ( ) ) [2] => Array ( [id] => 89 [link] => https://book.coe.int/en/89-responses-to-violence-in-everyday-life-in-a-democratic-society-series [name] => Responses to violence in everyday life in a democratic society Series [desc] => [children] => Array ( ) ) [3] => Array ( [id] => 90 [link] => https://book.coe.int/en/90-drugs-and-addiction [name] => Drugs and addiction [desc] => [children] => Array ( ) ) [4] => Array ( [id] => 91 [link] => https://book.coe.int/en/91-social-security [name] => Social Security [desc] => [children] => Array ( ) ) [5] => Array ( [id] => 92 [link] => https://book.coe.int/en/92-community-relations [name] => Community relations [desc] => [children] => Array ( ) ) [6] => Array ( [id] => 93 [link] => https://book.coe.int/en/93-social-co-operation-in-europe [name] => Social co-operation in Europe [desc] => [children] => Array ( ) ) [7] => Array ( [id] => 94 [link] => https://book.coe.int/en/94-population-studies-series [name] => Population Studies Series [desc] => [children] => Array ( ) ) ) ) [7] => Array ( [id] => 95 [link] => https://book.coe.int/en/95-environment [name] => Environment [desc] => [children] => Array ( [0] => Array ( [id] => 96 [link] => https://book.coe.int/en/96-nature-and-environment-series [name] => Nature and environment Series [desc] => [children] => Array ( ) ) [1] => Array ( [id] => 97 [link] => https://book.coe.int/en/97-environmental-encounters-series [name] => Environmental Encounters Series [desc] => [children] => Array ( ) ) [2] => Array ( [id] => 98 [link] => https://book.coe.int/en/98-territory-and-landscape-series [name] => Territory and Landscape Series [desc] => [children] => Array ( ) ) [3] => Array ( [id] => 99 [link] => https://book.coe.int/en/99-european-regional-planning-series [name] => European Regional Planning Series [desc] => [children] => Array ( ) ) [4] => Array ( [id] => 100 [link] => https://book.coe.int/en/100-environment-general-publications [name] => Environment / General publications [desc] => [children] => Array ( ) ) ) ) [8] => Array ( [id] => 101 [link] => https://book.coe.int/en/101-local-and-regional-democracy [name] => Local and Regional Democracy [desc] => [children] => Array ( [0] => Array ( [id] => 102 [link] => https://book.coe.int/en/102-co-operation-for-local-and-regional-democracy [name] => Co-operation for Local and Regional Democracy [desc] => [children] => Array ( ) ) [1] => Array ( [id] => 103 [link] => https://book.coe.int/en/103-local-and-regional-authorities-in-europe-series [name] => Local and Regional Authorities in Europe Series [desc] => [children] => Array ( ) ) [2] => Array ( [id] => 104 [link] => https://book.coe.int/en/104-structure-and-operation-of-local-and-regional-democracy-series [name] => Structure and operation of Local and Regional Democracy Series [desc] => [children] => Array ( ) ) ) ) [9] => Array ( [id] => 105 [link] => https://book.coe.int/en/105-education [name] => Education [desc] => [children] => Array ( [0] => Array ( [id] => 406 [link] => https://book.coe.int/en/406-education-policy [name] => Education policy [desc] => [children] => Array ( ) ) [1] => Array ( [id] => 108 [link] => https://book.coe.int/en/108-human-rights-democratic-citizenship-and-interculturalism [name] => Human rights, democratic citizenship and interculturalism [desc] => [children] => Array ( ) ) [2] => Array ( [id] => 112 [link] => https://book.coe.int/en/112-higher-education-and-research [name] => Higher education and research [desc] => [children] => Array ( ) ) [3] => Array ( [id] => 110 [link] => https://book.coe.int/en/110-secondary-education [name] => Secondary education [desc] => [children] => Array ( ) ) [4] => Array ( [id] => 107 [link] => https://book.coe.int/en/107-history-teaching [name] => History teaching [desc] => [children] => Array ( ) ) [5] => Array ( [id] => 106 [link] => https://book.coe.int/en/106-pestalozzi-series [name] => Pestalozzi series [desc] => [children] => Array ( ) ) ) ) [10] => Array ( [id] => 113 [link] => https://book.coe.int/en/113-languages [name] => Languages [desc] => [children] => Array ( [0] => Array ( [id] => 114 [link] => https://book.coe.int/en/114-education-and-modern-languages [name] => Education and modern languages [desc] => [children] => Array ( ) ) [1] => Array ( [id] => 115 [link] => https://book.coe.int/en/115-language-policy [name] => Language policy [desc] => [children] => Array ( ) ) [2] => Array ( [id] => 116 [link] => https://book.coe.int/en/116-regional-and-minority-languages [name] => Regional and minority languages [desc] => [children] => Array ( ) ) [3] => Array ( [id] => 117 [link] => https://book.coe.int/en/117-terminology [name] => Terminology [desc] => [children] => Array ( ) ) ) ) [11] => Array ( [id] => 118 [link] => https://book.coe.int/en/118-youth [name] => Youth [desc] => [children] => Array ( [0] => Array ( [id] => 119 [link] => https://book.coe.int/en/119-training-kits-youth [name] => Training Kits / Youth [desc] => [children] => Array ( ) ) [1] => Array ( [id] => 120 [link] => https://book.coe.int/en/120-national-youth-policies [name] => National Youth Policies [desc] => [children] => Array ( ) ) [2] => Array ( [id] => 121 [link] => https://book.coe.int/en/121-youth-other-publications [name] => Youth / Other publications [desc] => [children] => Array ( ) ) [3] => Array ( [id] => 396 [link] => https://book.coe.int/en/396-perspectives-on-youth [name] => Perspectives on youth [desc] => [children] => Array ( ) ) ) ) [12] => Array ( [id] => 122 [link] => https://book.coe.int/en/122-culture [name] => Culture [desc] => [children] => Array ( [0] => Array ( [id] => 123 [link] => https://book.coe.int/en/123-cultural-development [name] => Cultural development [desc] => [children] => Array ( ) ) [1] => Array ( [id] => 124 [link] => https://book.coe.int/en/124-cultural-heritage [name] => Cultural heritage [desc] => [children] => Array ( ) ) [2] => Array ( [id] => 125 [link] => https://book.coe.int/en/125-cultural-policies [name] => Cultural Policies [desc] => [children] => Array ( ) ) [3] => Array ( [id] => 126 [link] => https://book.coe.int/en/126-culture-and-neighbourhoods [name] => Culture and neighbourhoods [desc] => [children] => Array ( ) ) ) ) [13] => Array ( [id] => 127 [link] => https://book.coe.int/en/127-sport [name] => Sport [desc] => [children] => Array ( [0] => Array ( [id] => 128 [link] => https://book.coe.int/en/128-sports-monographs [name] => Sports - Monographs [desc] => [children] => Array ( ) ) ) ) [14] => Array ( [id] => 129 [link] => https://book.coe.int/en/129-communication [name] => Communication [desc] => [children] => Array ( [0] => Array ( [id] => 130 [link] => https://book.coe.int/en/130-mass-media [name] => Mass media [desc] => [children] => Array ( ) ) [1] => Array ( [id] => 131 [link] => https://book.coe.int/en/131-european-audiovisual-observatory [name] => European Audiovisual Observatory [desc] => [children] => Array ( ) ) [2] => Array ( [id] => 132 [link] => https://book.coe.int/en/132-new-information-technologies [name] => New information technologies [desc] => [children] => Array ( ) ) [3] => Array ( [id] => 412 [link] => https://book.coe.int/en/412-artificial-intelligence [name] => Artificial intelligence [desc] => [children] => Array ( ) ) ) ) [15] => Array ( [id] => 133 [link] => https://book.coe.int/en/133-european-issues [name] => European issues [desc] => [children] => Array ( [0] => Array ( [id] => 134 [link] => https://book.coe.int/en/134-activities-annual-report [name] => Activities Annual Report [desc] => [children] => Array ( ) ) [1] => Array ( [id] => 135 [link] => https://book.coe.int/en/135-democracy-debates [name] => Democracy Debates [desc] => [children] => Array ( ) ) [2] => Array ( [id] => 136 [link] => https://book.coe.int/en/136-european-debates [name] => European debates [desc] => [children] => Array ( ) ) [3] => Array ( [id] => 137 [link] => https://book.coe.int/en/137-books-on-europe [name] => Books on Europe [desc] => [children] => Array ( ) ) [4] => Array ( [id] => 138 [link] => https://book.coe.int/en/138-other-fields [name] => Other fields [desc] => [children] => Array ( ) ) [5] => Array ( [id] => 373 [link] => https://book.coe.int/en/373-catalogues-of-publications [name] => Catalogues of publications [desc] => [children] => Array ( ) ) ) ) ) ) ) ) 1
Catalog
Newsletter
Stay informed
Subscribe to our newsletter
Subscribe to our newsletter
PDF - Pojedinačna predstavka na osnovu Evropske konvencije o ljudskim pravima (The individual application under the European Convention on Human Rights - Serbian version)
(2020)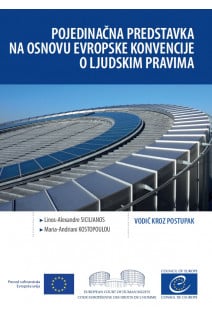  
Ova knjiga, koja je praktični vodič namenjen i advokatima i potencijalnim podnosiocima predstavki, jasno i sveobuhvatno opisuje i analizira glavne faze postupanja po predstavki pred organima Evropske konvencije o ljudskim pravima.

Knjiga pruža detaljne opise sistema Konvencije, Poslovnika Evropskog suda za ljudska prava i procedura koje je Sud razvio sa ciljem da ubrza i poboljša postupanje u predmetima.

Napisana od strane dvoje stručnjaka na temu Konvencije, Linos-Alexandre Sicilianosa, trenutnog predsednika Evropskog suda za ljudska prava i Maria-Andriani Kostopoulou, pravnog zastupnika pri Kasacionom sudu Grčke, knjiga ide dalje od jednostavnog objašnjavanja kako se priprema i podnosi predstavka, naročito po pitanju formalnih uslova i kriterijuma prihvatljivosti; ona predstavlja i detaljnu procenu slučaja koje obavljaju različite formacije Suda, i tako obuhvata sve faze do okončanja postupka. Na kraju, nakon sprovedene analize postupka pred Sudom, knjiga nastavlja sa opisivanjem postupka nadzora nad izvršenjem koji sprovodi Komiteta ministara Saveta Evrope.
Skraćenice 
Uvod 
Poglavlje I Organi Evropske konvencije o ljudskim pravima
Odeljak 1. Evropski sud za ljudska prava: glavni organ Konvencije 
A. Opšta sednica Suda 
B. Odeljenja: administrativne jedinice
C. Sudske formacije 
1. Sudija pojedinac 
2. Odbori
3. Veća
4. Veliko veće 
Odeljak 2. Komitet ministara: obezbeđivanje delotvornog sistema
Odeljak 3. Ostali organi Konvencije
A. Parlamentarna skupština 
B. Generalni sekretar 
C. Komesar za ljudska prava 
Poglavlje II Postupak pred Evropskim sudom za ljudska prava
Odeljak 1. Izvori procesnog prava 
A. Konvencija 
B. Poslovnik Suda
Odeljak 2. Podnošenje predstavki
A. Obrazac predstavke i jezici postupka
B. Sadržaj pojedinačnih predstavki
C. Zastupanje podnosilaca predstavke
D. Molbe za anonimnost ili poverljivost dokumenata
E. Grupisane predstavke i više podnosilaca predstavke 
F. Prepiska sa Sekretarijatom
Odeljak 3. Upis predstavke 
Odeljak 4. Olakšavanje pristupa Sudu
A. Bez sudskih troškova 
B. Pravna pomoć 
Odeljak 5. Kriterijumi prihvatljivosti 
A. Uslovi u vezi s postupkom
1. Iscrpenost unutrašnjih pravnih lekova
a) Svrha pravila
b) Primena pravila
c) Procesni aspekti
2. Rok od šest meseci (uskoro će to biti rok od četiri meseca)
a) Svrha utvrđenog roka 
b) Početak i istek roka
c) Datum podnošenja predstavke
3. Anonimne predstavke 
4. U suštini istovetna 
a) U suštini istovetna s predstavkom koju je Sud već razmatrao
b) U suštini istovetna s predstavkom koja je već podneta nekoj drugoj međunarodnoj instanci radi ispitivanja ili rešavanja
5. Zloupotreba prava na predstavku 
B. Uslovi koji se odnose na nadležnost ESLJP
1. Nadležnost ratione materiae 
2. Nadležnost ratione personae 
a) Nadležnost u vezi s kategorijom lica podnosioca predstavke 
b) Nadležnost u vezi sa odgovornom državom 
3. Nadležnost ratione loci 
4. Nadležnost ratione temporis 
a) Trenutne činjenice 
b) Kontinuirane situacije
C. Uslovi koji se odnose na meritum spora 
1. "Očigledno neosnovane" predstavke 
a) "Očigledno neosnovane" predstavke: na spoju između prihvatljivosti i merituma 
b) Praktična primena pojma "očigledne neosnovanosti"
2. Nepostojanje značajnijeg oštećenja
a) Utvrđivanje da podnosilac predstavke nije značajnije oštećen 
b) Zaštitne odredbe
Odeljak 6. Redosled postupanja po predmetima 
Odeljak 7. Privremene mere
A. Pravni osnov
B. Obim dejstva
C. Zahtev za privremene mere
D. Postupak
E. Odluka
1. Odluka o odlaganju
2. Odluka o odobrenju zahteva za određivanje privremenih mera
a) Trajanje mera
b) Pravna snaga
3. Odluka o odbacivanju i ishod postupka po predstavci 
Odeljak 8. Intervencija trećih lica 
A. Pravo država da intervenišu 
B. Dozvola za intervenciju
1. Procesni aspekti 
2. Treća lica umešana u spor 
3. Treća lica u svojstvu amici curiae
C. Pravo komesara za ljudska prava na intervenciju 
Odeljak 9. Vanraspravno rešavanje sporova
A. Prijateljska poravnanja 
1. Procesni aspekti 
2. Načelo poverljivosti
3. Šta sledi posle prijateljskih poravnanja 
B. Jednostrane deklaracije
1. Pravni osnov i fizionomija instituta 
2. Uslovi za prihvatanje jednostrane deklaracije
3. Ocena Suda i njegovo dalje praćenje
Odeljak 10. Ispitivanje predstavki pred Sudom
A. Ispitivanje predstavki o kojima odgovorna država nije obaveštena
1. Postupak pred sudijom pojedincem 
2. Postupak pred odborom 
3. Postupak pred većem
B. Ispitivanje predstavki o kojima su odgovorne države obaveštene 
1. Obaveštavanje o predstavci 
a). Odluka o obaveštavanju 
b) Neposredno i pojednostavljeno obaveštavanje o predstavkama (IMSI)
c) Zaštićena elektronska komunikacija država sa Sudom
d) Elektronska komunikacija između podnosilaca predstavke i Suda (eComms) 
2. Ispitivanje predstavki pred odborom 
a) Pojednostavljenje i ubrzanje postupaka u predmetima koji se ponavljaju
b) Proširenje pojma "ustaljene sudske prakse"
c) Sigurnosni ventili
3. Ispitivanje predstavke pred većem
a) Standardni postupak pred većima 
b) Odvijanje rasprave
c) Postupak donošenja pilot-presude
d) Struktura i sadržaj odluka i presuda veća
e) Konzistentnost sudske prakse: uloga pravnog savetnika Suda (jurisconsult)
4. Konkretnije: pravično zadovoljenje
a) Materijalna šteta
b) Nematerijalna šteta
c) Pojedinačne i/ili opšte mere
d) Troškovi 
e) Podnošenje zahteva za pravično zadovoljenje
f) Presuda o pravičnom zadovoljenju
5. Postupak ispitivanja predstavki pred Velikim većem 
a) Ustupanje nadležnosti Velikom veću
b) Obraćanje Velikom veću sa zahtevom da se predmet iznese pred njega
c) Razlike između ustupanja nadležnosti Velikom veću i iznošenja predmeta pred Veliko veće
d) Postupak pred Velikim većem, odluke i presude
6. Pravosnažne presude 
Poglavlje III Postupak pred Komitetom ministara
Odeljak 1. Nadzor nad izvršenjem presuda ESLJP
A. Razmere obaveza države da se povinuje presudama Suda
B. Svrha nadzora koji sprovodi Komitet ministara
C. Nadzor nad isplatom novca na ime pravičnog zadovoljenja 
1. Primalac pravičnog zadovoljenja
a) Isplata licu koje je označeno kao primalac
2. Rok za plaćanje, zatezna kamata i pritužbe
3. Mesto isplate 
4. Valuta u kojoj se vrši isplata
5. Zaplena radi namirenja duga i oporezivanje 
D. Pojedinačne i opšte mere: akcioni planovi i izveštaji o njihovom sprovođenju
1. Akcioni planovi
2. Izveštaji o sprovođenju akcionih planova
3. Struktura akcionih planova i izveštaja o njihovom izvršenju 
E. Pristup informacijama i komunikacija sa Komitetom ministara
F. Privremene i zaključne rezolucije 
G. Izuzetne mere koje ima na raspolaganju Komitet ministara
1. Obraćanje Sudu radi tumačenja presude
2. Postupak zbog neizvršenja presude 
Odeljak 2. Nadzor nad izvršenjem odredaba prijateljskih poravnanja
Zaključci
Odabrana bibliografija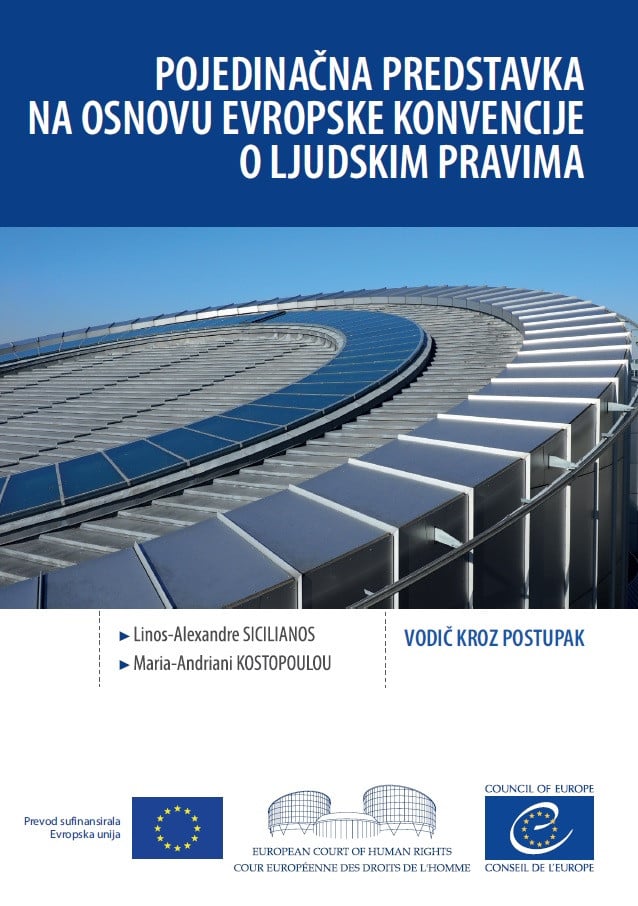 Please note that in accordance with our terms & conditions, PDF/epubs may only be purchased by private individuals.