Our online bookshop is currently undergoing major maintenance: please accept our apologies for the unsolicited email regarding shipped publications
Array ( [id] => 2 [link] => [name] => [desc] => [children] => Array ( [0] => Array ( [id] => 6 [link] => https://book.coe.int/en/6-online-bookshop [name] => Online Bookshop [desc] => [children] => Array ( [0] => Array ( [id] => 40 [link] => https://book.coe.int/en/40-committee-of-ministers [name] => Committee of Ministers [desc] => [children] => Array ( [0] => Array ( [id] => 41 [link] => https://book.coe.int/en/41-texts-of-council-of-europe-treaties [name] => Texts of Council of Europe Treaties [desc] => [children] => Array ( ) ) [1] => Array ( [id] => 43 [link] => https://book.coe.int/en/43-council-of-europe-treaties-and-explanatory-reports [name] => Council of Europe Treaties and explanatory reports [desc] => [children] => Array ( ) ) [2] => Array ( [id] => 44 [link] => https://book.coe.int/en/44-collected-edition-of-the-council-of-europe-treaties-series [name] => Collected edition of the Council of Europe Treaties Series [desc] => [children] => Array ( ) ) [3] => Array ( [id] => 45 [link] => https://book.coe.int/en/45-committee-of-ministers-compendium-of-adopted-texts [name] => Committee of Ministers - Compendium of adopted texts [desc] => [children] => Array ( ) ) [4] => Array ( [id] => 42 [link] => https://book.coe.int/en/42-committee-of-ministers-other-publications [name] => Committee of Ministers - Other publications [desc] => [children] => Array ( ) ) ) ) [1] => Array ( [id] => 46 [link] => https://book.coe.int/en/46-parliamentary-assembly [name] => Parliamentary Assembly [desc] => [children] => Array ( [0] => Array ( [id] => 47 [link] => https://book.coe.int/en/47-parliamentary-assembly-adopted-texts [name] => Parliamentary Assembly / Adopted texts [desc] => [children] => Array ( ) ) [1] => Array ( [id] => 48 [link] => https://book.coe.int/en/48-parliamentary-assembly-orders-of-the-day-minutes [name] => Parliamentary Assembly / Orders of the Day, Minutes [desc] => [children] => Array ( ) ) [2] => Array ( [id] => 49 [link] => https://book.coe.int/en/49-parliamentary-assembly-official-reports-of-debates [name] => Parliamentary Assembly / Official Reports of Debates [desc] => [children] => Array ( ) ) [3] => Array ( [id] => 50 [link] => https://book.coe.int/en/50-parliamentary-assembly-documents-working-papers [name] => Parliamentary Assembly / Documents, Working Papers [desc] => [children] => Array ( ) ) [4] => Array ( [id] => 51 [link] => https://book.coe.int/en/51-parliamentary-assembly-general-publications [name] => Parliamentary Assembly / General publications [desc] => [children] => Array ( ) ) ) ) [2] => Array ( [id] => 52 [link] => https://book.coe.int/en/52-congress [name] => Congress [desc] => [children] => Array ( [0] => Array ( [id] => 53 [link] => https://book.coe.int/en/53-congress-local-and-regional-action-series [name] => Congress / Local and Regional Action Series [desc] => [children] => Array ( ) ) [1] => Array ( [id] => 54 [link] => https://book.coe.int/en/54-congress-studies-and-texts-series [name] => Congress/ Studies and Texts Series [desc] => [children] => Array ( ) ) [2] => Array ( [id] => 55 [link] => https://book.coe.int/en/55-congress-adopted-texts [name] => Congress / Adopted Texts [desc] => [children] => Array ( ) ) [3] => Array ( [id] => 56 [link] => https://book.coe.int/en/56-congress-official-report-of-debates [name] => Congress / Official Report of Debates [desc] => [children] => Array ( ) ) ) ) [3] => Array ( [id] => 57 [link] => https://book.coe.int/en/57-human-rights [name] => Human Rights [desc] => [children] => Array ( [0] => Array ( [id] => 58 [link] => https://book.coe.int/en/58-human-rights-and-democracy [name] => Human Rights and Democracy [desc] => [children] => Array ( ) ) [1] => Array ( [id] => 59 [link] => https://book.coe.int/en/59-children-s-rights-and-family-law [name] => Children's rights and family law [desc] => [children] => Array ( ) ) [2] => Array ( [id] => 60 [link] => https://book.coe.int/en/60-making-democratic-institutions-work [name] => Making democratic institutions work [desc] => [children] => Array ( ) ) [3] => Array ( [id] => 61 [link] => https://book.coe.int/en/61-minorities [name] => Minorities [desc] => [children] => Array ( ) ) [4] => Array ( [id] => 62 [link] => https://book.coe.int/en/62-human-rights-files [name] => Human Rights Files [desc] => [children] => Array ( ) ) [5] => Array ( [id] => 63 [link] => https://book.coe.int/en/63-european-social-charter [name] => European Social Charter [desc] => [children] => Array ( ) ) [6] => Array ( [id] => 64 [link] => https://book.coe.int/en/64-social-charter-monographs [name] => Social Charter Monographs [desc] => [children] => Array ( ) ) [7] => Array ( [id] => 65 [link] => https://book.coe.int/en/65-gender-equality [name] => Gender equality [desc] => [children] => Array ( ) ) [8] => Array ( [id] => 66 [link] => https://book.coe.int/en/66-european-court-of-human-rights [name] => European Court of Human Rights [desc] => [children] => Array ( ) ) [9] => Array ( [id] => 376 [link] => https://book.coe.int/en/376-commissioner-for-human-rights [name] => Commissioner for Human Rights [desc] => [children] => Array ( ) ) [10] => Array ( [id] => 67 [link] => https://book.coe.int/en/67-european-commission-of-human-rights [name] => European Commission of Human Rights [desc] => [children] => Array ( ) ) ) ) [4] => Array ( [id] => 68 [link] => https://book.coe.int/en/68-law [name] => Law [desc] => [children] => Array ( [0] => Array ( [id] => 71 [link] => https://book.coe.int/en/71-international-law [name] => International Law [desc] => [children] => Array ( ) ) [1] => Array ( [id] => 75 [link] => https://book.coe.int/en/75-constitutional-law [name] => Constitutional Law [desc] => [children] => Array ( ) ) [2] => Array ( [id] => 77 [link] => https://book.coe.int/en/77-legal-instruments [name] => Legal instruments [desc] => [children] => Array ( ) ) [3] => Array ( [id] => 76 [link] => https://book.coe.int/en/76-penal-law-and-criminology [name] => Penal Law and criminology [desc] => [children] => Array ( ) ) [4] => Array ( [id] => 79 [link] => https://book.coe.int/en/79-computers-and-law [name] => Computers and law [desc] => [children] => Array ( ) ) [5] => Array ( [id] => 74 [link] => https://book.coe.int/en/74-economy-and-crime-fight-against-corruption [name] => Economy and crime, fight against corruption [desc] => [children] => Array ( ) ) [6] => Array ( [id] => 72 [link] => https://book.coe.int/en/72-terrorism-and-law [name] => Terrorism and Law [desc] => [children] => Array ( ) ) [7] => Array ( [id] => 69 [link] => https://book.coe.int/en/69-points-of-view-points-of-law [name] => Points of view - Points of Law [desc] => [children] => Array ( ) ) [8] => Array ( [id] => 70 [link] => https://book.coe.int/en/70-europeans-and-their-rights [name] => Europeans and their rights [desc] => [children] => Array ( ) ) [9] => Array ( [id] => 73 [link] => https://book.coe.int/en/73-migrants-rights [name] => Migrants rights [desc] => [children] => Array ( ) ) [10] => Array ( [id] => 78 [link] => https://book.coe.int/en/78-themis-programme [name] => Themis Programme [desc] => [children] => Array ( ) ) ) ) [5] => Array ( [id] => 80 [link] => https://book.coe.int/en/80-health [name] => Health [desc] => [children] => Array ( [0] => Array ( [id] => 81 [link] => https://book.coe.int/en/81-health-and-society-ethics [name] => Health and society, Ethics [desc] => [children] => Array ( ) ) [1] => Array ( [id] => 82 [link] => https://book.coe.int/en/82-blood-transfusion-and-organ-transplantation [name] => Blood transfusion and organ transplantation [desc] => [children] => Array ( ) ) [2] => Array ( [id] => 83 [link] => https://book.coe.int/en/83-health-protection-of-the-consumer [name] => Health protection of the consumer [desc] => [children] => Array ( ) ) [3] => Array ( [id] => 84 [link] => https://book.coe.int/en/84-integration-of-people-with-disabilities [name] => Integration of people with disabilities [desc] => [children] => Array ( ) ) [4] => Array ( [id] => 85 [link] => https://book.coe.int/en/85-european-directorate-for-the-quality-of-medicines-and-healthcare-edqm [name] => European Directorate for the Quality of Medicines and HealthCare (EDQM) [desc] => [children] => Array ( ) ) ) ) [6] => Array ( [id] => 86 [link] => https://book.coe.int/en/86-society [name] => Society [desc] => [children] => Array ( [0] => Array ( [id] => 87 [link] => https://book.coe.int/en/87-demography [name] => Demography [desc] => [children] => Array ( ) ) [1] => Array ( [id] => 88 [link] => https://book.coe.int/en/88-trends-in-social-cohesion-series [name] => Trends in Social Cohesion Series [desc] => [children] => Array ( ) ) [2] => Array ( [id] => 89 [link] => https://book.coe.int/en/89-responses-to-violence-in-everyday-life-in-a-democratic-society-series [name] => Responses to violence in everyday life in a democratic society Series [desc] => [children] => Array ( ) ) [3] => Array ( [id] => 90 [link] => https://book.coe.int/en/90-drugs-and-addiction [name] => Drugs and addiction [desc] => [children] => Array ( ) ) [4] => Array ( [id] => 91 [link] => https://book.coe.int/en/91-social-security [name] => Social Security [desc] => [children] => Array ( ) ) [5] => Array ( [id] => 92 [link] => https://book.coe.int/en/92-community-relations [name] => Community relations [desc] => [children] => Array ( ) ) [6] => Array ( [id] => 93 [link] => https://book.coe.int/en/93-social-co-operation-in-europe [name] => Social co-operation in Europe [desc] => [children] => Array ( ) ) [7] => Array ( [id] => 94 [link] => https://book.coe.int/en/94-population-studies-series [name] => Population Studies Series [desc] => [children] => Array ( ) ) ) ) [7] => Array ( [id] => 95 [link] => https://book.coe.int/en/95-environment [name] => Environment [desc] => [children] => Array ( [0] => Array ( [id] => 96 [link] => https://book.coe.int/en/96-nature-and-environment-series [name] => Nature and environment Series [desc] => [children] => Array ( ) ) [1] => Array ( [id] => 97 [link] => https://book.coe.int/en/97-environmental-encounters-series [name] => Environmental Encounters Series [desc] => [children] => Array ( ) ) [2] => Array ( [id] => 98 [link] => https://book.coe.int/en/98-territory-and-landscape-series [name] => Territory and Landscape Series [desc] => [children] => Array ( ) ) [3] => Array ( [id] => 99 [link] => https://book.coe.int/en/99-european-regional-planning-series [name] => European Regional Planning Series [desc] => [children] => Array ( ) ) [4] => Array ( [id] => 100 [link] => https://book.coe.int/en/100-environment-general-publications [name] => Environment / General publications [desc] => [children] => Array ( ) ) ) ) [8] => Array ( [id] => 101 [link] => https://book.coe.int/en/101-local-and-regional-democracy [name] => Local and Regional Democracy [desc] => [children] => Array ( [0] => Array ( [id] => 102 [link] => https://book.coe.int/en/102-co-operation-for-local-and-regional-democracy [name] => Co-operation for Local and Regional Democracy [desc] => [children] => Array ( ) ) [1] => Array ( [id] => 103 [link] => https://book.coe.int/en/103-local-and-regional-authorities-in-europe-series [name] => Local and Regional Authorities in Europe Series [desc] => [children] => Array ( ) ) [2] => Array ( [id] => 104 [link] => https://book.coe.int/en/104-structure-and-operation-of-local-and-regional-democracy-series [name] => Structure and operation of Local and Regional Democracy Series [desc] => [children] => Array ( ) ) ) ) [9] => Array ( [id] => 105 [link] => https://book.coe.int/en/105-education [name] => Education [desc] => [children] => Array ( [0] => Array ( [id] => 406 [link] => https://book.coe.int/en/406-education-policy [name] => Education policy [desc] => [children] => Array ( ) ) [1] => Array ( [id] => 108 [link] => https://book.coe.int/en/108-human-rights-democratic-citizenship-and-interculturalism [name] => Human rights, democratic citizenship and interculturalism [desc] => [children] => Array ( ) ) [2] => Array ( [id] => 112 [link] => https://book.coe.int/en/112-higher-education-and-research [name] => Higher education and research [desc] => [children] => Array ( ) ) [3] => Array ( [id] => 110 [link] => https://book.coe.int/en/110-secondary-education [name] => Secondary education [desc] => [children] => Array ( ) ) [4] => Array ( [id] => 107 [link] => https://book.coe.int/en/107-history-teaching [name] => History teaching [desc] => [children] => Array ( ) ) [5] => Array ( [id] => 106 [link] => https://book.coe.int/en/106-pestalozzi-series [name] => Pestalozzi series [desc] => [children] => Array ( ) ) ) ) [10] => Array ( [id] => 113 [link] => https://book.coe.int/en/113-languages [name] => Languages [desc] => [children] => Array ( [0] => Array ( [id] => 114 [link] => https://book.coe.int/en/114-education-and-modern-languages [name] => Education and modern languages [desc] => [children] => Array ( ) ) [1] => Array ( [id] => 115 [link] => https://book.coe.int/en/115-language-policy [name] => Language policy [desc] => [children] => Array ( ) ) [2] => Array ( [id] => 116 [link] => https://book.coe.int/en/116-regional-and-minority-languages [name] => Regional and minority languages [desc] => [children] => Array ( ) ) [3] => Array ( [id] => 117 [link] => https://book.coe.int/en/117-terminology [name] => Terminology [desc] => [children] => Array ( ) ) ) ) [11] => Array ( [id] => 118 [link] => https://book.coe.int/en/118-youth [name] => Youth [desc] => [children] => Array ( [0] => Array ( [id] => 119 [link] => https://book.coe.int/en/119-training-kits-youth [name] => Training Kits / Youth [desc] => [children] => Array ( ) ) [1] => Array ( [id] => 120 [link] => https://book.coe.int/en/120-national-youth-policies [name] => National Youth Policies [desc] => [children] => Array ( ) ) [2] => Array ( [id] => 121 [link] => https://book.coe.int/en/121-youth-other-publications [name] => Youth / Other publications [desc] => [children] => Array ( ) ) [3] => Array ( [id] => 396 [link] => https://book.coe.int/en/396-perspectives-on-youth [name] => Perspectives on youth [desc] => [children] => Array ( ) ) ) ) [12] => Array ( [id] => 122 [link] => https://book.coe.int/en/122-culture [name] => Culture [desc] => [children] => Array ( [0] => Array ( [id] => 123 [link] => https://book.coe.int/en/123-cultural-development [name] => Cultural development [desc] => [children] => Array ( ) ) [1] => Array ( [id] => 124 [link] => https://book.coe.int/en/124-cultural-heritage [name] => Cultural heritage [desc] => [children] => Array ( ) ) [2] => Array ( [id] => 125 [link] => https://book.coe.int/en/125-cultural-policies [name] => Cultural Policies [desc] => [children] => Array ( ) ) [3] => Array ( [id] => 126 [link] => https://book.coe.int/en/126-culture-and-neighbourhoods [name] => Culture and neighbourhoods [desc] => [children] => Array ( ) ) ) ) [13] => Array ( [id] => 127 [link] => https://book.coe.int/en/127-sport [name] => Sport [desc] => [children] => Array ( [0] => Array ( [id] => 128 [link] => https://book.coe.int/en/128-sports-monographs [name] => Sports - Monographs [desc] => [children] => Array ( ) ) ) ) [14] => Array ( [id] => 129 [link] => https://book.coe.int/en/129-communication [name] => Communication [desc] => [children] => Array ( [0] => Array ( [id] => 130 [link] => https://book.coe.int/en/130-mass-media [name] => Mass media [desc] => [children] => Array ( ) ) [1] => Array ( [id] => 131 [link] => https://book.coe.int/en/131-european-audiovisual-observatory [name] => European Audiovisual Observatory [desc] => [children] => Array ( ) ) [2] => Array ( [id] => 132 [link] => https://book.coe.int/en/132-new-information-technologies [name] => New information technologies [desc] => [children] => Array ( ) ) [3] => Array ( [id] => 412 [link] => https://book.coe.int/en/412-artificial-intelligence [name] => Artificial intelligence [desc] => [children] => Array ( ) ) ) ) [15] => Array ( [id] => 133 [link] => https://book.coe.int/en/133-european-issues [name] => European issues [desc] => [children] => Array ( [0] => Array ( [id] => 134 [link] => https://book.coe.int/en/134-activities-annual-report [name] => Activities Annual Report [desc] => [children] => Array ( ) ) [1] => Array ( [id] => 135 [link] => https://book.coe.int/en/135-democracy-debates [name] => Democracy Debates [desc] => [children] => Array ( ) ) [2] => Array ( [id] => 136 [link] => https://book.coe.int/en/136-european-debates [name] => European debates [desc] => [children] => Array ( ) ) [3] => Array ( [id] => 137 [link] => https://book.coe.int/en/137-books-on-europe [name] => Books on Europe [desc] => [children] => Array ( ) ) [4] => Array ( [id] => 138 [link] => https://book.coe.int/en/138-other-fields [name] => Other fields [desc] => [children] => Array ( ) ) [5] => Array ( [id] => 373 [link] => https://book.coe.int/en/373-catalogues-of-publications [name] => Catalogues of publications [desc] => [children] => Array ( ) ) ) ) ) ) [1] => Array ( [id] => 7 [link] => https://book.coe.int/en/7-online-resources [name] => Online resources [desc] => [children] => Array ( [0] => Array ( [id] => 378 [link] => https://book.coe.int/en/378-the-council-of-europe-in-brief [name] => The Council of Europe in brief [desc] => [children] => Array ( ) ) [1] => Array ( [id] => 170 [link] => https://book.coe.int/en/170-human-rights [name] => Human Rights [desc] => [children] => Array ( [0] => Array ( [id] => 187 [link] => https://book.coe.int/en/187-children-s-rights [name] => Children's rights [desc] => [children] => Array ( ) ) [1] => Array ( [id] => 172 [link] => https://book.coe.int/en/172-european-convention-on-human-rights [name] => European Convention on Human Rights [desc] => [children] => Array ( ) ) [2] => Array ( [id] => 191 [link] => https://book.coe.int/en/191-violence-against-women-and-domestic-violence [name] => Violence against women and domestic violence [desc] => [children] => Array ( ) ) [3] => Array ( [id] => 176 [link] => https://book.coe.int/en/176-death-penalty [name] => Death penalty [desc] => [children] => Array ( ) ) [4] => Array ( [id] => 192 [link] => https://book.coe.int/en/192-trafficking-in-human-beings [name] => Trafficking in human beings [desc] => [children] => Array ( ) ) [5] => Array ( [id] => 177 [link] => https://book.coe.int/en/177-prevention-of-torture [name] => Prevention of torture [desc] => [children] => Array ( ) ) [6] => Array ( [id] => 178 [link] => https://book.coe.int/en/178-racism [name] => Racism [desc] => [children] => Array ( ) ) ) ) [2] => Array ( [id] => 179 [link] => https://book.coe.int/en/179-democracy [name] => Democracy [desc] => [children] => Array ( [0] => Array ( [id] => 180 [link] => https://book.coe.int/en/180-democracy-through-law [name] => Democracy Through Law [desc] => [children] => Array ( ) ) [1] => Array ( [id] => 181 [link] => https://book.coe.int/en/181-forum-for-the-future-of-democracy [name] => Forum for the Future of Democracy [desc] => [children] => Array ( ) ) [2] => Array ( [id] => 182 [link] => https://book.coe.int/en/182-civil-society [name] => Civil society [desc] => [children] => Array ( ) ) ) ) [3] => Array ( [id] => 186 [link] => https://book.coe.int/en/186-human-dignity [name] => Human dignity [desc] => [children] => Array ( ) ) [4] => Array ( [id] => 193 [link] => https://book.coe.int/en/193-society [name] => Society [desc] => [children] => Array ( [0] => Array ( [id] => 194 [link] => https://book.coe.int/en/194-living-together-diversity-and-freedom-in-europe [name] => Living Together - Diversity and Freedom in Europe [desc] => [children] => Array ( ) ) [1] => Array ( [id] => 195 [link] => https://book.coe.int/en/195-european-social-charter [name] => European Social Charter [desc] => [children] => Array ( ) ) [2] => Array ( [id] => 205 [link] => https://book.coe.int/en/205-drugs [name] => Drugs [desc] => [children] => Array ( ) ) [3] => Array ( [id] => 196 [link] => https://book.coe.int/en/196-migration [name] => Migration [desc] => [children] => Array ( ) ) [4] => Array ( [id] => 190 [link] => https://book.coe.int/en/190-gender-equality [name] => Gender Equality [desc] => [children] => Array ( ) ) [5] => Array ( [id] => 197 [link] => https://book.coe.int/en/197-council-of-europe-development-bank [name] => Council of Europe Development Bank [desc] => [children] => Array ( ) ) [6] => Array ( [id] => 222 [link] => https://book.coe.int/en/222-lgbt [name] => LGBT [desc] => [children] => Array ( ) ) [7] => Array ( [id] => 223 [link] => https://book.coe.int/en/223-people-with-disabilities [name] => People with disabilities [desc] => [children] => Array ( ) ) ) ) [5] => Array ( [id] => 198 [link] => https://book.coe.int/en/198-internet-media [name] => Internet, Media [desc] => [children] => Array ( [0] => Array ( [id] => 199 [link] => https://book.coe.int/en/199-internet [name] => Internet [desc] => [children] => Array ( ) ) [1] => Array ( [id] => 200 [link] => https://book.coe.int/en/200-children-and-the-internet [name] => Children and the Internet [desc] => [children] => Array ( ) ) [2] => Array ( [id] => 201 [link] => https://book.coe.int/en/201-media-freedom [name] => Media freedom [desc] => [children] => Array ( ) ) [3] => Array ( [id] => 202 [link] => https://book.coe.int/en/202-cybercrime [name] => Cybercrime [desc] => [children] => Array ( ) ) ) ) [6] => Array ( [id] => 203 [link] => https://book.coe.int/en/203-health [name] => Health [desc] => [children] => Array ( [0] => Array ( [id] => 204 [link] => https://book.coe.int/en/204-bioethics [name] => Bioethics [desc] => [children] => Array ( ) ) [1] => Array ( [id] => 206 [link] => https://book.coe.int/en/206-pharmaceutical-and-healthcare-europe [name] => Pharmaceutical and healthcare Europe [desc] => [children] => Array ( ) ) [2] => Array ( [id] => 207 [link] => https://book.coe.int/en/207-health-protection [name] => Health protection [desc] => [children] => Array ( ) ) ) ) [7] => Array ( [id] => 208 [link] => https://book.coe.int/en/208-culture-heritage-nature [name] => Culture, Heritage, Nature [desc] => [children] => Array ( [0] => Array ( [id] => 210 [link] => https://book.coe.int/en/210-european-cultural-convention [name] => European Cultural Convention [desc] => [children] => Array ( ) ) [1] => Array ( [id] => 211 [link] => https://book.coe.int/en/211-intercultural-and-interreligious-dialogue [name] => Intercultural and interreligious dialogue [desc] => [children] => Array ( ) ) [2] => Array ( [id] => 212 [link] => https://book.coe.int/en/212-biological-diversity-bern-convention [name] => Biological diversity - Bern Convention [desc] => [children] => Array ( ) ) [3] => Array ( [id] => 214 [link] => https://book.coe.int/en/214-climate-change [name] => Climate change [desc] => [children] => Array ( ) ) ) ) [8] => Array ( [id] => 215 [link] => https://book.coe.int/en/215-council-of-europe-and-the-eu [name] => Council of Europe and the EU [desc] => [children] => Array ( [0] => Array ( [id] => 216 [link] => https://book.coe.int/en/216-council-of-europe-and-european-union-different-roles-shared-values [name] => Council of Europe and European Union : different roles, shared values [desc] => [children] => Array ( ) ) [1] => Array ( [id] => 217 [link] => https://book.coe.int/en/217-eu-accession-to-the-european-convention-on-human-rights [name] => EU accession to the European Convention on Human Rights [desc] => [children] => Array ( ) ) ) ) [9] => Array ( [id] => 218 [link] => https://book.coe.int/en/218-minorities-rights [name] => Minorities' Rights [desc] => [children] => Array ( [0] => Array ( [id] => 219 [link] => https://book.coe.int/en/219-national-minorities [name] => National minorities [desc] => [children] => Array ( ) ) [1] => Array ( [id] => 220 [link] => https://book.coe.int/en/220-minority-languages [name] => Minority languages [desc] => [children] => Array ( ) ) [2] => Array ( [id] => 221 [link] => https://book.coe.int/en/221-roma-and-travellers [name] => Roma and Travellers [desc] => [children] => Array ( ) ) ) ) [10] => Array ( [id] => 224 [link] => https://book.coe.int/en/224-education-languages-sport-youth [name] => Education, languages, sport, youth [desc] => [children] => Array ( [0] => Array ( [id] => 226 [link] => https://book.coe.int/en/226-teaching-history [name] => Teaching History [desc] => [children] => Array ( ) ) ) ) [11] => Array ( [id] => 233 [link] => https://book.coe.int/en/233-law [name] => Law [desc] => [children] => Array ( [0] => Array ( [id] => 234 [link] => https://book.coe.int/en/234-organised-crime [name] => Organised crime [desc] => [children] => Array ( ) ) [1] => Array ( [id] => 235 [link] => https://book.coe.int/en/235-corruption [name] => Corruption [desc] => [children] => Array ( ) ) [2] => Array ( [id] => 237 [link] => https://book.coe.int/en/237-personal-data [name] => Personal data [desc] => [children] => Array ( ) ) [3] => Array ( [id] => 175 [link] => https://book.coe.int/en/175-european-prison-reform [name] => European prison reform [desc] => [children] => Array ( ) ) [4] => Array ( [id] => 238 [link] => https://book.coe.int/en/238-terrorism [name] => Terrorism [desc] => [children] => Array ( ) ) [5] => Array ( [id] => 239 [link] => https://book.coe.int/en/239-efficiency-of-justice [name] => Efficiency of justice [desc] => [children] => Array ( ) ) ) ) [12] => Array ( [id] => 240 [link] => https://book.coe.int/en/240-institutions [name] => Institutions [desc] => [children] => Array ( [0] => Array ( [id] => 242 [link] => https://book.coe.int/en/242-parliamentary-assembly [name] => Parliamentary Assembly  [desc] => [children] => Array ( ) ) [1] => Array ( [id] => 243 [link] => https://book.coe.int/en/243-congress-of-local-and-regional-authorities [name] => Congress of Local and Regional Authorities  [desc] => [children] => Array ( ) ) [2] => Array ( [id] => 244 [link] => https://book.coe.int/en/244-european-court-of-human-rights [name] => European Court of Human Rights [desc] => [children] => Array ( ) ) [3] => Array ( [id] => 246 [link] => https://book.coe.int/en/246-conference-of-ingos [name] => Conference of INGOs [desc] => [children] => Array ( ) ) [4] => Array ( [id] => 247 [link] => https://book.coe.int/en/247-secretary-general [name] => Secretary General [desc] => [children] => Array ( ) ) ) ) ) ) ) ) 1
Catalog
Newsletter
Stay informed
Subscribe to our newsletter
Subscribe to our newsletter
PDF - Hakaj te ikera ani godzi - Vastliloro vash Terne Manushengi Edukacija pe Romano Genocido - Dujto Edicija (Right to remember Romani version)
(2021)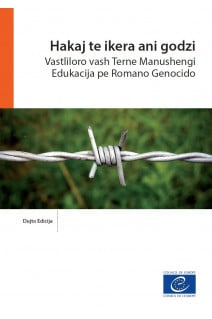  
Hakaj te ikerel pes ani godzi si korkorutno edukacijako resurso savorenge sve so khamen te promovirinen horeder haljovipe vash o Romengo Genocido thaj te maren pes mamuj i diskriminacija. O vastliloro si bazirimo upral e manushikane hakajengere principura, thaj e remembranca chivela sar jekh aspekti vash sikljovipe pe kodo, trujal thaj vash manushikane hakaja.

E terne Romengo identitetosko zuraripe si prioriteto ande Terne Romengo Akcijako Plano kotar Europutno Konsilo. Kodo implicirinela te kerel pes jekh trujalipe kote so von ka shaj te bajron tromales diskriminacijatar pachaindoj an pesko identiteti thaj avutne perspective, respektirindoj korkore pengi historija thaj olengo puralno kulturako palpalipe thaj afilijacije.

O Genocido upral e Roma kerelas pes angleder vi pe Dujto Lumako Maripe thaj kerdas hor impakto upral e Romane komunitetura trujal Europa, thaj khelel centralno rola vash haljovipe pe anticiganizmo thaj diskriminacija kerdini upral e Roma. Sikljvipe vash o Genocido si but mahat/imortantno vash sa e terne manusha. Vash e terne Roma si jekh drom te haljoven so kerelas pes mamuj olengere komunitetura, thaj te del olen dumo, lacheder te hacharen olengo identiteto thaj e adadzivesutne situacija.

Involvirindoj e terne manushen, leidnoj vi e terne Romen ko rodipena, diskusija thaj arakhibe so si kodo Romano Genocido, si lacho drom te invovirinen pes sar agentura thaj aktorura na korkori pengo haljovipe vash e manushikane hakaja thaj historija.

Ano Hakaj te ikerel pes ani godzi shaj arakhen pes vi edukacijakere aktivitetura, sar vi ideje vash komemoratutne khidipena, informacije vash o Genocido thaj oleski relevanc upral e Romengi situacija adadzives. Si dizajnirime majangle vashterne buchara pen a-formalno butja, numa ovela vi lacho sakoneske so kerel buchi ande edukacija, leindoj kate vi e shkolen.
PHENIBA/VAKERIPENA 
BUTEDER HAKAJESTAR/CHACHIPASTAR 
1. INTRODUKCIJA/AVGOVORBA 
1.1 Bistardino genocido 
1.2 Vash o vastliloro 
1.3 Terminologia 
2. ROMANO GENOCIDO
2.1 Europutno genocido 
2.2 Klejutne faktija 
2.3 Rezistanca/Ushtipen 
2.4 Historikano palpalipe 
2.5 Pala o Genocido 
3. TRUBUJIPE TE IKEREL PES ANI GODZI
3.1 So si ikeripe ani godzi? 
3.2 Sostar amen trubuj te ikera ani godzi? 
3.3 Sar trubuj te 'ikeras ani godzi'? 
4. GRIZHA PE MANUSHIKANE HAKAJA 
4.1 So si e manushikane hakaja? 
4.2 Manushikane hakaja thaj o Holokaust 
4.3 Manushikane hakaj thaj o kanuni 
4.4 Genocido 
5. GODI VASH EDUKATORA 
5.1 Butja pe save trubuj te len sama angleder te astaren 
5.2 Tumare aktivitetongo planiribe 
5.3 Astarindoj kotar si i grupa 
5.4 Akcija vash kurazhipe 
5.5 Lokharipe/Fasilitacija 
6. EDUKACIJAKERE AKTIVITETURA 
6.1 So achilas pes? 
6.2 Sostar achilas pes kodo? 
6.3 Sostar kodo sasa bilache te kerel pes? 
6.4 Sar si relatirimo pe adadzivesipe? 
6.5 So shaj amen keras? 
7. EUROPAKO KONSILO, EDUKACIJA THAJ REMEMBRANCA PE ROMANO GENOCIDO
APPENDIX 1: MANUSHIKANE HAKJENGERE DOKUMENTURA 
Univerzalno Deklaracija pe Manushikane Hakaja (harni verzija) 
Europaki Konvencija pe Manushikane Hakaja (harni verzija) 
APPENDIX 2: TESTIMONIE/VAKERIPA 
Ilona Lendvai – deportirimi ple familijasar ano Kampo Csillagerőd 
Anuţa Branzan – deportirimi peske familijasar pe Transnistria 
Maria Peter – deportirimi ano Auschwitz 
APPENDIX 3: GENOCIDOSKI REKOGNICIJA THAJ KOMEMORACIJE PE EUROPAKERE THEMA 
APPENDIX 4: LINKO PE ONLINE RESURSIJA 
Generalno resursija pe Romano Genocido 
Generalno resursija/hainga pe Romani histrija / kultura/ chib thaj javer. 
Manushikane hakaja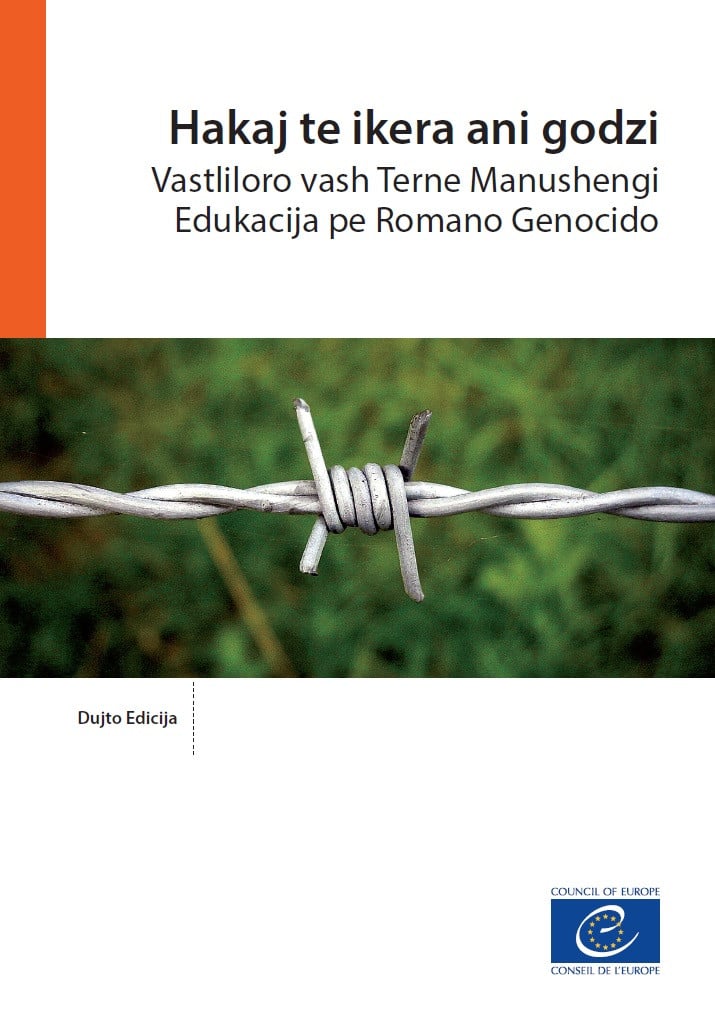 Please note that in accordance with our terms & conditions, PDF/epubs may only be purchased by private individuals.