Human Rights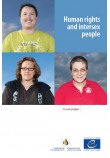 PDF - Human rights and intersex people (2015)
ISBN 037015GBR
Type of document : Document
Format : PDF
Size : 2.4 MB
Language : English
Number of pages : 62
Other available languages
> French
To this day, European societies remain largely unaware of the reality of intersex people. The classification of humankind into two categories, female and male, is omnipresent and informs the way we understand and organise the world around us. People who do not fit neatly into these two categories are exposed to human rights violations. Among them, intersex people are especially vulnerable.
The supposed dichotomy of gender – and the corresponding medical norms – have resulted in routine medical and surgical interventions on intersex people even when they have not been adequately consulted or informed prior to such procedures. Secrecy and shame surrounding the bodies of intersex people have permitted the perpetuation of these practices while the human rights issues at stake have remained for the most part unaddressed.
This issue paper traces the steps which have already been taken towards understanding and responding to the situation of intersex people from an ethical and human rights perspective. It urges governments to end medically unnecessary "normalising" treatment of intersex people when it takes place without their free and fully informed consent. It also suggests ways forward in terms of protection against discrimination, adequate recognition of sex on official documents and access to justice.
Contents
LIST OF ABBREVIATIONS AND INITIALISMS
SUMMARY
THE COMMISSIONER'S RECOMMENDATIONS
CHAPTER 1 – INTRODUCTION
1.1. Understanding intersex people
1.2. Diversity of intersex people
1.3. Current knowledge base
CHAPTER 2 – MEDICALISATION OF INTERSEX PEOPLE
2.1. Reassigning sex
2.2. Intersex in medical classifications
2.3. Acquisition of parental consent
2.4. Changing perspectives
CHAPTER 3 – ENJOYMENT OF HUMAN RIGHTS
3.1. Universality of human rights
3.2. Key human rights at stake
3.3. Emerging position of international organisations
CHAPTER 4 – LEGAL RECOGNITION OF SEX AND GENDER
4.1. Registration of sex on birth certificates
4.2. Flexibility in assigning and reassigning legal sex/gender
4.3. Non-binary sex/gender marker on identification documents
CHAPTER 5 – NON-DISCRIMINATION AND EQUAL TREATMENT
5.1. Experience of discrimination
5.2. Current legislative responses to discrimination and violence
5.3. Awareness raising, social inclusion and support services
CHAPTER 6 – ACCESS TO JUSTICE AND ACCOUNTABILITY
6.1. Emerging national jurisprudence
6.2. National human rights structures
6.3. Accountability for suffering caused in the past
6.4. Guaranteeing future human rights compliance
NOTES