Education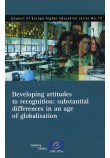 Developing attitudes to recognition: substantial differences in an age of globalisation (Council of Europe higher education series No.13) (2010)
E.Stephen Hunt and Sjur Bergan (eds)
ISBN 978-92-871-6697-5
Type of document : Book
Format : Paper
Size : 16 x 24 cm
Language : English
Number of pages : 170
Other available formats
> PDF file
The concept of "substantial differences" - far from being a dry, technical topic for a book on higher education policy - goes to the heart of how we view qualifications and education and is the key concept of the Council of Europe/UNESCO Convention on the Recognition of Qualifications concerning Higher Education in the European Region, better known as the Lisbon Recognition Convention. What do learners know and understand and what are they able to do on the basis of their qualifications? How can this be expressed and described, and how can learners carry their qualifications across borders without leaving part of their real value behind?In discussions on substantial differences, the technical meets the philosophical, the administrative meets the political. Decisions on recognition, made in considering whether a difference is substantial, have a direct influence on applicants' future study and employment opportunities, but also reveal how those who make the decisions view themselves, their education system and their societies.
Preface
Introduction
I. Concepts and principles
Substantial differences: exploring a concept
II. Examples and cases
Basil College of Catering: study duration and differences in programme profile as "substantial differences"?
Different qualification routes to practise a licensed profession: the story of mugwumps
Substantial differences: Diploma in Medical Radiation Technology
Recruitment to health professions: the case of a Master of Arts in Psychological Sciences
A study of substantial differences: professional teaching qualifications
An example of professional recognition: social work
Survey on substantial differences: an example of practice in Europe
III. Substantial differences in a world context
Substantial differences in an EU context: conclusions from a project
Approaches to recognition: a question of two cultures?
Qualifications from non-recognised institutions: an overview of the issue
Qualifications frameworks: an instrument to resolve substantial differences?
IV. Conclusion
Applying the Lisbon recognition principles to the question of substantial difference: what have we learned?
An agenda for further development
List of authors