Bookshop or sales agent? Don't hesitate to contact us at
[email protected]
to inquire about discounts.
PDF - The Faro Convention at work in Europe: Selected examples
(2022)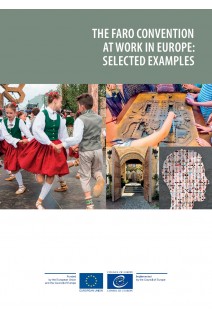  
Preserving the cultural heritage by mobilising citizens when implementing public action

The Council of Europe Framework Convention on the Value of Cultural Heritage for Society (the Faro Convention) proposes acting with and for society. It encourages reflection on the role of citizens in the process of defining, deciding and managing the cultural environment in which they live, by asking the following question: for what and for whom should cultural heritage be enhanced? It is one of the ways through which the Council of Europe helps its member states face societal challenges, individually or collectively. The Faro Convention provides solutions for preserving the cultural heritage, by proposing itself as a resource for mobilising citizens when implementing public action.

Civil society initiatives that draw on the Faro principles and their capacity to propose practical solutions to community participation issues play an essential role in addressing today's complex socio-economic problems. This publication seeks to highlight several cultural heritage initiatives from groups of practitioners and facilitators of heritage-led and people-centered activities, which add value to their local heritage in line with the principles and criteria of the Faro Convention.
THE FARO CONVENTION PRINCIPLES 
Introduction 
The importance of the Faro Convention at international level 
The Faro Convention spirit and objectives 
The Faro Action Plan and the Faro Method 
THE FARO CONVENTION NETWORK 
Principles 
Faro principles used for evaluation 
The Faro Convention Network Members 
Viscri, Romania – The Whole Village project 
Venice, Italy – Faro Venezia Association 
Marseilles, France – Hôtel du Nord 
Kaunas, Lithuania – Cabbage Field 
Lesachtal, Austria – Brotzeit 
San Millán de la Cogolla, Spain – Emilianensis 
Fontecchio, Italy – Casa&Bottega 
Cervia, Italy – Heritage walks and the Ecomuseo del sale e del mare 
Poitiers, France – Les Oiseaux de Passage 
Córdoba, Spain – PAX: Patios de la Axerquía 
Novi Sad, Serbia – Almaški Kraj 
Rome, Italy – Co-Roma 
Castelló de la Plana, Spain – PEU Patrimoni Project 
OTHER INITIATIVES IN LINE WITH FARO CONVENTION PRINCIPLES 
Lisbon, Portugal – Associação Renovar a Mouraria 
Vila do Paul, Portugal – Rural Myths, ancient tales for tomorrow 
Marche, Italy – Faro per il sisma 
Treviso, Italy – Tarvisium Gioiosa