Our online bookshop is currently undergoing major maintenance: please accept our apologies for the unsolicited email regarding shipped publications
PDF - European Landscape Convention - Contribution to human rights, democracy and sustainable development
(2017)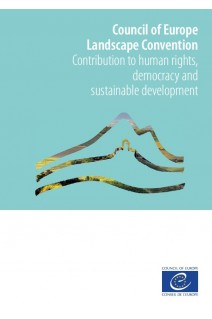  
As a reflection of European identity and diversity, the landscape is our living natural and cultural heritage…
Within the meaning of the European Landscape Convention the close links between the notion of landscape and human rights, democracy and sustainable development deserve to be highlighted.
Recommendation CM/Rec(2017)7 of the Committee of Ministers of the Council of Europe to member states on the contribution of the European Landscape Convention to the exercise of human rights and democracy with a view to sustainable development, emphasises the need to "consider the importance that quality and diversity of landscapes has for the minds and bodies of human beings, as well as for societies".
The forthcoming opening of the convention to non-European states provides a unique opportunity to reaffirm the universal nature of human rights. The implementation of the convention represents an effective contribution by the Council of Europe to realisation of the 2030 Agenda for Sustainable Development, as adopted by the United Nations General Assembly.
PREFACE
PRESENTATION
PART I – RECOMMENDATION CM/REC(2017)7
PART II – CONCEPTUAL REPORT
INTRODUCTION
CHAPTER 1 – LANDSCAPE AND HUMAN RIGHTS
     The universality of human rights in relation to landscape
     Complementarities and conflicts between human rights as they relate to landscape
     Landscape as a shared, common space
     The list of human rights realised thanks to the European Landscape Convention
CHAPTER 2 – LANDSCAPE AND DEMOCRACY
     Historical background to the link between landscape and democracy
     The arrangements for exercising democracy: how to reflect the opinions of the people concerned about the future development of their living environment
     Current changes in the participatory democratic process in the context of the globalisation of trade and the present economic and political crisis, and the impact on landscapes
     Contemporary forms of participatory democracy relating to landscape and experiments in implementation
     Factors in the success or failure of experiments in participatory democracy
CHAPTER 3 – LANDSCAPE AND SUSTAINABLE DEVELOPMENT
     Landscape and economy
     Landscape and resources
     Landscape and temporality
     Landscape, societies and culture
CONCLUSIONS
APPENDIX
Principles for the participation of the public in the definition and implementation of landscape policies, as defined in the European Landscape Convention