Bookshop or sales agent? Don't hesitate to contact us at
[email protected]
to inquire about discounts.
epub - Sport and prisons in Europe
(2018)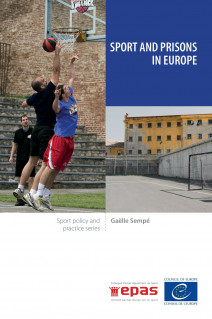  
Improve the well-being of prisoners in detention, enable them to change their behavior and attitudes, develop their ability to live together, learn to respect others and abide by the rules, and thus facilitate their reintegration into society, these are the objectives of a prison sports policy.
There has been growing recognition of the value of sport by the prison system. Its effects are highly beneficial to those in detention and to prison life in general. However, looking at the objectives through to the challenges, we can see that the link between sport and prison is a complex one, and in order to understand it better and to see what lessons can be learned, an in-depth thinking process is required, based on current scientific knowledge in this field and on state policies and practices being implemented in prisons.
In the framework of its activities promoting diversity in and through sport, the Enlarged Partial Agreement on Sport (EPAS) of the Council of Europe has been working on the subject of sport and prison since 2013, in close connection with the Council for Penological Co-operation (PC-CP). Following an expert seminar organised in Strasbourg in 2013, a pan-European conference was held in Paris in 2014. The results of a survey which highlighted the numerous examples of good practice regarding sports programmes were discussed. The conference highlighted the need to record the different points of view regarding sport in prison at a pan-European level in order to identify the real challenges.
Gaëlle Sempé is a lecturer in sociology, sports science and physical education training (STAPS), and teacher-researcher at Rennes University 2. Mr Vivian Geiran, author of the foreword, is chair of the Council for Penological Co-operation (PC-CP) of the Council of Europe.
The Enlarged Partial Agreement on Sport (EPAS) is an agreement between a number of Council of Europe member states (38 as of 1 January 2018) which have decided to co-operate in the field of sports policy. As an "enlarged" agreement, EPAS is open to non-member states. It works in co-operation with relevant organisations, in particular with representatives of the sports movement.
ACKNOWLEDGEMENTS
GLOSSARY
EXECUTIVE SUMMARY
     Context
     The nature and impact of SOGIESC-based violence
     Key trends in Europe
     Education sector responses to SOGIESC-based violence
     Recommendations
     Methodology
INTRODUCTION
     1. What led to this report?
     2. What is this report about?
     3. Who is this report for?
     4. What's in this report?
     5. How was this report produced?
CHAPTER 1 – THE EXTENT OF SOGIESC-BASED VIOLENCE IN EDUCATION
     1. SOGIESC-based violence: A form of gender-based violence
     2. SOGIESC-based violence negatively impacts students' health and achievements
     3. SOGIESC-based violence in Europe's educational institutions: Key trends
CHAPTER 2 – EUROPEAN AND INTERNATIONAL FRAMEWORKS TO PREVENT AND ADDRESS VIOLENCE IN EDUCATION
     1. Summary of applicable frameworks
     2. Applicable international human rights frameworks
     3. Applicable Council of Europe frameworks
CHAPTER 3 – EDUCATION SECTOR RESPONSES
     1. What's an effective response to violence?
     2. Overview of European trends
     3. Policies to prevent and address violence (Component 1)
     4. Inclusive curricula and learning materials (Component 2)
     5. Training and support for educational staff (Component 3)
     6. Support for students (Component 4)
     7. Partnership with civil society (Component 5)
     8. Monitoring violence and evaluating responses (Component 6)
CHAPTER 4 – RECOMMENDATIONS TO MEMBER STATES' EDUCATION SECTORS
     1. Systematically monitor violence
     2. Adopt and enforce comprehensive policies to prevent and address violence
     3. Review and adapt curricula and educational materials
     4. Support teachers and other educational staff
     5. Support students
     6. Inform about diversity
     7. Partner with civil society
     8. Evaluate responses to violence
ANNEX 1 – COUNTRY DATA ON THE EXTENT OF SOGIESC-BASED VIOLENCE IN EDUCATION
ANNEX 2 – REFERENCES
ANNEX 3 – SURVEY