Our online bookshop is currently undergoing major maintenance: please accept our apologies for the unsolicited email regarding shipped publications
Array ( [id] => 2 [link] => [name] => [desc] => [children] => Array ( [0] => Array ( [id] => 6 [link] => https://book.coe.int/en/6-online-bookshop [name] => Online Bookshop [desc] => [children] => Array ( [0] => Array ( [id] => 40 [link] => https://book.coe.int/en/40-committee-of-ministers [name] => Committee of Ministers [desc] => [children] => Array ( [0] => Array ( [id] => 41 [link] => https://book.coe.int/en/41-texts-of-council-of-europe-treaties [name] => Texts of Council of Europe Treaties [desc] => [children] => Array ( ) ) [1] => Array ( [id] => 43 [link] => https://book.coe.int/en/43-council-of-europe-treaties-and-explanatory-reports [name] => Council of Europe Treaties and explanatory reports [desc] => [children] => Array ( ) ) [2] => Array ( [id] => 44 [link] => https://book.coe.int/en/44-collected-edition-of-the-council-of-europe-treaties-series [name] => Collected edition of the Council of Europe Treaties Series [desc] => [children] => Array ( ) ) [3] => Array ( [id] => 45 [link] => https://book.coe.int/en/45-committee-of-ministers-compendium-of-adopted-texts [name] => Committee of Ministers - Compendium of adopted texts [desc] => [children] => Array ( ) ) [4] => Array ( [id] => 42 [link] => https://book.coe.int/en/42-committee-of-ministers-other-publications [name] => Committee of Ministers - Other publications [desc] => [children] => Array ( ) ) ) ) [1] => Array ( [id] => 46 [link] => https://book.coe.int/en/46-parliamentary-assembly [name] => Parliamentary Assembly [desc] => [children] => Array ( [0] => Array ( [id] => 47 [link] => https://book.coe.int/en/47-parliamentary-assembly-adopted-texts [name] => Parliamentary Assembly / Adopted texts [desc] => [children] => Array ( ) ) [1] => Array ( [id] => 48 [link] => https://book.coe.int/en/48-parliamentary-assembly-orders-of-the-day-minutes [name] => Parliamentary Assembly / Orders of the Day, Minutes [desc] => [children] => Array ( ) ) [2] => Array ( [id] => 49 [link] => https://book.coe.int/en/49-parliamentary-assembly-official-reports-of-debates [name] => Parliamentary Assembly / Official Reports of Debates [desc] => [children] => Array ( ) ) [3] => Array ( [id] => 50 [link] => https://book.coe.int/en/50-parliamentary-assembly-documents-working-papers [name] => Parliamentary Assembly / Documents, Working Papers [desc] => [children] => Array ( ) ) [4] => Array ( [id] => 51 [link] => https://book.coe.int/en/51-parliamentary-assembly-general-publications [name] => Parliamentary Assembly / General publications [desc] => [children] => Array ( ) ) ) ) [2] => Array ( [id] => 52 [link] => https://book.coe.int/en/52-congress [name] => Congress [desc] => [children] => Array ( [0] => Array ( [id] => 53 [link] => https://book.coe.int/en/53-congress-local-and-regional-action-series [name] => Congress / Local and Regional Action Series [desc] => [children] => Array ( ) ) [1] => Array ( [id] => 54 [link] => https://book.coe.int/en/54-congress-studies-and-texts-series [name] => Congress/ Studies and Texts Series [desc] => [children] => Array ( ) ) [2] => Array ( [id] => 55 [link] => https://book.coe.int/en/55-congress-adopted-texts [name] => Congress / Adopted Texts [desc] => [children] => Array ( ) ) [3] => Array ( [id] => 56 [link] => https://book.coe.int/en/56-congress-official-report-of-debates [name] => Congress / Official Report of Debates [desc] => [children] => Array ( ) ) ) ) [3] => Array ( [id] => 57 [link] => https://book.coe.int/en/57-human-rights [name] => Human Rights [desc] => [children] => Array ( [0] => Array ( [id] => 58 [link] => https://book.coe.int/en/58-human-rights-and-democracy [name] => Human Rights and Democracy [desc] => [children] => Array ( ) ) [1] => Array ( [id] => 59 [link] => https://book.coe.int/en/59-children-s-rights-and-family-law [name] => Children's rights and family law [desc] => [children] => Array ( ) ) [2] => Array ( [id] => 60 [link] => https://book.coe.int/en/60-making-democratic-institutions-work [name] => Making democratic institutions work [desc] => [children] => Array ( ) ) [3] => Array ( [id] => 61 [link] => https://book.coe.int/en/61-minorities [name] => Minorities [desc] => [children] => Array ( ) ) [4] => Array ( [id] => 62 [link] => https://book.coe.int/en/62-human-rights-files [name] => Human Rights Files [desc] => [children] => Array ( ) ) [5] => Array ( [id] => 63 [link] => https://book.coe.int/en/63-european-social-charter [name] => European Social Charter [desc] => [children] => Array ( ) ) [6] => Array ( [id] => 64 [link] => https://book.coe.int/en/64-social-charter-monographs [name] => Social Charter Monographs [desc] => [children] => Array ( ) ) [7] => Array ( [id] => 65 [link] => https://book.coe.int/en/65-gender-equality [name] => Gender equality [desc] => [children] => Array ( ) ) [8] => Array ( [id] => 66 [link] => https://book.coe.int/en/66-european-court-of-human-rights [name] => European Court of Human Rights [desc] => [children] => Array ( ) ) [9] => Array ( [id] => 376 [link] => https://book.coe.int/en/376-commissioner-for-human-rights [name] => Commissioner for Human Rights [desc] => [children] => Array ( ) ) [10] => Array ( [id] => 67 [link] => https://book.coe.int/en/67-european-commission-of-human-rights [name] => European Commission of Human Rights [desc] => [children] => Array ( ) ) ) ) [4] => Array ( [id] => 68 [link] => https://book.coe.int/en/68-law [name] => Law [desc] => [children] => Array ( [0] => Array ( [id] => 71 [link] => https://book.coe.int/en/71-international-law [name] => International Law [desc] => [children] => Array ( ) ) [1] => Array ( [id] => 75 [link] => https://book.coe.int/en/75-constitutional-law [name] => Constitutional Law [desc] => [children] => Array ( ) ) [2] => Array ( [id] => 77 [link] => https://book.coe.int/en/77-legal-instruments [name] => Legal instruments [desc] => [children] => Array ( ) ) [3] => Array ( [id] => 76 [link] => https://book.coe.int/en/76-penal-law-and-criminology [name] => Penal Law and criminology [desc] => [children] => Array ( ) ) [4] => Array ( [id] => 79 [link] => https://book.coe.int/en/79-computers-and-law [name] => Computers and law [desc] => [children] => Array ( ) ) [5] => Array ( [id] => 74 [link] => https://book.coe.int/en/74-economy-and-crime-fight-against-corruption [name] => Economy and crime, fight against corruption [desc] => [children] => Array ( ) ) [6] => Array ( [id] => 72 [link] => https://book.coe.int/en/72-terrorism-and-law [name] => Terrorism and Law [desc] => [children] => Array ( ) ) [7] => Array ( [id] => 69 [link] => https://book.coe.int/en/69-points-of-view-points-of-law [name] => Points of view - Points of Law [desc] => [children] => Array ( ) ) [8] => Array ( [id] => 70 [link] => https://book.coe.int/en/70-europeans-and-their-rights [name] => Europeans and their rights [desc] => [children] => Array ( ) ) [9] => Array ( [id] => 73 [link] => https://book.coe.int/en/73-migrants-rights [name] => Migrants rights [desc] => [children] => Array ( ) ) [10] => Array ( [id] => 78 [link] => https://book.coe.int/en/78-themis-programme [name] => Themis Programme [desc] => [children] => Array ( ) ) ) ) [5] => Array ( [id] => 80 [link] => https://book.coe.int/en/80-health [name] => Health [desc] => [children] => Array ( [0] => Array ( [id] => 81 [link] => https://book.coe.int/en/81-health-and-society-ethics [name] => Health and society, Ethics [desc] => [children] => Array ( ) ) [1] => Array ( [id] => 82 [link] => https://book.coe.int/en/82-blood-transfusion-and-organ-transplantation [name] => Blood transfusion and organ transplantation [desc] => [children] => Array ( ) ) [2] => Array ( [id] => 83 [link] => https://book.coe.int/en/83-health-protection-of-the-consumer [name] => Health protection of the consumer [desc] => [children] => Array ( ) ) [3] => Array ( [id] => 84 [link] => https://book.coe.int/en/84-integration-of-people-with-disabilities [name] => Integration of people with disabilities [desc] => [children] => Array ( ) ) [4] => Array ( [id] => 85 [link] => https://book.coe.int/en/85-european-directorate-for-the-quality-of-medicines-and-healthcare-edqm [name] => European Directorate for the Quality of Medicines and HealthCare (EDQM) [desc] => [children] => Array ( ) ) ) ) [6] => Array ( [id] => 86 [link] => https://book.coe.int/en/86-society [name] => Society [desc] => [children] => Array ( [0] => Array ( [id] => 87 [link] => https://book.coe.int/en/87-demography [name] => Demography [desc] => [children] => Array ( ) ) [1] => Array ( [id] => 88 [link] => https://book.coe.int/en/88-trends-in-social-cohesion-series [name] => Trends in Social Cohesion Series [desc] => [children] => Array ( ) ) [2] => Array ( [id] => 89 [link] => https://book.coe.int/en/89-responses-to-violence-in-everyday-life-in-a-democratic-society-series [name] => Responses to violence in everyday life in a democratic society Series [desc] => [children] => Array ( ) ) [3] => Array ( [id] => 90 [link] => https://book.coe.int/en/90-drugs-and-addiction [name] => Drugs and addiction [desc] => [children] => Array ( ) ) [4] => Array ( [id] => 91 [link] => https://book.coe.int/en/91-social-security [name] => Social Security [desc] => [children] => Array ( ) ) [5] => Array ( [id] => 92 [link] => https://book.coe.int/en/92-community-relations [name] => Community relations [desc] => [children] => Array ( ) ) [6] => Array ( [id] => 93 [link] => https://book.coe.int/en/93-social-co-operation-in-europe [name] => Social co-operation in Europe [desc] => [children] => Array ( ) ) [7] => Array ( [id] => 94 [link] => https://book.coe.int/en/94-population-studies-series [name] => Population Studies Series [desc] => [children] => Array ( ) ) ) ) [7] => Array ( [id] => 95 [link] => https://book.coe.int/en/95-environment [name] => Environment [desc] => [children] => Array ( [0] => Array ( [id] => 96 [link] => https://book.coe.int/en/96-nature-and-environment-series [name] => Nature and environment Series [desc] => [children] => Array ( ) ) [1] => Array ( [id] => 97 [link] => https://book.coe.int/en/97-environmental-encounters-series [name] => Environmental Encounters Series [desc] => [children] => Array ( ) ) [2] => Array ( [id] => 98 [link] => https://book.coe.int/en/98-territory-and-landscape-series [name] => Territory and Landscape Series [desc] => [children] => Array ( ) ) [3] => Array ( [id] => 99 [link] => https://book.coe.int/en/99-european-regional-planning-series [name] => European Regional Planning Series [desc] => [children] => Array ( ) ) [4] => Array ( [id] => 100 [link] => https://book.coe.int/en/100-environment-general-publications [name] => Environment / General publications [desc] => [children] => Array ( ) ) ) ) [8] => Array ( [id] => 101 [link] => https://book.coe.int/en/101-local-and-regional-democracy [name] => Local and Regional Democracy [desc] => [children] => Array ( [0] => Array ( [id] => 102 [link] => https://book.coe.int/en/102-co-operation-for-local-and-regional-democracy [name] => Co-operation for Local and Regional Democracy [desc] => [children] => Array ( ) ) [1] => Array ( [id] => 103 [link] => https://book.coe.int/en/103-local-and-regional-authorities-in-europe-series [name] => Local and Regional Authorities in Europe Series [desc] => [children] => Array ( ) ) [2] => Array ( [id] => 104 [link] => https://book.coe.int/en/104-structure-and-operation-of-local-and-regional-democracy-series [name] => Structure and operation of Local and Regional Democracy Series [desc] => [children] => Array ( ) ) ) ) [9] => Array ( [id] => 105 [link] => https://book.coe.int/en/105-education [name] => Education [desc] => [children] => Array ( [0] => Array ( [id] => 406 [link] => https://book.coe.int/en/406-education-policy [name] => Education policy [desc] => [children] => Array ( ) ) [1] => Array ( [id] => 108 [link] => https://book.coe.int/en/108-human-rights-democratic-citizenship-and-interculturalism [name] => Human rights, democratic citizenship and interculturalism [desc] => [children] => Array ( ) ) [2] => Array ( [id] => 112 [link] => https://book.coe.int/en/112-higher-education-and-research [name] => Higher education and research [desc] => [children] => Array ( ) ) [3] => Array ( [id] => 110 [link] => https://book.coe.int/en/110-secondary-education [name] => Secondary education [desc] => [children] => Array ( ) ) [4] => Array ( [id] => 107 [link] => https://book.coe.int/en/107-history-teaching [name] => History teaching [desc] => [children] => Array ( ) ) [5] => Array ( [id] => 106 [link] => https://book.coe.int/en/106-pestalozzi-series [name] => Pestalozzi series [desc] => [children] => Array ( ) ) ) ) [10] => Array ( [id] => 113 [link] => https://book.coe.int/en/113-languages [name] => Languages [desc] => [children] => Array ( [0] => Array ( [id] => 114 [link] => https://book.coe.int/en/114-education-and-modern-languages [name] => Education and modern languages [desc] => [children] => Array ( ) ) [1] => Array ( [id] => 115 [link] => https://book.coe.int/en/115-language-policy [name] => Language policy [desc] => [children] => Array ( ) ) [2] => Array ( [id] => 116 [link] => https://book.coe.int/en/116-regional-and-minority-languages [name] => Regional and minority languages [desc] => [children] => Array ( ) ) [3] => Array ( [id] => 117 [link] => https://book.coe.int/en/117-terminology [name] => Terminology [desc] => [children] => Array ( ) ) ) ) [11] => Array ( [id] => 118 [link] => https://book.coe.int/en/118-youth [name] => Youth [desc] => [children] => Array ( [0] => Array ( [id] => 119 [link] => https://book.coe.int/en/119-training-kits-youth [name] => Training Kits / Youth [desc] => [children] => Array ( ) ) [1] => Array ( [id] => 120 [link] => https://book.coe.int/en/120-national-youth-policies [name] => National Youth Policies [desc] => [children] => Array ( ) ) [2] => Array ( [id] => 121 [link] => https://book.coe.int/en/121-youth-other-publications [name] => Youth / Other publications [desc] => [children] => Array ( ) ) [3] => Array ( [id] => 396 [link] => https://book.coe.int/en/396-perspectives-on-youth [name] => Perspectives on youth [desc] => [children] => Array ( ) ) ) ) [12] => Array ( [id] => 122 [link] => https://book.coe.int/en/122-culture [name] => Culture [desc] => [children] => Array ( [0] => Array ( [id] => 123 [link] => https://book.coe.int/en/123-cultural-development [name] => Cultural development [desc] => [children] => Array ( ) ) [1] => Array ( [id] => 124 [link] => https://book.coe.int/en/124-cultural-heritage [name] => Cultural heritage [desc] => [children] => Array ( ) ) [2] => Array ( [id] => 125 [link] => https://book.coe.int/en/125-cultural-policies [name] => Cultural Policies [desc] => [children] => Array ( ) ) [3] => Array ( [id] => 126 [link] => https://book.coe.int/en/126-culture-and-neighbourhoods [name] => Culture and neighbourhoods [desc] => [children] => Array ( ) ) ) ) [13] => Array ( [id] => 127 [link] => https://book.coe.int/en/127-sport [name] => Sport [desc] => [children] => Array ( [0] => Array ( [id] => 128 [link] => https://book.coe.int/en/128-sports-monographs [name] => Sports - Monographs [desc] => [children] => Array ( ) ) ) ) [14] => Array ( [id] => 129 [link] => https://book.coe.int/en/129-communication [name] => Communication [desc] => [children] => Array ( [0] => Array ( [id] => 130 [link] => https://book.coe.int/en/130-mass-media [name] => Mass media [desc] => [children] => Array ( ) ) [1] => Array ( [id] => 131 [link] => https://book.coe.int/en/131-european-audiovisual-observatory [name] => European Audiovisual Observatory [desc] => [children] => Array ( ) ) [2] => Array ( [id] => 132 [link] => https://book.coe.int/en/132-new-information-technologies [name] => New information technologies [desc] => [children] => Array ( ) ) [3] => Array ( [id] => 412 [link] => https://book.coe.int/en/412-artificial-intelligence [name] => Artificial intelligence [desc] => [children] => Array ( ) ) ) ) [15] => Array ( [id] => 133 [link] => https://book.coe.int/en/133-european-issues [name] => European issues [desc] => [children] => Array ( [0] => Array ( [id] => 134 [link] => https://book.coe.int/en/134-activities-annual-report [name] => Activities Annual Report [desc] => [children] => Array ( ) ) [1] => Array ( [id] => 135 [link] => https://book.coe.int/en/135-democracy-debates [name] => Democracy Debates [desc] => [children] => Array ( ) ) [2] => Array ( [id] => 136 [link] => https://book.coe.int/en/136-european-debates [name] => European debates [desc] => [children] => Array ( ) ) [3] => Array ( [id] => 137 [link] => https://book.coe.int/en/137-books-on-europe [name] => Books on Europe [desc] => [children] => Array ( ) ) [4] => Array ( [id] => 138 [link] => https://book.coe.int/en/138-other-fields [name] => Other fields [desc] => [children] => Array ( ) ) [5] => Array ( [id] => 373 [link] => https://book.coe.int/en/373-catalogues-of-publications [name] => Catalogues of publications [desc] => [children] => Array ( ) ) ) ) ) ) [1] => Array ( [id] => 7 [link] => https://book.coe.int/en/7-online-resources [name] => Online resources [desc] => [children] => Array ( [0] => Array ( [id] => 378 [link] => https://book.coe.int/en/378-the-council-of-europe-in-brief [name] => The Council of Europe in brief [desc] => [children] => Array ( ) ) [1] => Array ( [id] => 170 [link] => https://book.coe.int/en/170-human-rights [name] => Human Rights [desc] => [children] => Array ( [0] => Array ( [id] => 187 [link] => https://book.coe.int/en/187-children-s-rights [name] => Children's rights [desc] => [children] => Array ( ) ) [1] => Array ( [id] => 172 [link] => https://book.coe.int/en/172-european-convention-on-human-rights [name] => European Convention on Human Rights [desc] => [children] => Array ( ) ) [2] => Array ( [id] => 191 [link] => https://book.coe.int/en/191-violence-against-women-and-domestic-violence [name] => Violence against women and domestic violence [desc] => [children] => Array ( ) ) [3] => Array ( [id] => 176 [link] => https://book.coe.int/en/176-death-penalty [name] => Death penalty [desc] => [children] => Array ( ) ) [4] => Array ( [id] => 192 [link] => https://book.coe.int/en/192-trafficking-in-human-beings [name] => Trafficking in human beings [desc] => [children] => Array ( ) ) [5] => Array ( [id] => 177 [link] => https://book.coe.int/en/177-prevention-of-torture [name] => Prevention of torture [desc] => [children] => Array ( ) ) [6] => Array ( [id] => 178 [link] => https://book.coe.int/en/178-racism [name] => Racism [desc] => [children] => Array ( ) ) ) ) [2] => Array ( [id] => 179 [link] => https://book.coe.int/en/179-democracy [name] => Democracy [desc] => [children] => Array ( [0] => Array ( [id] => 180 [link] => https://book.coe.int/en/180-democracy-through-law [name] => Democracy Through Law [desc] => [children] => Array ( ) ) [1] => Array ( [id] => 181 [link] => https://book.coe.int/en/181-forum-for-the-future-of-democracy [name] => Forum for the Future of Democracy [desc] => [children] => Array ( ) ) [2] => Array ( [id] => 182 [link] => https://book.coe.int/en/182-civil-society [name] => Civil society [desc] => [children] => Array ( ) ) ) ) [3] => Array ( [id] => 186 [link] => https://book.coe.int/en/186-human-dignity [name] => Human dignity [desc] => [children] => Array ( ) ) [4] => Array ( [id] => 193 [link] => https://book.coe.int/en/193-society [name] => Society [desc] => [children] => Array ( [0] => Array ( [id] => 194 [link] => https://book.coe.int/en/194-living-together-diversity-and-freedom-in-europe [name] => Living Together - Diversity and Freedom in Europe [desc] => [children] => Array ( ) ) [1] => Array ( [id] => 195 [link] => https://book.coe.int/en/195-european-social-charter [name] => European Social Charter [desc] => [children] => Array ( ) ) [2] => Array ( [id] => 205 [link] => https://book.coe.int/en/205-drugs [name] => Drugs [desc] => [children] => Array ( ) ) [3] => Array ( [id] => 196 [link] => https://book.coe.int/en/196-migration [name] => Migration [desc] => [children] => Array ( ) ) [4] => Array ( [id] => 190 [link] => https://book.coe.int/en/190-gender-equality [name] => Gender Equality [desc] => [children] => Array ( ) ) [5] => Array ( [id] => 197 [link] => https://book.coe.int/en/197-council-of-europe-development-bank [name] => Council of Europe Development Bank [desc] => [children] => Array ( ) ) [6] => Array ( [id] => 222 [link] => https://book.coe.int/en/222-lgbt [name] => LGBT [desc] => [children] => Array ( ) ) [7] => Array ( [id] => 223 [link] => https://book.coe.int/en/223-people-with-disabilities [name] => People with disabilities [desc] => [children] => Array ( ) ) ) ) [5] => Array ( [id] => 198 [link] => https://book.coe.int/en/198-internet-media [name] => Internet, Media [desc] => [children] => Array ( [0] => Array ( [id] => 199 [link] => https://book.coe.int/en/199-internet [name] => Internet [desc] => [children] => Array ( ) ) [1] => Array ( [id] => 200 [link] => https://book.coe.int/en/200-children-and-the-internet [name] => Children and the Internet [desc] => [children] => Array ( ) ) [2] => Array ( [id] => 201 [link] => https://book.coe.int/en/201-media-freedom [name] => Media freedom [desc] => [children] => Array ( ) ) [3] => Array ( [id] => 202 [link] => https://book.coe.int/en/202-cybercrime [name] => Cybercrime [desc] => [children] => Array ( ) ) ) ) [6] => Array ( [id] => 203 [link] => https://book.coe.int/en/203-health [name] => Health [desc] => [children] => Array ( [0] => Array ( [id] => 204 [link] => https://book.coe.int/en/204-bioethics [name] => Bioethics [desc] => [children] => Array ( ) ) [1] => Array ( [id] => 206 [link] => https://book.coe.int/en/206-pharmaceutical-and-healthcare-europe [name] => Pharmaceutical and healthcare Europe [desc] => [children] => Array ( ) ) [2] => Array ( [id] => 207 [link] => https://book.coe.int/en/207-health-protection [name] => Health protection [desc] => [children] => Array ( ) ) ) ) [7] => Array ( [id] => 208 [link] => https://book.coe.int/en/208-culture-heritage-nature [name] => Culture, Heritage, Nature [desc] => [children] => Array ( [0] => Array ( [id] => 210 [link] => https://book.coe.int/en/210-european-cultural-convention [name] => European Cultural Convention [desc] => [children] => Array ( ) ) [1] => Array ( [id] => 211 [link] => https://book.coe.int/en/211-intercultural-and-interreligious-dialogue [name] => Intercultural and interreligious dialogue [desc] => [children] => Array ( ) ) [2] => Array ( [id] => 212 [link] => https://book.coe.int/en/212-biological-diversity-bern-convention [name] => Biological diversity - Bern Convention [desc] => [children] => Array ( ) ) [3] => Array ( [id] => 214 [link] => https://book.coe.int/en/214-climate-change [name] => Climate change [desc] => [children] => Array ( ) ) ) ) [8] => Array ( [id] => 215 [link] => https://book.coe.int/en/215-council-of-europe-and-the-eu [name] => Council of Europe and the EU [desc] => [children] => Array ( [0] => Array ( [id] => 216 [link] => https://book.coe.int/en/216-council-of-europe-and-european-union-different-roles-shared-values [name] => Council of Europe and European Union : different roles, shared values [desc] => [children] => Array ( ) ) [1] => Array ( [id] => 217 [link] => https://book.coe.int/en/217-eu-accession-to-the-european-convention-on-human-rights [name] => EU accession to the European Convention on Human Rights [desc] => [children] => Array ( ) ) ) ) [9] => Array ( [id] => 218 [link] => https://book.coe.int/en/218-minorities-rights [name] => Minorities' Rights [desc] => [children] => Array ( [0] => Array ( [id] => 219 [link] => https://book.coe.int/en/219-national-minorities [name] => National minorities [desc] => [children] => Array ( ) ) [1] => Array ( [id] => 220 [link] => https://book.coe.int/en/220-minority-languages [name] => Minority languages [desc] => [children] => Array ( ) ) [2] => Array ( [id] => 221 [link] => https://book.coe.int/en/221-roma-and-travellers [name] => Roma and Travellers [desc] => [children] => Array ( ) ) ) ) [10] => Array ( [id] => 224 [link] => https://book.coe.int/en/224-education-languages-sport-youth [name] => Education, languages, sport, youth [desc] => [children] => Array ( [0] => Array ( [id] => 226 [link] => https://book.coe.int/en/226-teaching-history [name] => Teaching History [desc] => [children] => Array ( ) ) ) ) [11] => Array ( [id] => 233 [link] => https://book.coe.int/en/233-law [name] => Law [desc] => [children] => Array ( [0] => Array ( [id] => 234 [link] => https://book.coe.int/en/234-organised-crime [name] => Organised crime [desc] => [children] => Array ( ) ) [1] => Array ( [id] => 235 [link] => https://book.coe.int/en/235-corruption [name] => Corruption [desc] => [children] => Array ( ) ) [2] => Array ( [id] => 237 [link] => https://book.coe.int/en/237-personal-data [name] => Personal data [desc] => [children] => Array ( ) ) [3] => Array ( [id] => 175 [link] => https://book.coe.int/en/175-european-prison-reform [name] => European prison reform [desc] => [children] => Array ( ) ) [4] => Array ( [id] => 238 [link] => https://book.coe.int/en/238-terrorism [name] => Terrorism [desc] => [children] => Array ( ) ) [5] => Array ( [id] => 239 [link] => https://book.coe.int/en/239-efficiency-of-justice [name] => Efficiency of justice [desc] => [children] => Array ( ) ) ) ) [12] => Array ( [id] => 240 [link] => https://book.coe.int/en/240-institutions [name] => Institutions [desc] => [children] => Array ( [0] => Array ( [id] => 242 [link] => https://book.coe.int/en/242-parliamentary-assembly [name] => Parliamentary Assembly  [desc] => [children] => Array ( ) ) [1] => Array ( [id] => 243 [link] => https://book.coe.int/en/243-congress-of-local-and-regional-authorities [name] => Congress of Local and Regional Authorities  [desc] => [children] => Array ( ) ) [2] => Array ( [id] => 244 [link] => https://book.coe.int/en/244-european-court-of-human-rights [name] => European Court of Human Rights [desc] => [children] => Array ( ) ) [3] => Array ( [id] => 246 [link] => https://book.coe.int/en/246-conference-of-ingos [name] => Conference of INGOs [desc] => [children] => Array ( ) ) [4] => Array ( [id] => 247 [link] => https://book.coe.int/en/247-secretary-general [name] => Secretary General [desc] => [children] => Array ( ) ) ) ) ) ) ) ) 1
Catalog
Newsletter
Stay informed
Subscribe to our newsletter
Subscribe to our newsletter
PDF - Maastikualased õppetegevused põhikoolodele - Õppematerjal
(2021)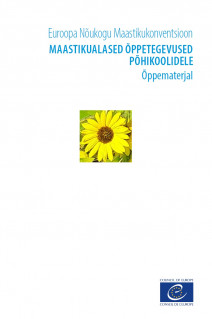  
Kuidas me saame äratada õpilaste uudishimu ja huvi maastiku vastu?

V astavalt Euroopa Nõukogu maastikukonventsioonile edendavad selle osalised koolikursusi, mis käsitlevad sobivates ainevaldkondades maastikuga seotud väärtusi ning maastiku kaitsel, korraldamisel ja planeerimisel tekkivaid küsimusi.

Õppematerjali "Maastikualased õppetegevused põhikoolidele" eesmärk on äratada õpilastes uudishimu ja huvi maastiku vastu, kutsudes neid arutlema, mida nad mõtlevad "maastiku" all, ja arvestama maastiku keskkonna-, sotsiaalset, kultuurilist ja majanduslikku mõõdet, nii ruumis kui ajas.

Õppetegevused aitavad õpilastel mõista, kuidas nad saaksid, nii üksikisikute kui ühiskonnaliikmetena, aktiivselt maastikuküsimustes kaasa rääkida.

Neid tegevusi saab läbi viia nii ametlike õppekavade kui muu õppe raames.
Eessõna 
Sissejuhatus 
I. Maastiku tajumisega seotud tegevused 
Tegevus 1 – Maastiku vaatamine 
Tegevus 2 – Maastiku kuulamine 
Tegevus 3 – Maastiku puudutamine 
Tegevus 4 – Maastiku haistmine 
Tegevus 5 – Maastiku maitsmine 
Tegevus 6 – Maastiku tunnetamine 
II. Maastiku määratlemisega seotud tegevused 
Tegevus 7 – Mis see on? 
Tegevus 8 – Kas see on tõesti see, mis tundub? 
Tegevus 9 – Erinev, aga sarnane 
Tegevus 10 – Veelgi raskem 
Tegevus 11 – Lähedal või kaugel 
III. Maastiku analüüsimise tegevused 
Tegevus 12 – Taimestik 
Tegevus 13 – Märgid loomadest 
Tegevus 14 – Inimese jalajälg 
Tegevus 15 – Mis siin küll toimub? 
Tegevus 16 – Mis kujuneb kõigepealt? 
Tegevus 17 – Maastiku võlu 
IV. Maastiku üle arutlemine 
Tegevus 18 – Planeeri see ala, palun! 
Tegevus 19 – Mis sa arvad, mis juhtuks, kui...? 
Tegevus 20 – Siin otsustad sina! 
V. Maastiku kohta aruannete esitamise tegevused 
Tegevus 21 – Maastiku teerada 
Tegevus 22 – Meie maastik 
Tegevus 23 – Minu maastikualbum
Tegevus 24 – Selline on minu maastik 
Kokkuvõte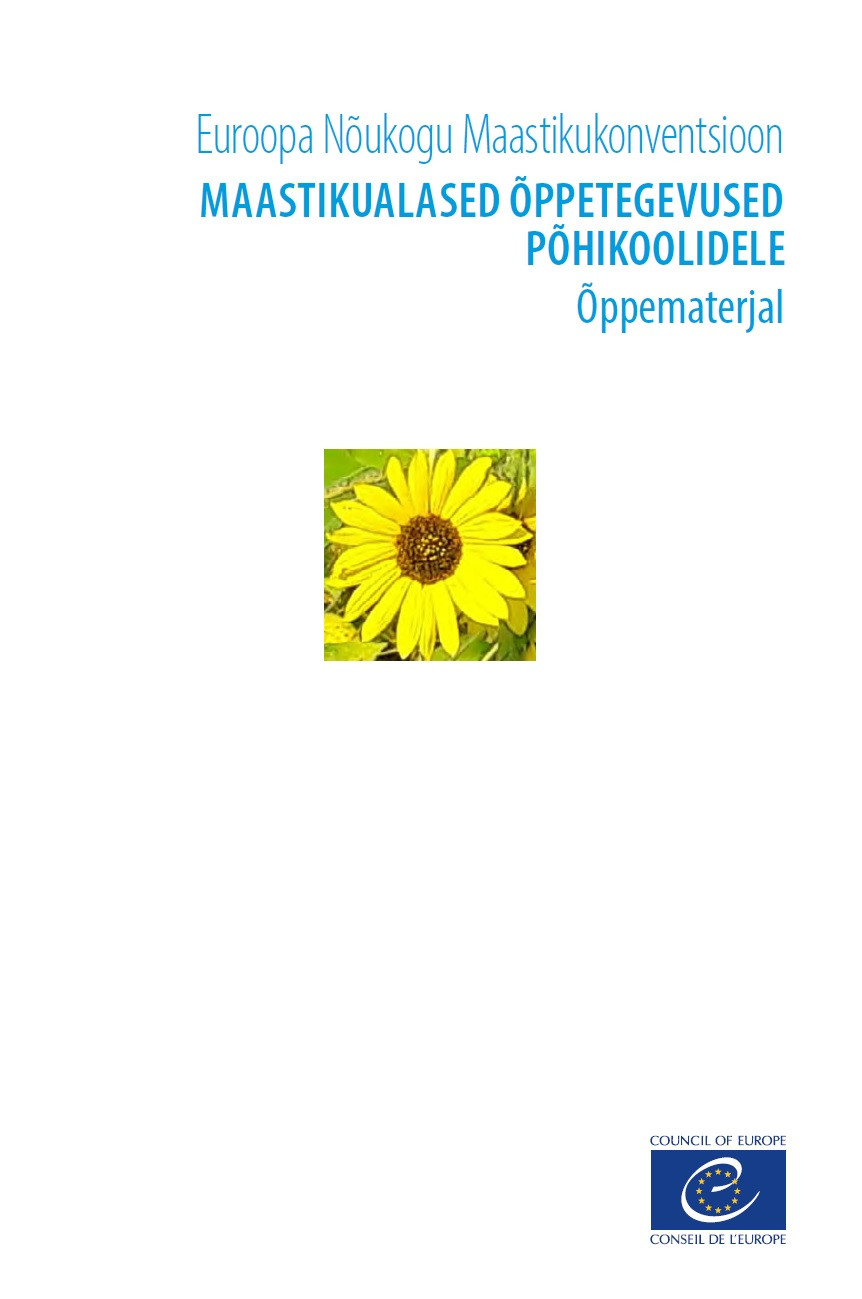 Please note that in accordance with our terms & conditions, PDF/epubs may only be purchased by private individuals.