Array ( [id] => 2 [link] => [name] => [desc] => [children] => Array ( [0] => Array ( [id] => 6 [link] => https://book.coe.int/fr/6-librairie-en-ligne [name] => Librairie en ligne [desc] => [children] => Array ( [0] => Array ( [id] => 40 [link] => https://book.coe.int/fr/40-comite-des-ministres [name] => Comité des Ministres [desc] => [children] => Array ( [0] => Array ( [id] => 41 [link] => https://book.coe.int/fr/41-textes-des-traites-du-conseil-de-l-europe [name] => Textes des traités du Conseil de l'Europe [desc] => [children] => Array ( ) ) [1] => Array ( [id] => 43 [link] => https://book.coe.int/fr/43-traites-du-conseil-de-l-europe-et-rapports-explicatifs [name] => Traités du Conseil de l'Europe et rapports explicatifs [desc] => [children] => Array ( ) ) [2] => Array ( [id] => 44 [link] => https://book.coe.int/fr/44-recueils-des-traites-du-conseil-de-l-europe [name] => Recueils des traités du Conseil de l'Europe [desc] => [children] => Array ( ) ) [3] => Array ( [id] => 45 [link] => https://book.coe.int/fr/45-comite-des-ministres-recueils-de-textes-adoptes [name] => Comité des Ministres - Recueils de textes adoptés [desc] => [children] => Array ( ) ) [4] => Array ( [id] => 42 [link] => https://book.coe.int/fr/42-comite-des-ministres-autres-publications [name] => Comité des Ministres - Autres publications [desc] => [children] => Array ( ) ) ) ) [1] => Array ( [id] => 46 [link] => https://book.coe.int/fr/46-assemblee-parlementaire [name] => Assemblée parlementaire [desc] => [children] => Array ( [0] => Array ( [id] => 47 [link] => https://book.coe.int/fr/47-assemblee-parlementaire-textes-adoptes [name] => Assemblée parlementaire / Textes adoptés [desc] => [children] => Array ( ) ) [1] => Array ( [id] => 48 [link] => https://book.coe.int/fr/48-assemblee-parlementaire-ordres-du-jour-et-proces-verbaux [name] => Assemblée parlementaire / Ordres du jour et procès- verbaux [desc] => [children] => Array ( ) ) [2] => Array ( [id] => 49 [link] => https://book.coe.int/fr/49-assemblee-parlementaire-comptes-rendus-des-debats [name] => Assemblée parlementaire / Comptes rendus des débats [desc] => [children] => Array ( ) ) [3] => Array ( [id] => 50 [link] => https://book.coe.int/fr/50-assemblee-parlementaire-documents-de-seance [name] => Assemblée parlementaire / Documents de séance [desc] => [children] => Array ( ) ) [4] => Array ( [id] => 51 [link] => https://book.coe.int/fr/51-assemblee-parlementaire-publications-generales [name] => Assemblée parlementaire / Publications générales [desc] => [children] => Array ( ) ) ) ) [2] => Array ( [id] => 52 [link] => https://book.coe.int/fr/52-congrs [name] => Congrès [desc] => [children] => Array ( [0] => Array ( [id] => 53 [link] => https://book.coe.int/fr/53-congres-serie-action-locale-et-regionale [name] => Congrès / Série Action locale et régionale [desc] => [children] => Array ( ) ) [1] => Array ( [id] => 54 [link] => https://book.coe.int/fr/54-congres-serie-etudes-et-travaux [name] => Congrès / Série Etudes et travaux [desc] => [children] => Array ( ) ) [2] => Array ( [id] => 55 [link] => https://book.coe.int/fr/55-congres-textes-adoptes [name] => Congrès / Textes adoptés [desc] => [children] => Array ( ) ) [3] => Array ( [id] => 56 [link] => https://book.coe.int/fr/56-congres-comptes-rendus-des-debats [name] => Congrès / Comptes rendus des débats [desc] => [children] => Array ( ) ) ) ) [3] => Array ( [id] => 57 [link] => https://book.coe.int/fr/57-droits-de-l-homme [name] => Droits de l'homme [desc] => [children] => Array ( [0] => Array ( [id] => 58 [link] => https://book.coe.int/fr/58-droits-de-l-homme-et-democratie [name] => Droits de l'homme et démocratie [desc] => [children] => Array ( ) ) [1] => Array ( [id] => 59 [link] => https://book.coe.int/fr/59-droit-des-enfants-et-droit-de-la-famille [name] => Droit des enfants et droit de la famille [desc] => [children] => Array ( ) ) [2] => Array ( [id] => 60 [link] => https://book.coe.int/fr/60-les-institutions-democratiques-en-action [name] => Les institutions démocratiques en action [desc] => [children] => Array ( ) ) [3] => Array ( [id] => 61 [link] => https://book.coe.int/fr/61-minorites [name] => Minorités [desc] => [children] => Array ( ) ) [4] => Array ( [id] => 62 [link] => https://book.coe.int/fr/62-dossiers-sur-les-droits-de-l-homme [name] => Dossiers sur les droits de l'homme [desc] => [children] => Array ( ) ) [5] => Array ( [id] => 63 [link] => https://book.coe.int/fr/63-charte-sociale-europeenne [name] => Charte sociale européenne [desc] => [children] => Array ( ) ) [6] => Array ( [id] => 64 [link] => https://book.coe.int/fr/64-cahiers-de-la-charte-sociale [name] => Cahiers de la Charte Sociale [desc] => [children] => Array ( ) ) [7] => Array ( [id] => 65 [link] => https://book.coe.int/fr/65-egalite-entre-femmes-et-hommes [name] => Egalité entre femmes et hommes [desc] => [children] => Array ( ) ) [8] => Array ( [id] => 66 [link] => https://book.coe.int/fr/66-cour-europeenne-des-droits-de-l-homme [name] => Cour européenne des droits de l'homme [desc] => [children] => Array ( ) ) [9] => Array ( [id] => 376 [link] => https://book.coe.int/fr/376-commissaire-aux-droits-de-l-homme [name] => Commissaire aux droits de l'homme [desc] => [children] => Array ( ) ) [10] => Array ( [id] => 67 [link] => https://book.coe.int/fr/67-commission-europeenne-des-droits-de-l-homme [name] => Commission européenne des droits de l'homme [desc] => [children] => Array ( ) ) ) ) [4] => Array ( [id] => 68 [link] => https://book.coe.int/fr/68-droit [name] => Droit [desc] => [children] => Array ( [0] => Array ( [id] => 71 [link] => https://book.coe.int/fr/71-droit-international [name] => Droit international [desc] => [children] => Array ( ) ) [1] => Array ( [id] => 75 [link] => https://book.coe.int/fr/75-droit-constitutionnel [name] => Droit constitutionnel [desc] => [children] => Array ( ) ) [2] => Array ( [id] => 77 [link] => https://book.coe.int/fr/77-instruments-juridiques [name] => Instruments juridiques [desc] => [children] => Array ( ) ) [3] => Array ( [id] => 76 [link] => https://book.coe.int/fr/76-droit-penal-et-criminologie [name] => Droit pénal et criminologie [desc] => [children] => Array ( ) ) [4] => Array ( [id] => 79 [link] => https://book.coe.int/fr/79-informatique-et-droit [name] => Informatique et droit [desc] => [children] => Array ( ) ) [5] => Array ( [id] => 74 [link] => https://book.coe.int/fr/74-economie-et-criminalite-lutte-contre-la-corruption [name] => Economie et criminalité, lutte contre la corruption [desc] => [children] => Array ( ) ) [6] => Array ( [id] => 72 [link] => https://book.coe.int/fr/72-terrorisme-et-droit [name] => Terrorisme et droit [desc] => [children] => Array ( ) ) [7] => Array ( [id] => 69 [link] => https://book.coe.int/fr/69-point-de-vue-point-de-droit [name] => Point de vue - Point de droit [desc] => [children] => Array ( ) ) [8] => Array ( [id] => 70 [link] => https://book.coe.int/fr/70-europe-des-droits [name] => Europe des droits [desc] => [children] => Array ( ) ) [9] => Array ( [id] => 73 [link] => https://book.coe.int/fr/73-droits-des-migrants [name] => Droits des migrants [desc] => [children] => Array ( ) ) [10] => Array ( [id] => 78 [link] => https://book.coe.int/fr/78-programmes-themis-demo-droit [name] => Programmes Themis / Démo-droit [desc] => [children] => Array ( ) ) ) ) [5] => Array ( [id] => 80 [link] => https://book.coe.int/fr/80-sante [name] => Santé [desc] => [children] => Array ( [0] => Array ( [id] => 81 [link] => https://book.coe.int/fr/81-sante-et-societe-ethique [name] => Santé et société, Ethique [desc] => [children] => Array ( ) ) [1] => Array ( [id] => 82 [link] => https://book.coe.int/fr/82-transfusion-sanguine-et-transplantation-d-organe [name] => Transfusion sanguine et transplantation d'organe [desc] => [children] => Array ( ) ) [2] => Array ( [id] => 83 [link] => https://book.coe.int/fr/83-protection-sanitaire-du-consommateur [name] => Protection sanitaire du consommateur [desc] => [children] => Array ( ) ) [3] => Array ( [id] => 84 [link] => https://book.coe.int/fr/84-integration-des-personnes-handicapees [name] => Intégration des personnes handicapées [desc] => [children] => Array ( ) ) [4] => Array ( [id] => 85 [link] => https://book.coe.int/fr/85-direction-europeenne-de-la-qualite-du-medicament-soins-de-sante-deqm [name] => Direction Européenne de la Qualité du Medicament & Soins de Santé (DEQM) [desc] => [children] => Array ( ) ) ) ) [6] => Array ( [id] => 86 [link] => https://book.coe.int/fr/86-societe [name] => Société [desc] => [children] => Array ( [0] => Array ( [id] => 87 [link] => https://book.coe.int/fr/87-demographie [name] => Démographie [desc] => [children] => Array ( ) ) [1] => Array ( [id] => 88 [link] => https://book.coe.int/fr/88-serie-tendances-de-la-cohesion-sociale [name] => Série Tendances de la cohésion sociale [desc] => [children] => Array ( ) ) [2] => Array ( [id] => 89 [link] => https://book.coe.int/fr/89-serie-reponses-a-la-violence-quotidienne-dans-une-societe-democratique [name] => Série Réponses à la violence quotidienne dans une société démocratique [desc] => [children] => Array ( ) ) [3] => Array ( [id] => 90 [link] => https://book.coe.int/fr/90-drogues-et-toxicomanie [name] => Drogues et toxicomanie [desc] => [children] => Array ( ) ) [4] => Array ( [id] => 91 [link] => https://book.coe.int/fr/91-securite-sociale [name] => Securité sociale [desc] => [children] => Array ( ) ) [5] => Array ( [id] => 92 [link] => https://book.coe.int/fr/92-relations-intercommunautaires [name] => Relations intercommunautaires [desc] => [children] => Array ( ) ) [6] => Array ( [id] => 93 [link] => https://book.coe.int/fr/93-cooperation-sociale-en-europe [name] => Coopération sociale en Europe [desc] => [children] => Array ( ) ) [7] => Array ( [id] => 94 [link] => https://book.coe.int/fr/94-serie-etudes-demographiques [name] => Série Etudes démographiques [desc] => [children] => Array ( ) ) ) ) [7] => Array ( [id] => 95 [link] => https://book.coe.int/fr/95-environnement [name] => Environnement [desc] => [children] => Array ( [0] => Array ( [id] => 96 [link] => https://book.coe.int/fr/96-serie-sauvegarde-de-la-nature [name] => Série Sauvegarde de la Nature [desc] => [children] => Array ( ) ) [1] => Array ( [id] => 97 [link] => https://book.coe.int/fr/97-serie-rencontres-environnement [name] => Série Rencontres Environnement [desc] => [children] => Array ( ) ) [2] => Array ( [id] => 98 [link] => https://book.coe.int/fr/98-serie-territoire-et-paysage [name] => Série Territoire et Paysage [desc] => [children] => Array ( ) ) [3] => Array ( [id] => 99 [link] => https://book.coe.int/fr/99-serie-amenagement-du-territoire-europeen [name] => Série Aménagement du territoire européen [desc] => [children] => Array ( ) ) [4] => Array ( [id] => 100 [link] => https://book.coe.int/fr/100-environnement-publications-generales [name] => Environnement / Publications générales [desc] => [children] => Array ( ) ) ) ) [8] => Array ( [id] => 101 [link] => https://book.coe.int/fr/101-democratie-locale-et-regionale [name] => Démocratie locale et régionale [desc] => [children] => Array ( [0] => Array ( [id] => 102 [link] => https://book.coe.int/fr/102-cooperation-pour-la-democratie-locale-et-regionale [name] => Coopération pour la démocratie locale et régionale [desc] => [children] => Array ( ) ) [1] => Array ( [id] => 103 [link] => https://book.coe.int/fr/103-serie-communes-et-regions-d-europe [name] => Série Communes et Régions d'Europe [desc] => [children] => Array ( ) ) [2] => Array ( [id] => 104 [link] => https://book.coe.int/fr/104-serie-structure-et-fonctionnement-de-la-democratie-locale-et-regionale [name] => Série Structure et fonctionnement de la démocratie locale et régionale [desc] => [children] => Array ( ) ) ) ) [9] => Array ( [id] => 105 [link] => https://book.coe.int/fr/105-education [name] => Education [desc] => [children] => Array ( [0] => Array ( [id] => 406 [link] => https://book.coe.int/fr/406-politiques-educatives [name] => Politiques éducatives [desc] => [children] => Array ( ) ) [1] => Array ( [id] => 108 [link] => https://book.coe.int/fr/108-droits-de-l-homme-citoyennete-democratique-et-interculturalisme [name] => Droits de l'homme, citoyenneté démocratique et interculturalisme [desc] => [children] => Array ( ) ) [2] => Array ( [id] => 112 [link] => https://book.coe.int/fr/112-enseignement-superieur-et-recherche [name] => Enseignement supérieur et recherche [desc] => [children] => Array ( ) ) [3] => Array ( [id] => 110 [link] => https://book.coe.int/fr/110-enseignement-secondaire [name] => Enseignement secondaire [desc] => [children] => Array ( ) ) [4] => Array ( [id] => 107 [link] => https://book.coe.int/fr/107-enseignement-de-l-histoire [name] => Enseignement de l'histoire [desc] => [children] => Array ( ) ) [5] => Array ( [id] => 106 [link] => https://book.coe.int/fr/106-serie-pestalozzi [name] => Série Pestalozzi [desc] => [children] => Array ( ) ) ) ) [10] => Array ( [id] => 113 [link] => https://book.coe.int/fr/113-langues [name] => Langues [desc] => [children] => Array ( [0] => Array ( [id] => 114 [link] => https://book.coe.int/fr/114-pedagogie-et-langues-vivantes [name] => Pédagogie et langues vivantes [desc] => [children] => Array ( ) ) [1] => Array ( [id] => 115 [link] => https://book.coe.int/fr/115-politiques-linguistiques [name] => Politiques linguistiques [desc] => [children] => Array ( ) ) [2] => Array ( [id] => 116 [link] => https://book.coe.int/fr/116-langues-regionales-et-minoritaires [name] => Langues régionales et minoritaires [desc] => [children] => Array ( ) ) [3] => Array ( [id] => 117 [link] => https://book.coe.int/fr/117-terminologie [name] => Terminologie [desc] => [children] => Array ( ) ) ) ) [11] => Array ( [id] => 118 [link] => https://book.coe.int/fr/118-jeunesse [name] => Jeunesse [desc] => [children] => Array ( [0] => Array ( [id] => 119 [link] => https://book.coe.int/fr/119-kits-de-formation-jeunesse [name] => Kits de formation / Jeunesse [desc] => [children] => Array ( ) ) [1] => Array ( [id] => 120 [link] => https://book.coe.int/fr/120-politiques-nationales-de-la-jeunesse [name] => Politiques nationales de la jeunesse [desc] => [children] => Array ( ) ) [2] => Array ( [id] => 121 [link] => https://book.coe.int/fr/121-jeunesse-autres-publications [name] => Jeunesse / Autres publications [desc] => [children] => Array ( ) ) [3] => Array ( [id] => 396 [link] => https://book.coe.int/fr/396-points-de-vue-sur-la-jeunesse [name] => Points de vue sur la jeunesse [desc] => [children] => Array ( ) ) ) ) [12] => Array ( [id] => 122 [link] => https://book.coe.int/fr/122-culture [name] => Culture [desc] => [children] => Array ( [0] => Array ( [id] => 123 [link] => https://book.coe.int/fr/123-developpement-culturel [name] => Développement culturel [desc] => [children] => Array ( ) ) [1] => Array ( [id] => 124 [link] => https://book.coe.int/fr/124-patrimoine-culturel [name] => Patrimoine culturel [desc] => [children] => Array ( ) ) [2] => Array ( [id] => 125 [link] => https://book.coe.int/fr/125-politiques-culturelles [name] => Politiques culturelles [desc] => [children] => Array ( ) ) [3] => Array ( [id] => 126 [link] => https://book.coe.int/fr/126-cultures-et-quartiers [name] => Cultures et quartiers [desc] => [children] => Array ( ) ) ) ) [13] => Array ( [id] => 127 [link] => https://book.coe.int/fr/127-sport [name] => Sport [desc] => [children] => Array ( [0] => Array ( [id] => 128 [link] => https://book.coe.int/fr/128-sports-monographies [name] => Sports - Monographies [desc] => [children] => Array ( ) ) ) ) [14] => Array ( [id] => 129 [link] => https://book.coe.int/fr/129-communication [name] => Communication [desc] => [children] => Array ( [0] => Array ( [id] => 130 [link] => https://book.coe.int/fr/130-mass-media [name] => Mass media [desc] => [children] => Array ( ) ) [1] => Array ( [id] => 131 [link] => https://book.coe.int/fr/131-observatoire-europeen-de-l-audiovisuel [name] => Observatoire européen de l'Audiovisuel [desc] => [children] => Array ( ) ) [2] => Array ( [id] => 132 [link] => https://book.coe.int/fr/132-nouvelles-technologies-de-l-information [name] => Nouvelles technologies de l'information [desc] => [children] => Array ( ) ) [3] => Array ( [id] => 412 [link] => https://book.coe.int/fr/412-intelligence-artificielle [name] => Intelligence artificielle [desc] => [children] => Array ( ) ) ) ) [15] => Array ( [id] => 133 [link] => https://book.coe.int/fr/133-questions-europeennes [name] => Questions européennes [desc] => [children] => Array ( [0] => Array ( [id] => 134 [link] => https://book.coe.int/fr/134-rapport-annuel-d-activites [name] => Rapport annuel d'activités [desc] => [children] => Array ( ) ) [1] => Array ( [id] => 135 [link] => https://book.coe.int/fr/135-debats-de-la-democratie [name] => Débats de la démocratie [desc] => [children] => Array ( ) ) [2] => Array ( [id] => 136 [link] => https://book.coe.int/fr/136-debats-europeens [name] => Débats européens [desc] => [children] => Array ( ) ) [3] => Array ( [id] => 137 [link] => https://book.coe.int/fr/137-ouvrages-sur-l-europe [name] => Ouvrages sur l'Europe [desc] => [children] => Array ( ) ) [4] => Array ( [id] => 138 [link] => https://book.coe.int/fr/138-autres-domaines [name] => Autres domaines [desc] => [children] => Array ( ) ) [5] => Array ( [id] => 373 [link] => https://book.coe.int/fr/373-catalogues-des-publications [name] => Catalogues des publications [desc] => [children] => Array ( ) ) ) ) ) ) ) ) 1
Catalogue
Newsletter
Restez informés
Souscrivez à notre newsletter
Souscrivez à notre newsletter
PDF - Policies and practices for teaching sociocultural diversity - A framework of teacher competences for engaging with diversity
(2010)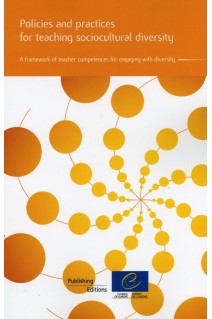  
Future teachers require specific training on democratic culture and social cohesion. By focusing on reflective thinking, training can enable them to situate themselves in diverse environments, develop a clearer sense of their ethnic and cultural identities and examine attitudes to different groups.Improving diversity management at school in Europe begins with initial teacher training establishments. This book is designed to provide a basis to help ensure that the needs of future teachers in this regard are met. It puts forward 18 "diversity competences" that were identified by a team of European specialists in teacher training between 2006 and 2009.In order to open up the debate on competences, four consultation sessions were organised in Austria, Bulgaria, Cyprus and Estonia. These sessions provided an opportunity to discuss these competences with key players (civil servants, government representatives, teacher trainers, head teachers, researchers, teachers and students) from a national and topic-based perspective.
Part I: The development of competences for dealing with sociocultural diversity and inclusion in education - Process and outcomes
Chapter 1: The Council of Europe project on Policies and Practices for Teaching Sociocultural Diversity
1.1 Introduction
1.2 Teacher education: a priority for Council of Europe intergovernmental co-operation in the field of education
1.3 The project and its objectives (2006-09)
1.3.1 First phase (2006-07)
1.3.2 Second phase (2007-08)
1.3.3 Third phase (2008-09)
1.4 Sociocultural diversity
Chapter 2: The consultation tables
2.1 Introduction
2.2 The consultation tables method
2.3 The consultation table reports
2.3.1 Consultation Table 1: Austria
2.3.1.1 Main topic and context
2.3.1.2 Participants
2.3.1.3 Outcomes
2.3.2 Consultation Table 2: Cyprus
2.3.2.1 Main topic and context
2.3.2.2 Participants
2.3.2.3 Outcomes
2.3.3 Consultation Table 3: Bulgaria
2.3.3.1 Main topic and context
2.3.3.2 Participants
2.3.3.3 Outcomes
2.3.4 Consultation Table 4: Estonia
2.3.4.1 Main topic and context
2.3.4.2 Participants
2.3.4.3 Outcomes
Chapter 3: Learning through the consultation tables
3.1 Learning by the project team
3.1.1 Identity, ethnicity and language
3.1.2 Teacher education contexts
3.1.3 Integration, inclusion and exclusion
3.2 Learning by the participants
Chapter 4: Key competences for diversity
4.1 Introduction
4.2 The concept and context of competence
4.3 The rationale for the competence approach
4.4 Outline of the competence framework
4.5 Competence areas
4.5.1 First cluster of competences: knowledge and understanding
4.5.2 Second cluster of competences: communication and relationships
4.5.3 Third cluster of competences: management and teaching
4.6 Taking the competences forward
Chapter 5: Recommendations
5.1 Introduction
5.2 Knowledge and understanding
5.3 Communication and relationships
5.4 Management and teaching
References
Part II: The competences in action
Chapter 6: Examples of practice
6.1 Introduction
6.2 Index of examples of practice
1. Language biographical methods research and education - Austria
2. Teaching minority languages in Burgenland - Austria
3. Implementation of zones of educational priority - Cyprus
4. Debating collective memory and culture - Cyprus
5. Students in thick interpretation of ethnic borders - Cyprus
6. Deconstructing TV representations - Cyprus
7. Enhancing diversity in Estonian teacher education - Estonia
8. Improvement of study practice and the mentoring system of newly qualified teachers in Lithuania
9. SCHOLION -A learning platform in teacher education - Austria
10. Teacher education for ethnocultural diversity at Sofia University - Bulgaria
11. Teacher education for ethnocultural diversity at Shumen University- Bulgaria
12. Trio -An entirely original concept - Austria
13. Do we need changes in our teacher education? - Estonia
14. NQTNE Network - Estonia
Chapter 7: Research papers
7.1.
Télécharger un extrait (1000)
PDF - Policies and practices for teaching sociocultural diversity - A framework of teacher competences for engaging with diversity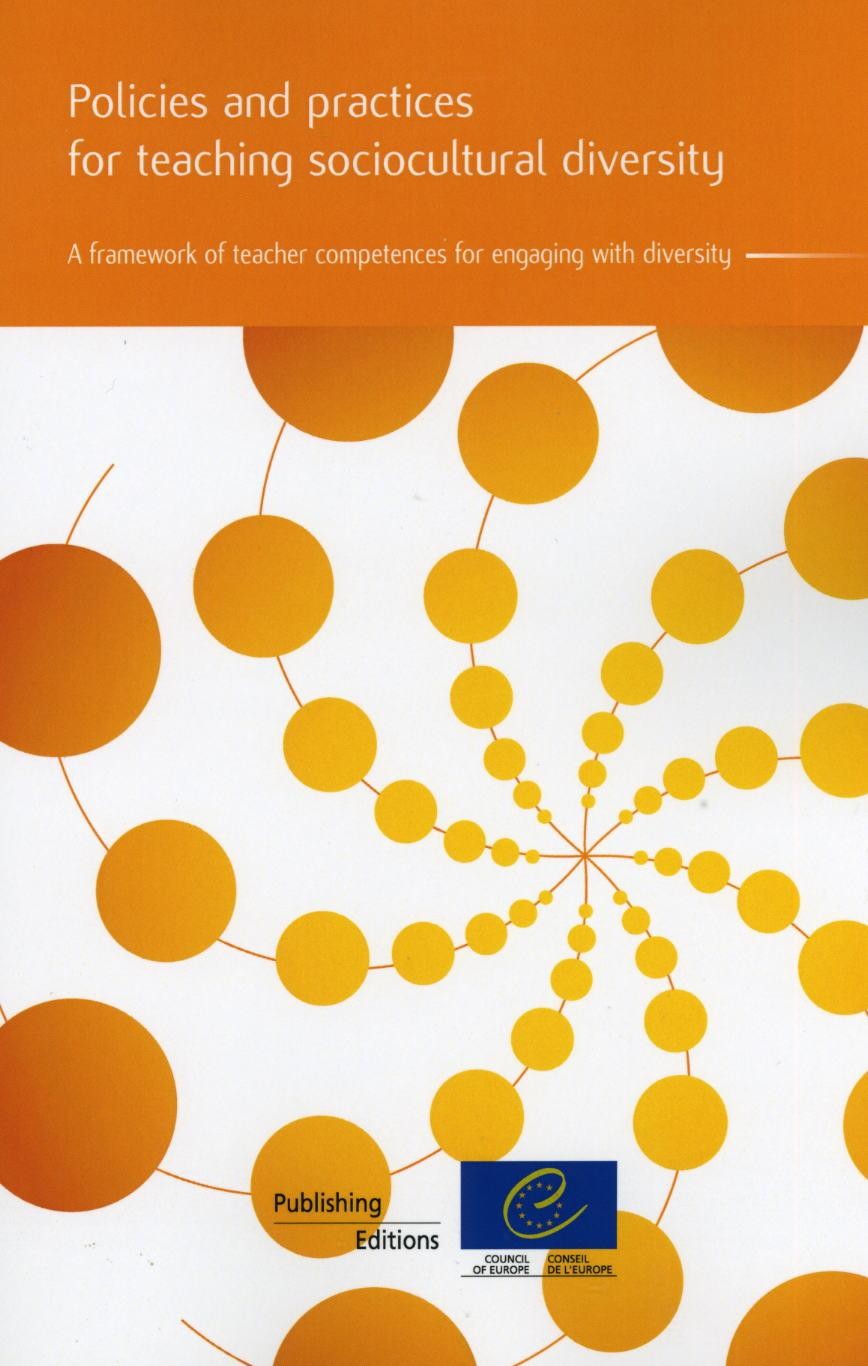 Attention, en vertu de nos conditions générales de vente, l'achat des PDF/epub est réservé aux particuliers.