Libraires ou agents de vente, contactez-nous à
[email protected]
pour connaître nos conditions spéciales !
PDF - Dirty money - The evolution of international measures to counter money laundering and the financing of terrorism (4th edition)
(2011)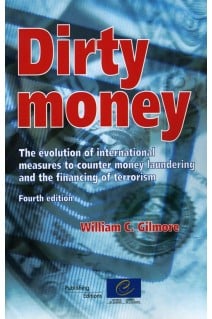  
Anti-money laundering and countering the financing of terrorism (AML/CFT) continues to be a dynamic subject area. Dirty money has again been revised and expanded to keep pace with international developments over recent years, and this is the fourth edition.Since the third edition, all countries in the Financial Action Task Force (FATF) and MONEYVAL, the Council of Europe's primary AML/CFT monitoring arm, have been subject to detailed evaluation under the 2003 FATF recommendations. This edition explains how the interdependent network of global assessment bodies works to identify countries which pose threats to the global financial system. The European Union's third directive has been brought into force since the last edition and its provisions are fully analysed. This edition also explains how the most recent Council of Europe treaty in this area, the Warsaw convention, which came into force in 2008, can assist states to achieve more effective money laundering investigations and prosecutions, as well as deterrent confiscation orders.This book, as with the previous editions, is designed for a wide audience, not only actors in national AML/CFT systems in both the public and private sectors, but also all those who simply wish to be better informed about how the international community continues to fight these truly global threats.
Acknowledgements
Foreword
Chapter I - Transnational and organised crime: the contours of the problem
The context
The strategy
Chapter II - Money laundering: an overview of the process
Introduction
The money laundering process
The stages of the process
Money laundering techniques
The context
Deposit-taking institutions
Non-bank financial institutions
Non-financial institutions
"Gatekeepers"
The emergence of new challenges
Conclusions
Chapter III - Global responses to money laundering
The United Nations
Introduction: the focus on drugs
Major provisions of the 1988 UN convention 
Money laundering and confiscation
Other important provisions
Conclusions
The UN conventions on transnational organised crime and corruption
The 1999 UN International Convention for the Suppression of the Financing of Terrorism
Supportive UN activities
Global law enforcement co-operation
The Egmont Group
Chapter IV- The Financial Action Task Force
The background
The structure and purpose of the FATF
The 1990 FATF recommendations
The context
The nature of the 1990 recommendations
The general framework of the 1990 recommendations
Improvement of national legal systems
Enhancement of the role of the financial system
Strengthening of international co-operation
The 1996 revised FATF recommendations
The context
The 1996 revisions
The 2003 revised FATF recommendations
The context
The 2003 revisions
Chapter V - The Financial Action Task Force and the financing of terrorism
Background and context
The aftermath of 11 September 2001
The UN Security Council
The Financial Action Task Force
Conclusions
Chapter VI - The continuing work of the Financial Action Task Force
Mandate and priorities
Monitoring implementation by FATF members
Reviewing developments in money laundering methods and countermeasures
The FATF external relations activities
The strategy in overview
The NCCT initiative and its progeny
Future challenges
Chapter VII - Pan-European responses to money laundering
The context
Money laundering initiatives
The context
The 1990 Council of Europe convention
The 2005 Warsaw convention
The human rights dimension
MONEYVAL
Chapter VIII - Action within the European Union
The context
The 1991 Directive
Background and development
The requirements of the 1991 Directive and their implementation
The 2001 Directive
The 2005 Directive
Extraterritorial issues
The strategy of prevention: associated initiatives
Other relevant EU actions
Chapter IX - Conclusions
Appendices

Appendix I       
The 1990 recommendations of the FATF on money laundering
Appendix II      
The 1996 revised FATF recommendations
Appendix III    
The 2003 revised FATF recommendations and interpretative notes
Appendix IV     
The 2001 FATF Special Recommendations on Terrorist Financing and interpretative notes
Appendix V     
The 2005 Council of Europe Convention on Laundering, Search, Seizure and Confiscation of the Proceeds from Crime and on the Financing of Terrorism
Appendix VI     
Resolution CM/Res(2010)12 on the Statute of the Committee of Experts on the Evaluation of Anti-Money Laundering Measures and the Financing of Terrorism (MONEYVAL)
Appendix VII    
Directive 2005/60/EC of the European Parliament and of the Council of 26 October 2005 on the prevention of the use of the financial system for the purpose of money laundering and terrorist financing
Selected websites