PDF - Institutional accommodation and the citizen: legal and political interaction in a pluralist society (Trends in social cohesion n°21)
(2010)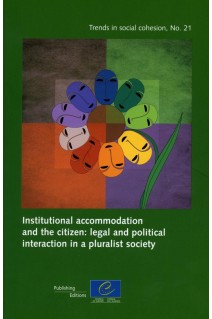  
The question of accommodations that institutions and citizens must make to ensure social cohesion in pluralist societies is of concern to the Council of Europe. How will we live and interact together in diversity? It is becoming increasingly important to provide responses and devise innovative frameworks (in the legal sphere, in national education and training in competences and in institutional practice) which can help build a shared vision while at the same time respecting each individual.By comparing European and Canadian responses, among others, the articles featured in this volume explore this complex issue. They contribute to a major social debate and outline a vision of the future that allows us to set aside mutual suspicion and develop institutional arrangements and forms of social interaction capable of making diversity a factor for progress, well-being and social justice. They also remind us that poverty combined with stigmatisation based on identity leads to stasis, social malaise and an increase in security measures, which ultimately prevent societies from evolving through risk taking, shared responsibility, dialogue and consultation.
Foreword
Introduction
Part A - The concept of reasonable accommodation: its potential against European frameworks of citizenship and combat against discriminations to meet the need for institutional change, particularly in social services
The reasonable accommodation requirement: potential and limits.
Accommodating diversity in Quebec and Europe: different legal concepts, similar results?
Participation rights under the Framework Convention for the Protection of National Minorities (FCNM): towards a legal framework against social and economic discrimination.
European legal frameworks responding to diversity and the need for institutional change. Indirect discrimination as a means of protecting pluralism: challenges and limits.
Emerging standards of reasonable accommodation towards minorities in Europe?
Reasonable accommodation: going beyond the European Convention on Human Rights to reflect the plurality in national institutional settings.
Part B - Reasonable accommodation or mutual accommodation for all to develop our institutional and national cultures?
European legal frameworks that respond to diversity and the need for institutional change: to what extent are the Canadian concept of "reasonable accommodation" and the European approach of "mutual accommodation" reflected in those frameworks?
Which conceptual approach provides the better way forward in the European context?
Accommodations for minorities or accommodations for all - Bringing about harmonious coexistence in pluralist societies.
The evolution of institutional cultures: migrants' access to services and rights.
Part C - Reasonable accommodation in a framework of dialogue, national education and teaching of competences
Resistances to cultural diversity: anti-pluralist rhetoric and other common objections.
"Ha da passa' 'a nuttata": reasonable accommodation, a tool for defending coexistence based on respect for rights in a pluralist society.
Universality, differences and rights in health and social services in the context of migration, or how can the differences of minorities be made an advantage for all?
Two successful examples of reasonable accommodation and intercultural mediation in the health-care sector.
Intercultural dialogue: a tool and framework for action for opening up to otherness in public policies and social services?
Training in intercultural competences to accommodate differences in public services- Issues involved.
Part D - Overview and conclusions
Lessons to be learned.