Libraires ou agents de vente, contactez-nous à
[email protected]
pour connaître nos conditions spéciales !
PDF - European judicial systems - Edition 2014 (2012 data) - Efficiency and quality of justice
(2014)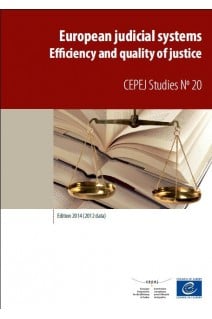  
The new Edition of the report of the European Commission for the Efficiency of Justice (CEPEJ), which evaluates the functioning of the judicial systems in 45 Council of Europe's member states and an observer state to the CEPEJ, Israël, remains in line with the process carried out since 2002. Relying on a methodology which is already a reference for collecting and processing a wide number of quantitative and qualitative judicial data, this unique study has been conceived above all as a tool for public policy aimed at improving the efficiency and the quality of justice. To have the knowledge in order to be able to understand, analyse and reform, such is the objective of the CEPEJ which has prepared this report, intended for policy makers, legal practitioners, researchers as well as for those who are interested in the functioning of justice in Europe.
Contents
Chapter 1. The evaluation process of the CEPEJ
1.1 The European Commission for the Efficiency of Justice
1.2 The Scheme for evaluating judicial systems
1.3 Data collection, validation and analysis
1.4 General methodological issues
1.5 General economic and demographic figures
1.6 Analysing the findings of the report
Chapter 2. Public expenditures allocated to justice and the functioning of courts
2.1 Public expenditure on the operation of the whole justice system
2.2 Public expenditure on the operation of judicial system
2.3 Trends and conclusions
Chapter 3. Access to justice
3.1 Scope of legal aid
3.2 The budget for legal aid
3.3 Revenues of the judicial system
3.4 Trends and conclusions
Chapter 4. Court users: rights and public confidence
4.1 Provisions regarding the provision of information to the court users
4.2 Protection of vulnerable persons
4.3 Role of the public prosecutor in protecting the rights or assisting victims of crime
4.4 Compensation procedures
4.5 Compensation of the users for dysfunction of the judicial system and complaints
4.6 Assessment of the satisfaction of users
4.7 Trends and conclusions
Chapter 5. Courts
5.1 Court organisation
5.2 Information and communication technology (ICT) in the courts (e-justice and e-courts)
5.3 Means for measuring the quality of the courts' performance.
5.4 Trends and conclusions
Chapter 6. Alternative Dispute Resolution (ADR)
6.1 Different forms of ADR
6.2 Judicial mediation
6.3 Arbitration, conciliation and other forms of ADR (Q168)
6.4 Trends and conclusions
Chapter 7. Judges
7.1 Introduction
7.2 Professional judges
7.3 Professional judges sitting occasionally
7.4 Non-professional judges
7.5 Trial by jury and participation of the public
7.6 Trends and conclusions
Chapter 8. Non-judge staff in courts
8.1 Non-judge staff: number and distribution
8.2 Rechtspfleger
8.3 Delegations of services
8.4 Trends and conclusions
Chapter 9. Court efficiency
9.1 Court efficiency and the principles of a fair trial
9.2 Court efficiency to serve the citizens
9.3 Comparing case categories: procedure and length
9.4 Measures to increase the efficiency of judicial proceedings
9.5 Trends and conclusions
Chapter 10. Prosecutors
10.1 Number of public prosecutors, persons with similar duties and staff
10.2 Role and powers of public prosecutors
10.3 Case proceedings managed by public prosecutors
10.4 Trends and conclusions
Chapter 11. Status and career of judges and prosecutors
11.1 Recruitment and appointment
11.2 Status of prosecutors
11.3 Training
11.4 Salaries of judges and prosecutors
11.5 Bonuses and other benefits for judges and prosecutors
11.6 Career of judges and prosecutors
11.7 Possibility to challenge a judge
11.8 Responsibility of judges and prosecutors
11.9 Trends and conclusions
Chapter 12. Lawyers
12.1 Number of lawyers
12.2 Organisation of the profession and training
12.3 Practice of the profession
12.4 Trends and conclusions
Chapter 13. Execution of court decisions
13.1 Enforcement of court decisions in civil, commercial and administrative law
13.2 Execution of court decisions in criminal matters
13.3 Trends and conclusions
Chapter 14. Notaries
14.1 Status, number and functions
14.2 Supervision and control of the profession of notary
14.3 Trends and conclusions
Chapter 15. Judicial experts
15.1 Different kinds of judicial experts
15.2 Selection of judicial experts
15.3 Number of judicial experts (technical experts) .
15.4 Quality of judicial experts and protection of the title and the function of judicial expert
15.5 Trends and conclusions
Chapter 16. Court interpreters
16.1 Number of court interpreters
16.2 Title and function of court interpreters
16.3 Selection of court interpreters by the courts
16.4 Trends and conclusions
Chapter 17. Judicial Reforms
Chapter 18. Towards greater efficiency and quality within the European judicial systems
18.1 Access to justice
18.2 Effective functioning of the judicial systems
18.3 Quality of the public service of justice delivered to the users
18.4 Protection of the independence of the judiciary and the status of judges and prosecutors
Scheme for evaluating judicial systems (2012-2014 cycle)
Explanatory note to the scheme for evaluating judicial systems