Libraires ou agents de vente, contactez-nous à
[email protected]
pour connaître nos conditions spéciales !
Preventing torture in Europe
(2018)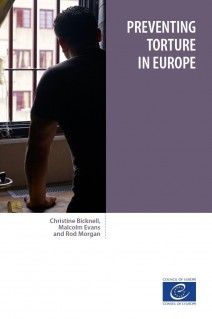  
A comprehensive insight into the valuable work carried out by one of the Council of Europe's highly influential mechanisms, the European Committee for the Prevention of Torture and Inhuman or Degrading Treatment or Punishment (CPT).
Since its inception in 1989, specialist members of the CPT (lawyers, prosecutors, prison experts, doctors, psychiatrists, etc.) have visited thousands of police stations, prisons, immigration detention centres, psychiatric hospitals and other places of detention all over Europe, to monitor the living conditions (hygiene, provision of food and drink, health care, etc.) of those being detained. Following these visits, the CPT issues reports suggesting improvements and laying down standards.
The purpose of this book is twofold. In the first part, the authors explain the background and origins of the CPT, its membership and modus operandi, as well as how it interacts with other bodies, such as the UN's Subcommittee on Prevention of Torture (SPT) and the national preventive mechanisms (NPMs). In the second part, the authors describe the CPT's key findings and standards in the main situations of deprivation of liberty (police, prison, immigration detention, mental health and social care). In a detailed appendix, the authors provide summaries of the key CPT findings for the 47 states visited by the CPT.
PREFACE
LIST OF MAIN ABBREVIATIONS/ACRONYMS
CHAPTER 1 – THE EUROPEAN CONVENTION FOR THE PREVENTION OF TORTURE IN CONTEXT
I. Introduction
II. The background and origins of the CPT and OPCAT
III. The scope of the work of the CPT and of the SPT and NPMs in the Council of Europe area
IV. The "triangular relationship" between the CPT, the SPT and NPMs
V. The CPT and the European Court of Human Rights
CHAPTER 2 – THE CPT: MEMBERSHIP, VISITS AND DIALOGUE
I. Introduction
II. CPT members
III. The CPT Bureau
IV. The CPT Secretariat
V. Preparing for and notifying visits
VI. Making visits
VII. Reporting on and responding to visits
VIII. Public statements
IX. Post-inspection dialogue
CHAPTER 3 – TORTURE AND INHUMAN OR DEGRADING TREATMENT OR PUNISHMENT: USING THE LANGUAGE
I. Introduction
II. Torture and inhuman or degrading treatment or punishment in the jurisprudence of the European Court of Human Rights
III. The CPT's use of the terms
IV. Conclusion
CHAPTER 4 – POLICE DETENTION
I. Introduction
II. The development and promulgation of CPT standards regarding police custody
III. The fundamental safeguards
IV. "Fundamental" and "useful" safeguards
V. Custodial conditions
VI. Provision for particular categories of detainees in police detention
VII. Application of the standards
VIII. Case study conclusions
IX. Policing and the increasingly reflexive relationship between the CPT and the European Court of Human Rights
X. Beyond the police station
XI. Conclusion
CHAPTER 5 – PRISON DETENTION
I. Introduction
II. Prison standards
III. Particular categories of prisoner
IV. Application of the standards
V. The European Court of Human Rights and the CPT's prison standards
VI. Conclusion
CHAPTER 6 – IMMIGRATION DETENTION
I. Introduction
II. Irregular migrants: general observations
III. Immigrant detention locations and conditions
IV. Rights and safeguards
V. Deportation by air
VI. Detained migrant families and children
VII. Application of the standards
VIII. The CPT and the European Court of Human Rights
IX. Conclusion
CHAPTER 7 – MENTAL HEALTH AND SOCIAL CARE DEPRIVATION OF LIBERTY
I. Introduction
II. The CPT's standards
III. Social care homes and homes for the elderly
IV. Application of the standards
V. European Court of Human Rights and the CPT's mental health standards and findings
VI. Conclusion
CHAPTER 8 – THE CPT: FUTURE PROSPECTS
I. The CPT today
II. Achievements and opportunities
III. Taking stock
ADDENDUM
APPENDICES
Appendix A. Signatures and ratifications of the convention establishing the CPT 203
Appendix B. Country profiles
Appendix C. Cases cited
Appendix D. Bibliography
ABOUT THE AUTHORS