Array ( [id] => 2 [link] => [name] => [desc] => [children] => Array ( [0] => Array ( [id] => 6 [link] => https://book.coe.int/fr/6-librairie-en-ligne [name] => Librairie en ligne [desc] => [children] => Array ( [0] => Array ( [id] => 40 [link] => https://book.coe.int/fr/40-comite-des-ministres [name] => Comité des Ministres [desc] => [children] => Array ( [0] => Array ( [id] => 41 [link] => https://book.coe.int/fr/41-textes-des-traites-du-conseil-de-l-europe [name] => Textes des traités du Conseil de l'Europe [desc] => [children] => Array ( ) ) [1] => Array ( [id] => 43 [link] => https://book.coe.int/fr/43-traites-du-conseil-de-l-europe-et-rapports-explicatifs [name] => Traités du Conseil de l'Europe et rapports explicatifs [desc] => [children] => Array ( ) ) [2] => Array ( [id] => 44 [link] => https://book.coe.int/fr/44-recueils-des-traites-du-conseil-de-l-europe [name] => Recueils des traités du Conseil de l'Europe [desc] => [children] => Array ( ) ) [3] => Array ( [id] => 45 [link] => https://book.coe.int/fr/45-comite-des-ministres-recueils-de-textes-adoptes [name] => Comité des Ministres - Recueils de textes adoptés [desc] => [children] => Array ( ) ) [4] => Array ( [id] => 42 [link] => https://book.coe.int/fr/42-comite-des-ministres-autres-publications [name] => Comité des Ministres - Autres publications [desc] => [children] => Array ( ) ) ) ) [1] => Array ( [id] => 46 [link] => https://book.coe.int/fr/46-assemblee-parlementaire [name] => Assemblée parlementaire [desc] => [children] => Array ( [0] => Array ( [id] => 47 [link] => https://book.coe.int/fr/47-assemblee-parlementaire-textes-adoptes [name] => Assemblée parlementaire / Textes adoptés [desc] => [children] => Array ( ) ) [1] => Array ( [id] => 48 [link] => https://book.coe.int/fr/48-assemblee-parlementaire-ordres-du-jour-et-proces-verbaux [name] => Assemblée parlementaire / Ordres du jour et procès- verbaux [desc] => [children] => Array ( ) ) [2] => Array ( [id] => 49 [link] => https://book.coe.int/fr/49-assemblee-parlementaire-comptes-rendus-des-debats [name] => Assemblée parlementaire / Comptes rendus des débats [desc] => [children] => Array ( ) ) [3] => Array ( [id] => 50 [link] => https://book.coe.int/fr/50-assemblee-parlementaire-documents-de-seance [name] => Assemblée parlementaire / Documents de séance [desc] => [children] => Array ( ) ) [4] => Array ( [id] => 51 [link] => https://book.coe.int/fr/51-assemblee-parlementaire-publications-generales [name] => Assemblée parlementaire / Publications générales [desc] => [children] => Array ( ) ) ) ) [2] => Array ( [id] => 52 [link] => https://book.coe.int/fr/52-congrs [name] => Congrès [desc] => [children] => Array ( [0] => Array ( [id] => 53 [link] => https://book.coe.int/fr/53-congres-serie-action-locale-et-regionale [name] => Congrès / Série Action locale et régionale [desc] => [children] => Array ( ) ) [1] => Array ( [id] => 54 [link] => https://book.coe.int/fr/54-congres-serie-etudes-et-travaux [name] => Congrès / Série Etudes et travaux [desc] => [children] => Array ( ) ) [2] => Array ( [id] => 55 [link] => https://book.coe.int/fr/55-congres-textes-adoptes [name] => Congrès / Textes adoptés [desc] => [children] => Array ( ) ) [3] => Array ( [id] => 56 [link] => https://book.coe.int/fr/56-congres-comptes-rendus-des-debats [name] => Congrès / Comptes rendus des débats [desc] => [children] => Array ( ) ) ) ) [3] => Array ( [id] => 57 [link] => https://book.coe.int/fr/57-droits-de-l-homme [name] => Droits de l'homme [desc] => [children] => Array ( [0] => Array ( [id] => 58 [link] => https://book.coe.int/fr/58-droits-de-l-homme-et-democratie [name] => Droits de l'homme et démocratie [desc] => [children] => Array ( ) ) [1] => Array ( [id] => 59 [link] => https://book.coe.int/fr/59-droit-des-enfants-et-droit-de-la-famille [name] => Droit des enfants et droit de la famille [desc] => [children] => Array ( ) ) [2] => Array ( [id] => 60 [link] => https://book.coe.int/fr/60-les-institutions-democratiques-en-action [name] => Les institutions démocratiques en action [desc] => [children] => Array ( ) ) [3] => Array ( [id] => 61 [link] => https://book.coe.int/fr/61-minorites [name] => Minorités [desc] => [children] => Array ( ) ) [4] => Array ( [id] => 62 [link] => https://book.coe.int/fr/62-dossiers-sur-les-droits-de-l-homme [name] => Dossiers sur les droits de l'homme [desc] => [children] => Array ( ) ) [5] => Array ( [id] => 63 [link] => https://book.coe.int/fr/63-charte-sociale-europeenne [name] => Charte sociale européenne [desc] => [children] => Array ( ) ) [6] => Array ( [id] => 64 [link] => https://book.coe.int/fr/64-cahiers-de-la-charte-sociale [name] => Cahiers de la Charte Sociale [desc] => [children] => Array ( ) ) [7] => Array ( [id] => 65 [link] => https://book.coe.int/fr/65-egalite-entre-femmes-et-hommes [name] => Egalité entre femmes et hommes [desc] => [children] => Array ( ) ) [8] => Array ( [id] => 66 [link] => https://book.coe.int/fr/66-cour-europeenne-des-droits-de-l-homme [name] => Cour européenne des droits de l'homme [desc] => [children] => Array ( ) ) [9] => Array ( [id] => 376 [link] => https://book.coe.int/fr/376-commissaire-aux-droits-de-l-homme [name] => Commissaire aux droits de l'homme [desc] => [children] => Array ( ) ) [10] => Array ( [id] => 67 [link] => https://book.coe.int/fr/67-commission-europeenne-des-droits-de-l-homme [name] => Commission européenne des droits de l'homme [desc] => [children] => Array ( ) ) ) ) [4] => Array ( [id] => 68 [link] => https://book.coe.int/fr/68-droit [name] => Droit [desc] => [children] => Array ( [0] => Array ( [id] => 71 [link] => https://book.coe.int/fr/71-droit-international [name] => Droit international [desc] => [children] => Array ( ) ) [1] => Array ( [id] => 75 [link] => https://book.coe.int/fr/75-droit-constitutionnel [name] => Droit constitutionnel [desc] => [children] => Array ( ) ) [2] => Array ( [id] => 77 [link] => https://book.coe.int/fr/77-instruments-juridiques [name] => Instruments juridiques [desc] => [children] => Array ( ) ) [3] => Array ( [id] => 76 [link] => https://book.coe.int/fr/76-droit-penal-et-criminologie [name] => Droit pénal et criminologie [desc] => [children] => Array ( ) ) [4] => Array ( [id] => 79 [link] => https://book.coe.int/fr/79-informatique-et-droit [name] => Informatique et droit [desc] => [children] => Array ( ) ) [5] => Array ( [id] => 74 [link] => https://book.coe.int/fr/74-economie-et-criminalite-lutte-contre-la-corruption [name] => Economie et criminalité, lutte contre la corruption [desc] => [children] => Array ( ) ) [6] => Array ( [id] => 72 [link] => https://book.coe.int/fr/72-terrorisme-et-droit [name] => Terrorisme et droit [desc] => [children] => Array ( ) ) [7] => Array ( [id] => 69 [link] => https://book.coe.int/fr/69-point-de-vue-point-de-droit [name] => Point de vue - Point de droit [desc] => [children] => Array ( ) ) [8] => Array ( [id] => 70 [link] => https://book.coe.int/fr/70-europe-des-droits [name] => Europe des droits [desc] => [children] => Array ( ) ) [9] => Array ( [id] => 73 [link] => https://book.coe.int/fr/73-droits-des-migrants [name] => Droits des migrants [desc] => [children] => Array ( ) ) [10] => Array ( [id] => 78 [link] => https://book.coe.int/fr/78-programmes-themis-demo-droit [name] => Programmes Themis / Démo-droit [desc] => [children] => Array ( ) ) ) ) [5] => Array ( [id] => 80 [link] => https://book.coe.int/fr/80-sante [name] => Santé [desc] => [children] => Array ( [0] => Array ( [id] => 81 [link] => https://book.coe.int/fr/81-sante-et-societe-ethique [name] => Santé et société, Ethique [desc] => [children] => Array ( ) ) [1] => Array ( [id] => 82 [link] => https://book.coe.int/fr/82-transfusion-sanguine-et-transplantation-d-organe [name] => Transfusion sanguine et transplantation d'organe [desc] => [children] => Array ( ) ) [2] => Array ( [id] => 83 [link] => https://book.coe.int/fr/83-protection-sanitaire-du-consommateur [name] => Protection sanitaire du consommateur [desc] => [children] => Array ( ) ) [3] => Array ( [id] => 84 [link] => https://book.coe.int/fr/84-integration-des-personnes-handicapees [name] => Intégration des personnes handicapées [desc] => [children] => Array ( ) ) [4] => Array ( [id] => 85 [link] => https://book.coe.int/fr/85-direction-europeenne-de-la-qualite-du-medicament-soins-de-sante-deqm [name] => Direction Européenne de la Qualité du Medicament & Soins de Santé (DEQM) [desc] => [children] => Array ( ) ) ) ) [6] => Array ( [id] => 86 [link] => https://book.coe.int/fr/86-societe [name] => Société [desc] => [children] => Array ( [0] => Array ( [id] => 87 [link] => https://book.coe.int/fr/87-demographie [name] => Démographie [desc] => [children] => Array ( ) ) [1] => Array ( [id] => 88 [link] => https://book.coe.int/fr/88-serie-tendances-de-la-cohesion-sociale [name] => Série Tendances de la cohésion sociale [desc] => [children] => Array ( ) ) [2] => Array ( [id] => 89 [link] => https://book.coe.int/fr/89-serie-reponses-a-la-violence-quotidienne-dans-une-societe-democratique [name] => Série Réponses à la violence quotidienne dans une société démocratique [desc] => [children] => Array ( ) ) [3] => Array ( [id] => 90 [link] => https://book.coe.int/fr/90-drogues-et-toxicomanie [name] => Drogues et toxicomanie [desc] => [children] => Array ( ) ) [4] => Array ( [id] => 91 [link] => https://book.coe.int/fr/91-securite-sociale [name] => Securité sociale [desc] => [children] => Array ( ) ) [5] => Array ( [id] => 92 [link] => https://book.coe.int/fr/92-relations-intercommunautaires [name] => Relations intercommunautaires [desc] => [children] => Array ( ) ) [6] => Array ( [id] => 93 [link] => https://book.coe.int/fr/93-cooperation-sociale-en-europe [name] => Coopération sociale en Europe [desc] => [children] => Array ( ) ) [7] => Array ( [id] => 94 [link] => https://book.coe.int/fr/94-serie-etudes-demographiques [name] => Série Etudes démographiques [desc] => [children] => Array ( ) ) ) ) [7] => Array ( [id] => 95 [link] => https://book.coe.int/fr/95-environnement [name] => Environnement [desc] => [children] => Array ( [0] => Array ( [id] => 96 [link] => https://book.coe.int/fr/96-serie-sauvegarde-de-la-nature [name] => Série Sauvegarde de la Nature [desc] => [children] => Array ( ) ) [1] => Array ( [id] => 97 [link] => https://book.coe.int/fr/97-serie-rencontres-environnement [name] => Série Rencontres Environnement [desc] => [children] => Array ( ) ) [2] => Array ( [id] => 98 [link] => https://book.coe.int/fr/98-serie-territoire-et-paysage [name] => Série Territoire et Paysage [desc] => [children] => Array ( ) ) [3] => Array ( [id] => 99 [link] => https://book.coe.int/fr/99-serie-amenagement-du-territoire-europeen [name] => Série Aménagement du territoire européen [desc] => [children] => Array ( ) ) [4] => Array ( [id] => 100 [link] => https://book.coe.int/fr/100-environnement-publications-generales [name] => Environnement / Publications générales [desc] => [children] => Array ( ) ) ) ) [8] => Array ( [id] => 101 [link] => https://book.coe.int/fr/101-democratie-locale-et-regionale [name] => Démocratie locale et régionale [desc] => [children] => Array ( [0] => Array ( [id] => 102 [link] => https://book.coe.int/fr/102-cooperation-pour-la-democratie-locale-et-regionale [name] => Coopération pour la démocratie locale et régionale [desc] => [children] => Array ( ) ) [1] => Array ( [id] => 103 [link] => https://book.coe.int/fr/103-serie-communes-et-regions-d-europe [name] => Série Communes et Régions d'Europe [desc] => [children] => Array ( ) ) [2] => Array ( [id] => 104 [link] => https://book.coe.int/fr/104-serie-structure-et-fonctionnement-de-la-democratie-locale-et-regionale [name] => Série Structure et fonctionnement de la démocratie locale et régionale [desc] => [children] => Array ( ) ) ) ) [9] => Array ( [id] => 105 [link] => https://book.coe.int/fr/105-education [name] => Education [desc] => [children] => Array ( [0] => Array ( [id] => 406 [link] => https://book.coe.int/fr/406-politiques-educatives [name] => Politiques éducatives [desc] => [children] => Array ( ) ) [1] => Array ( [id] => 108 [link] => https://book.coe.int/fr/108-droits-de-l-homme-citoyennete-democratique-et-interculturalisme [name] => Droits de l'homme, citoyenneté démocratique et interculturalisme [desc] => [children] => Array ( ) ) [2] => Array ( [id] => 112 [link] => https://book.coe.int/fr/112-enseignement-superieur-et-recherche [name] => Enseignement supérieur et recherche [desc] => [children] => Array ( ) ) [3] => Array ( [id] => 110 [link] => https://book.coe.int/fr/110-enseignement-secondaire [name] => Enseignement secondaire [desc] => [children] => Array ( ) ) [4] => Array ( [id] => 107 [link] => https://book.coe.int/fr/107-enseignement-de-l-histoire [name] => Enseignement de l'histoire [desc] => [children] => Array ( ) ) [5] => Array ( [id] => 106 [link] => https://book.coe.int/fr/106-serie-pestalozzi [name] => Série Pestalozzi [desc] => [children] => Array ( ) ) ) ) [10] => Array ( [id] => 113 [link] => https://book.coe.int/fr/113-langues [name] => Langues [desc] => [children] => Array ( [0] => Array ( [id] => 114 [link] => https://book.coe.int/fr/114-pedagogie-et-langues-vivantes [name] => Pédagogie et langues vivantes [desc] => [children] => Array ( ) ) [1] => Array ( [id] => 115 [link] => https://book.coe.int/fr/115-politiques-linguistiques [name] => Politiques linguistiques [desc] => [children] => Array ( ) ) [2] => Array ( [id] => 116 [link] => https://book.coe.int/fr/116-langues-regionales-et-minoritaires [name] => Langues régionales et minoritaires [desc] => [children] => Array ( ) ) [3] => Array ( [id] => 117 [link] => https://book.coe.int/fr/117-terminologie [name] => Terminologie [desc] => [children] => Array ( ) ) ) ) [11] => Array ( [id] => 118 [link] => https://book.coe.int/fr/118-jeunesse [name] => Jeunesse [desc] => [children] => Array ( [0] => Array ( [id] => 119 [link] => https://book.coe.int/fr/119-kits-de-formation-jeunesse [name] => Kits de formation / Jeunesse [desc] => [children] => Array ( ) ) [1] => Array ( [id] => 120 [link] => https://book.coe.int/fr/120-politiques-nationales-de-la-jeunesse [name] => Politiques nationales de la jeunesse [desc] => [children] => Array ( ) ) [2] => Array ( [id] => 121 [link] => https://book.coe.int/fr/121-jeunesse-autres-publications [name] => Jeunesse / Autres publications [desc] => [children] => Array ( ) ) [3] => Array ( [id] => 396 [link] => https://book.coe.int/fr/396-points-de-vue-sur-la-jeunesse [name] => Points de vue sur la jeunesse [desc] => [children] => Array ( ) ) ) ) [12] => Array ( [id] => 122 [link] => https://book.coe.int/fr/122-culture [name] => Culture [desc] => [children] => Array ( [0] => Array ( [id] => 123 [link] => https://book.coe.int/fr/123-developpement-culturel [name] => Développement culturel [desc] => [children] => Array ( ) ) [1] => Array ( [id] => 124 [link] => https://book.coe.int/fr/124-patrimoine-culturel [name] => Patrimoine culturel [desc] => [children] => Array ( ) ) [2] => Array ( [id] => 125 [link] => https://book.coe.int/fr/125-politiques-culturelles [name] => Politiques culturelles [desc] => [children] => Array ( ) ) [3] => Array ( [id] => 126 [link] => https://book.coe.int/fr/126-cultures-et-quartiers [name] => Cultures et quartiers [desc] => [children] => Array ( ) ) ) ) [13] => Array ( [id] => 127 [link] => https://book.coe.int/fr/127-sport [name] => Sport [desc] => [children] => Array ( [0] => Array ( [id] => 128 [link] => https://book.coe.int/fr/128-sports-monographies [name] => Sports - Monographies [desc] => [children] => Array ( ) ) ) ) [14] => Array ( [id] => 129 [link] => https://book.coe.int/fr/129-communication [name] => Communication [desc] => [children] => Array ( [0] => Array ( [id] => 130 [link] => https://book.coe.int/fr/130-mass-media [name] => Mass media [desc] => [children] => Array ( ) ) [1] => Array ( [id] => 131 [link] => https://book.coe.int/fr/131-observatoire-europeen-de-l-audiovisuel [name] => Observatoire européen de l'Audiovisuel [desc] => [children] => Array ( ) ) [2] => Array ( [id] => 132 [link] => https://book.coe.int/fr/132-nouvelles-technologies-de-l-information [name] => Nouvelles technologies de l'information [desc] => [children] => Array ( ) ) [3] => Array ( [id] => 412 [link] => https://book.coe.int/fr/412-intelligence-artificielle [name] => Intelligence artificielle [desc] => [children] => Array ( ) ) ) ) [15] => Array ( [id] => 133 [link] => https://book.coe.int/fr/133-questions-europeennes [name] => Questions européennes [desc] => [children] => Array ( [0] => Array ( [id] => 134 [link] => https://book.coe.int/fr/134-rapport-annuel-d-activites [name] => Rapport annuel d'activités [desc] => [children] => Array ( ) ) [1] => Array ( [id] => 135 [link] => https://book.coe.int/fr/135-debats-de-la-democratie [name] => Débats de la démocratie [desc] => [children] => Array ( ) ) [2] => Array ( [id] => 136 [link] => https://book.coe.int/fr/136-debats-europeens [name] => Débats européens [desc] => [children] => Array ( ) ) [3] => Array ( [id] => 137 [link] => https://book.coe.int/fr/137-ouvrages-sur-l-europe [name] => Ouvrages sur l'Europe [desc] => [children] => Array ( ) ) [4] => Array ( [id] => 138 [link] => https://book.coe.int/fr/138-autres-domaines [name] => Autres domaines [desc] => [children] => Array ( ) ) [5] => Array ( [id] => 373 [link] => https://book.coe.int/fr/373-catalogues-des-publications [name] => Catalogues des publications [desc] => [children] => Array ( ) ) ) ) ) ) ) ) 1
Catalogue
Newsletter
Restez informés
Souscrivez à notre newsletter
Souscrivez à notre newsletter
PDF - Towards a Europe of shared social responsibilities: challenges and strategies (Trends in social cohesion n°23)
(2011)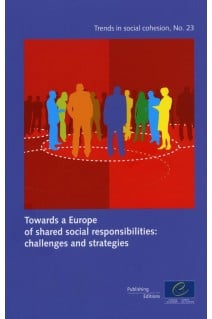  
The need to develop collective skills to acquire a shared long-term vision and to manage change is evident, given that resources are limited and there is no such thing as complete independence or immunity from the damaging effects of other people's acts or failures to act.Current trends are having a significant effect on both the scope and the substance of specific responsibilities, individual or collective, voluntary or statutory. In addition, extreme interdependence exacerbates the differences between values, concepts of well-being and interests, potentially giving rise to mutually destructive conflicts, wastage of resources and externally negative consequences. Hence the Council of Europe's proposal to adopt the concept of shared social responsibility as a vital adjunct to specific responsibilities to make them more meaningful. In accordance with this concept, which is the subject of a charter addressed to governments and to all stakeholders, all parties are encouraged to practise transparency and to account for their acts in a context of knowledge and decision making shaped by dialogue and interaction.This work on shared social responsibility considers, among other things, how to ensure that all stakeholders are recognised, make deliberation and co-production legitimate tools of democratic decision making and activate multi-player, multi-level and multi-sector processes of innovation and learning. It also examines the question of how to foster the emergence of institutional mechanisms which can restore confidence in politics and in the action of all the parties concerned.
Introduction
Part I - Challenges of shared social responsibility - Justice, sustainability, democracy
Shared social responsibility: the need for and supply of responsible patterns of social action
From individual responsibility to shared social responsibilities: concepts for a new paradigm
Shared social responsibility as a key concept in managing the current interregnum
From individualism to interdependence: a basis for shared social responsibilities
What is commonly understood by shared social responsibility
Shared responsibilities and future generations: beyond the dominant concepts of justice
Addressing poverty: a shared social responsibility
Poverty and rights. Moving beyond the rhetoric of misfortune and blame
Part II - Strategies for sharing knowledge and responsibility - Deliberative processes, multi-player governance, new competences
Multi-stakeholder governance for effectively sharing social responsibility: social contracts, deliberative democracy and endogenous conformity
Building up knowledge in the context of shared responsibilities for social cohesion
Fundamental rights and shared social responsibilities: exploring their complementarity
Equal participation: making shared social responsibility work for everyone
Co-production as a vehicle for sharing social responsibilities
Managing shared social responsibilities: an institutionalist framework
The role of education in shared social responsibilities
Télécharger un extrait (1000)
PDF - Towards a Europe of shared social responsibilities: challenges and strategies (Trends in social cohesion n°23)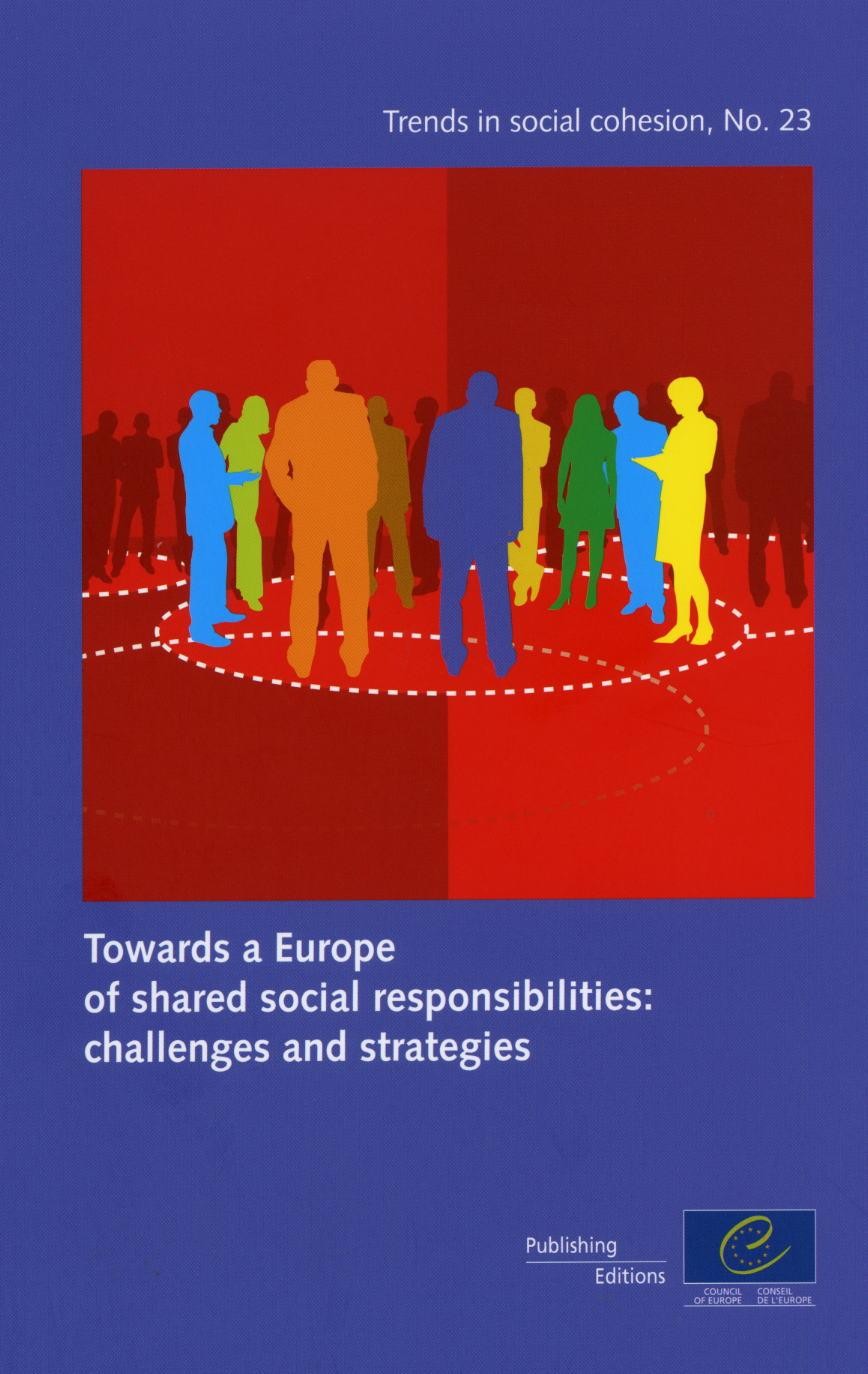 Attention, en vertu de nos conditions générales de vente, l'achat des PDF/epub est réservé aux particuliers.