Libraires ou agents de vente, contactez-nous à
[email protected]
pour connaître nos conditions spéciales !
PDF - Post-war justice and durable peace in the former Yugoslavia
(2012)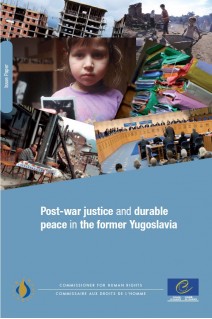  
The dissolution of the former Yugoslavia was accompanied by a series of wars in the 1990s marked by gross human rights violations. The legacy of this violent past lingers on in this region, putting human rights and social cohesion at risk. Despite important constructive steps taken by governments, national justice systems are confronted with serious shortcomings and impunity is still prevalent. Thousands of war victims, including refugees and other displaced persons, stateless people and families of missing persons remain without reparation. The need to establish and recognise the truth about the gross human rights violations during the war is not yet a fully accepted principle.
This issue paper deals with the process of post-war justice and the efforts to address the remaining issues and establish long-term peace in the region of the former Yugoslavia. Its main focus is the analysis of four major components of post-war justice: the elimination of impunity; the provision of adequate and effective reparation to all war victims; the need to establish and recognise the truth concerning the gross human rights violations and serious violations of international humanitarian law that occurred; and the need for institutional reforms to prevent any repetition of past events. The issue paper concludes with a number of recommendations addressed primarily to the states in the region concerned.
Summary
Introduction
1. Measures for the elimination of impunity
1.1. The International Criminal Tribunal for the former Yugoslavia (ICTY)
1.2. Domestic criminal proceedings
2. Provision of adequate and effective reparation to all war victims
2.1. Refugees and IDPs
2.2. The "erased"
2.3. Women victims of wartime sexual violence
2.4. Provision of compensation to war victims
2.5. Satisfaction to war victims through public apology or official declaration
2.6. Satisfaction to war victims through tributes to them and commemorations
3. The need to establish and recognise the truth
3.1. The Srebrenica genocide
3.2. "Operation Storm"
3.3. Attempts to establish Truth and Reconciliation Commissions (TRCs) in the former Yugoslavia
3.4. The initiative aimed at establishing a regional truth commission (RECOM)
3.5. Missing persons
3.6. Civil society and truth telling
3.7. Media and truth telling
3.8. The truth through cultural events
4. Need for institutional reforms to guarantee non-repetition
Concluding remarks
Recommendations