Array ( [id] => 2 [link] => [name] => [desc] => [children] => Array ( [0] => Array ( [id] => 6 [link] => https://book.coe.int/fr/6-librairie-en-ligne [name] => Librairie en ligne [desc] => [children] => Array ( [0] => Array ( [id] => 40 [link] => https://book.coe.int/fr/40-comite-des-ministres [name] => Comité des Ministres [desc] => [children] => Array ( [0] => Array ( [id] => 41 [link] => https://book.coe.int/fr/41-textes-des-traites-du-conseil-de-l-europe [name] => Textes des traités du Conseil de l'Europe [desc] => [children] => Array ( ) ) [1] => Array ( [id] => 43 [link] => https://book.coe.int/fr/43-traites-du-conseil-de-l-europe-et-rapports-explicatifs [name] => Traités du Conseil de l'Europe et rapports explicatifs [desc] => [children] => Array ( ) ) [2] => Array ( [id] => 44 [link] => https://book.coe.int/fr/44-recueils-des-traites-du-conseil-de-l-europe [name] => Recueils des traités du Conseil de l'Europe [desc] => [children] => Array ( ) ) [3] => Array ( [id] => 45 [link] => https://book.coe.int/fr/45-comite-des-ministres-recueils-de-textes-adoptes [name] => Comité des Ministres - Recueils de textes adoptés [desc] => [children] => Array ( ) ) [4] => Array ( [id] => 42 [link] => https://book.coe.int/fr/42-comite-des-ministres-autres-publications [name] => Comité des Ministres - Autres publications [desc] => [children] => Array ( ) ) ) ) [1] => Array ( [id] => 46 [link] => https://book.coe.int/fr/46-assemblee-parlementaire [name] => Assemblée parlementaire [desc] => [children] => Array ( [0] => Array ( [id] => 47 [link] => https://book.coe.int/fr/47-assemblee-parlementaire-textes-adoptes [name] => Assemblée parlementaire / Textes adoptés [desc] => [children] => Array ( ) ) [1] => Array ( [id] => 48 [link] => https://book.coe.int/fr/48-assemblee-parlementaire-ordres-du-jour-et-proces-verbaux [name] => Assemblée parlementaire / Ordres du jour et procès- verbaux [desc] => [children] => Array ( ) ) [2] => Array ( [id] => 49 [link] => https://book.coe.int/fr/49-assemblee-parlementaire-comptes-rendus-des-debats [name] => Assemblée parlementaire / Comptes rendus des débats [desc] => [children] => Array ( ) ) [3] => Array ( [id] => 50 [link] => https://book.coe.int/fr/50-assemblee-parlementaire-documents-de-seance [name] => Assemblée parlementaire / Documents de séance [desc] => [children] => Array ( ) ) [4] => Array ( [id] => 51 [link] => https://book.coe.int/fr/51-assemblee-parlementaire-publications-generales [name] => Assemblée parlementaire / Publications générales [desc] => [children] => Array ( ) ) ) ) [2] => Array ( [id] => 52 [link] => https://book.coe.int/fr/52-congrs [name] => Congrès [desc] => [children] => Array ( [0] => Array ( [id] => 53 [link] => https://book.coe.int/fr/53-congres-serie-action-locale-et-regionale [name] => Congrès / Série Action locale et régionale [desc] => [children] => Array ( ) ) [1] => Array ( [id] => 54 [link] => https://book.coe.int/fr/54-congres-serie-etudes-et-travaux [name] => Congrès / Série Etudes et travaux [desc] => [children] => Array ( ) ) [2] => Array ( [id] => 55 [link] => https://book.coe.int/fr/55-congres-textes-adoptes [name] => Congrès / Textes adoptés [desc] => [children] => Array ( ) ) [3] => Array ( [id] => 56 [link] => https://book.coe.int/fr/56-congres-comptes-rendus-des-debats [name] => Congrès / Comptes rendus des débats [desc] => [children] => Array ( ) ) ) ) [3] => Array ( [id] => 57 [link] => https://book.coe.int/fr/57-droits-de-l-homme [name] => Droits de l'homme [desc] => [children] => Array ( [0] => Array ( [id] => 58 [link] => https://book.coe.int/fr/58-droits-de-l-homme-et-democratie [name] => Droits de l'homme et démocratie [desc] => [children] => Array ( ) ) [1] => Array ( [id] => 59 [link] => https://book.coe.int/fr/59-droit-des-enfants-et-droit-de-la-famille [name] => Droit des enfants et droit de la famille [desc] => [children] => Array ( ) ) [2] => Array ( [id] => 60 [link] => https://book.coe.int/fr/60-les-institutions-democratiques-en-action [name] => Les institutions démocratiques en action [desc] => [children] => Array ( ) ) [3] => Array ( [id] => 61 [link] => https://book.coe.int/fr/61-minorites [name] => Minorités [desc] => [children] => Array ( ) ) [4] => Array ( [id] => 62 [link] => https://book.coe.int/fr/62-dossiers-sur-les-droits-de-l-homme [name] => Dossiers sur les droits de l'homme [desc] => [children] => Array ( ) ) [5] => Array ( [id] => 63 [link] => https://book.coe.int/fr/63-charte-sociale-europeenne [name] => Charte sociale européenne [desc] => [children] => Array ( ) ) [6] => Array ( [id] => 64 [link] => https://book.coe.int/fr/64-cahiers-de-la-charte-sociale [name] => Cahiers de la Charte Sociale [desc] => [children] => Array ( ) ) [7] => Array ( [id] => 65 [link] => https://book.coe.int/fr/65-egalite-entre-femmes-et-hommes [name] => Egalité entre femmes et hommes [desc] => [children] => Array ( ) ) [8] => Array ( [id] => 66 [link] => https://book.coe.int/fr/66-cour-europeenne-des-droits-de-l-homme [name] => Cour européenne des droits de l'homme [desc] => [children] => Array ( ) ) [9] => Array ( [id] => 376 [link] => https://book.coe.int/fr/376-commissaire-aux-droits-de-l-homme [name] => Commissaire aux droits de l'homme [desc] => [children] => Array ( ) ) [10] => Array ( [id] => 67 [link] => https://book.coe.int/fr/67-commission-europeenne-des-droits-de-l-homme [name] => Commission européenne des droits de l'homme [desc] => [children] => Array ( ) ) ) ) [4] => Array ( [id] => 68 [link] => https://book.coe.int/fr/68-droit [name] => Droit [desc] => [children] => Array ( [0] => Array ( [id] => 71 [link] => https://book.coe.int/fr/71-droit-international [name] => Droit international [desc] => [children] => Array ( ) ) [1] => Array ( [id] => 75 [link] => https://book.coe.int/fr/75-droit-constitutionnel [name] => Droit constitutionnel [desc] => [children] => Array ( ) ) [2] => Array ( [id] => 77 [link] => https://book.coe.int/fr/77-instruments-juridiques [name] => Instruments juridiques [desc] => [children] => Array ( ) ) [3] => Array ( [id] => 76 [link] => https://book.coe.int/fr/76-droit-penal-et-criminologie [name] => Droit pénal et criminologie [desc] => [children] => Array ( ) ) [4] => Array ( [id] => 79 [link] => https://book.coe.int/fr/79-informatique-et-droit [name] => Informatique et droit [desc] => [children] => Array ( ) ) [5] => Array ( [id] => 74 [link] => https://book.coe.int/fr/74-economie-et-criminalite-lutte-contre-la-corruption [name] => Economie et criminalité, lutte contre la corruption [desc] => [children] => Array ( ) ) [6] => Array ( [id] => 72 [link] => https://book.coe.int/fr/72-terrorisme-et-droit [name] => Terrorisme et droit [desc] => [children] => Array ( ) ) [7] => Array ( [id] => 69 [link] => https://book.coe.int/fr/69-point-de-vue-point-de-droit [name] => Point de vue - Point de droit [desc] => [children] => Array ( ) ) [8] => Array ( [id] => 70 [link] => https://book.coe.int/fr/70-europe-des-droits [name] => Europe des droits [desc] => [children] => Array ( ) ) [9] => Array ( [id] => 73 [link] => https://book.coe.int/fr/73-droits-des-migrants [name] => Droits des migrants [desc] => [children] => Array ( ) ) [10] => Array ( [id] => 78 [link] => https://book.coe.int/fr/78-programmes-themis-demo-droit [name] => Programmes Themis / Démo-droit [desc] => [children] => Array ( ) ) ) ) [5] => Array ( [id] => 80 [link] => https://book.coe.int/fr/80-sante [name] => Santé [desc] => [children] => Array ( [0] => Array ( [id] => 81 [link] => https://book.coe.int/fr/81-sante-et-societe-ethique [name] => Santé et société, Ethique [desc] => [children] => Array ( ) ) [1] => Array ( [id] => 82 [link] => https://book.coe.int/fr/82-transfusion-sanguine-et-transplantation-d-organe [name] => Transfusion sanguine et transplantation d'organe [desc] => [children] => Array ( ) ) [2] => Array ( [id] => 83 [link] => https://book.coe.int/fr/83-protection-sanitaire-du-consommateur [name] => Protection sanitaire du consommateur [desc] => [children] => Array ( ) ) [3] => Array ( [id] => 84 [link] => https://book.coe.int/fr/84-integration-des-personnes-handicapees [name] => Intégration des personnes handicapées [desc] => [children] => Array ( ) ) [4] => Array ( [id] => 85 [link] => https://book.coe.int/fr/85-direction-europeenne-de-la-qualite-du-medicament-soins-de-sante-deqm [name] => Direction Européenne de la Qualité du Medicament & Soins de Santé (DEQM) [desc] => [children] => Array ( ) ) ) ) [6] => Array ( [id] => 86 [link] => https://book.coe.int/fr/86-societe [name] => Société [desc] => [children] => Array ( [0] => Array ( [id] => 87 [link] => https://book.coe.int/fr/87-demographie [name] => Démographie [desc] => [children] => Array ( ) ) [1] => Array ( [id] => 88 [link] => https://book.coe.int/fr/88-serie-tendances-de-la-cohesion-sociale [name] => Série Tendances de la cohésion sociale [desc] => [children] => Array ( ) ) [2] => Array ( [id] => 89 [link] => https://book.coe.int/fr/89-serie-reponses-a-la-violence-quotidienne-dans-une-societe-democratique [name] => Série Réponses à la violence quotidienne dans une société démocratique [desc] => [children] => Array ( ) ) [3] => Array ( [id] => 90 [link] => https://book.coe.int/fr/90-drogues-et-toxicomanie [name] => Drogues et toxicomanie [desc] => [children] => Array ( ) ) [4] => Array ( [id] => 91 [link] => https://book.coe.int/fr/91-securite-sociale [name] => Securité sociale [desc] => [children] => Array ( ) ) [5] => Array ( [id] => 92 [link] => https://book.coe.int/fr/92-relations-intercommunautaires [name] => Relations intercommunautaires [desc] => [children] => Array ( ) ) [6] => Array ( [id] => 93 [link] => https://book.coe.int/fr/93-cooperation-sociale-en-europe [name] => Coopération sociale en Europe [desc] => [children] => Array ( ) ) [7] => Array ( [id] => 94 [link] => https://book.coe.int/fr/94-serie-etudes-demographiques [name] => Série Etudes démographiques [desc] => [children] => Array ( ) ) ) ) [7] => Array ( [id] => 95 [link] => https://book.coe.int/fr/95-environnement [name] => Environnement [desc] => [children] => Array ( [0] => Array ( [id] => 96 [link] => https://book.coe.int/fr/96-serie-sauvegarde-de-la-nature [name] => Série Sauvegarde de la Nature [desc] => [children] => Array ( ) ) [1] => Array ( [id] => 97 [link] => https://book.coe.int/fr/97-serie-rencontres-environnement [name] => Série Rencontres Environnement [desc] => [children] => Array ( ) ) [2] => Array ( [id] => 98 [link] => https://book.coe.int/fr/98-serie-territoire-et-paysage [name] => Série Territoire et Paysage [desc] => [children] => Array ( ) ) [3] => Array ( [id] => 99 [link] => https://book.coe.int/fr/99-serie-amenagement-du-territoire-europeen [name] => Série Aménagement du territoire européen [desc] => [children] => Array ( ) ) [4] => Array ( [id] => 100 [link] => https://book.coe.int/fr/100-environnement-publications-generales [name] => Environnement / Publications générales [desc] => [children] => Array ( ) ) ) ) [8] => Array ( [id] => 101 [link] => https://book.coe.int/fr/101-democratie-locale-et-regionale [name] => Démocratie locale et régionale [desc] => [children] => Array ( [0] => Array ( [id] => 102 [link] => https://book.coe.int/fr/102-cooperation-pour-la-democratie-locale-et-regionale [name] => Coopération pour la démocratie locale et régionale [desc] => [children] => Array ( ) ) [1] => Array ( [id] => 103 [link] => https://book.coe.int/fr/103-serie-communes-et-regions-d-europe [name] => Série Communes et Régions d'Europe [desc] => [children] => Array ( ) ) [2] => Array ( [id] => 104 [link] => https://book.coe.int/fr/104-serie-structure-et-fonctionnement-de-la-democratie-locale-et-regionale [name] => Série Structure et fonctionnement de la démocratie locale et régionale [desc] => [children] => Array ( ) ) ) ) [9] => Array ( [id] => 105 [link] => https://book.coe.int/fr/105-education [name] => Education [desc] => [children] => Array ( [0] => Array ( [id] => 406 [link] => https://book.coe.int/fr/406-politiques-educatives [name] => Politiques éducatives [desc] => [children] => Array ( ) ) [1] => Array ( [id] => 108 [link] => https://book.coe.int/fr/108-droits-de-l-homme-citoyennete-democratique-et-interculturalisme [name] => Droits de l'homme, citoyenneté démocratique et interculturalisme [desc] => [children] => Array ( ) ) [2] => Array ( [id] => 112 [link] => https://book.coe.int/fr/112-enseignement-superieur-et-recherche [name] => Enseignement supérieur et recherche [desc] => [children] => Array ( ) ) [3] => Array ( [id] => 110 [link] => https://book.coe.int/fr/110-enseignement-secondaire [name] => Enseignement secondaire [desc] => [children] => Array ( ) ) [4] => Array ( [id] => 107 [link] => https://book.coe.int/fr/107-enseignement-de-l-histoire [name] => Enseignement de l'histoire [desc] => [children] => Array ( ) ) [5] => Array ( [id] => 106 [link] => https://book.coe.int/fr/106-serie-pestalozzi [name] => Série Pestalozzi [desc] => [children] => Array ( ) ) ) ) [10] => Array ( [id] => 113 [link] => https://book.coe.int/fr/113-langues [name] => Langues [desc] => [children] => Array ( [0] => Array ( [id] => 114 [link] => https://book.coe.int/fr/114-pedagogie-et-langues-vivantes [name] => Pédagogie et langues vivantes [desc] => [children] => Array ( ) ) [1] => Array ( [id] => 115 [link] => https://book.coe.int/fr/115-politiques-linguistiques [name] => Politiques linguistiques [desc] => [children] => Array ( ) ) [2] => Array ( [id] => 116 [link] => https://book.coe.int/fr/116-langues-regionales-et-minoritaires [name] => Langues régionales et minoritaires [desc] => [children] => Array ( ) ) [3] => Array ( [id] => 117 [link] => https://book.coe.int/fr/117-terminologie [name] => Terminologie [desc] => [children] => Array ( ) ) ) ) [11] => Array ( [id] => 118 [link] => https://book.coe.int/fr/118-jeunesse [name] => Jeunesse [desc] => [children] => Array ( [0] => Array ( [id] => 119 [link] => https://book.coe.int/fr/119-kits-de-formation-jeunesse [name] => Kits de formation / Jeunesse [desc] => [children] => Array ( ) ) [1] => Array ( [id] => 120 [link] => https://book.coe.int/fr/120-politiques-nationales-de-la-jeunesse [name] => Politiques nationales de la jeunesse [desc] => [children] => Array ( ) ) [2] => Array ( [id] => 121 [link] => https://book.coe.int/fr/121-jeunesse-autres-publications [name] => Jeunesse / Autres publications [desc] => [children] => Array ( ) ) [3] => Array ( [id] => 396 [link] => https://book.coe.int/fr/396-points-de-vue-sur-la-jeunesse [name] => Points de vue sur la jeunesse [desc] => [children] => Array ( ) ) ) ) [12] => Array ( [id] => 122 [link] => https://book.coe.int/fr/122-culture [name] => Culture [desc] => [children] => Array ( [0] => Array ( [id] => 123 [link] => https://book.coe.int/fr/123-developpement-culturel [name] => Développement culturel [desc] => [children] => Array ( ) ) [1] => Array ( [id] => 124 [link] => https://book.coe.int/fr/124-patrimoine-culturel [name] => Patrimoine culturel [desc] => [children] => Array ( ) ) [2] => Array ( [id] => 125 [link] => https://book.coe.int/fr/125-politiques-culturelles [name] => Politiques culturelles [desc] => [children] => Array ( ) ) [3] => Array ( [id] => 126 [link] => https://book.coe.int/fr/126-cultures-et-quartiers [name] => Cultures et quartiers [desc] => [children] => Array ( ) ) ) ) [13] => Array ( [id] => 127 [link] => https://book.coe.int/fr/127-sport [name] => Sport [desc] => [children] => Array ( [0] => Array ( [id] => 128 [link] => https://book.coe.int/fr/128-sports-monographies [name] => Sports - Monographies [desc] => [children] => Array ( ) ) ) ) [14] => Array ( [id] => 129 [link] => https://book.coe.int/fr/129-communication [name] => Communication [desc] => [children] => Array ( [0] => Array ( [id] => 130 [link] => https://book.coe.int/fr/130-mass-media [name] => Mass media [desc] => [children] => Array ( ) ) [1] => Array ( [id] => 131 [link] => https://book.coe.int/fr/131-observatoire-europeen-de-l-audiovisuel [name] => Observatoire européen de l'Audiovisuel [desc] => [children] => Array ( ) ) [2] => Array ( [id] => 132 [link] => https://book.coe.int/fr/132-nouvelles-technologies-de-l-information [name] => Nouvelles technologies de l'information [desc] => [children] => Array ( ) ) [3] => Array ( [id] => 412 [link] => https://book.coe.int/fr/412-intelligence-artificielle [name] => Intelligence artificielle [desc] => [children] => Array ( ) ) ) ) [15] => Array ( [id] => 133 [link] => https://book.coe.int/fr/133-questions-europeennes [name] => Questions européennes [desc] => [children] => Array ( [0] => Array ( [id] => 134 [link] => https://book.coe.int/fr/134-rapport-annuel-d-activites [name] => Rapport annuel d'activités [desc] => [children] => Array ( ) ) [1] => Array ( [id] => 135 [link] => https://book.coe.int/fr/135-debats-de-la-democratie [name] => Débats de la démocratie [desc] => [children] => Array ( ) ) [2] => Array ( [id] => 136 [link] => https://book.coe.int/fr/136-debats-europeens [name] => Débats européens [desc] => [children] => Array ( ) ) [3] => Array ( [id] => 137 [link] => https://book.coe.int/fr/137-ouvrages-sur-l-europe [name] => Ouvrages sur l'Europe [desc] => [children] => Array ( ) ) [4] => Array ( [id] => 138 [link] => https://book.coe.int/fr/138-autres-domaines [name] => Autres domaines [desc] => [children] => Array ( ) ) [5] => Array ( [id] => 373 [link] => https://book.coe.int/fr/373-catalogues-des-publications [name] => Catalogues des publications [desc] => [children] => Array ( ) ) ) ) ) ) ) ) 1
Catalogue
Newsletter
Restez informés
Souscrivez à notre newsletter
Souscrivez à notre newsletter
PDF - Ethics and sport in Europe
(2011)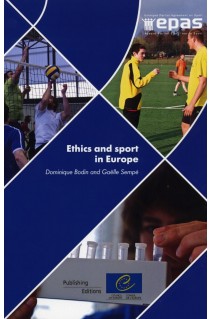  
Defending ethics in sport is vital in order to combat the problems of corruption, violence, drugs, extremism and other forms of discrimination it is currently facing. Sport reflects nothing more and nothing less than the societies in which it takes place. However, if sport is to continue to bring benefits for individuals and societies, it cannot afford to neglect its ethical values or ignore these scourges.The major role of the Council of Europe and the Enlarged Partial Agreement on Sport (EPAS) in addressing the new challenges to sports ethics was confirmed by the 11th Council of Europe Conference of Ministers responsible for Sport, held in Athens on 11 and 12 December 2008. A political impetus was given on 16 June 2010 by the Committee of Ministers, with the adoption of an updated version of the Code of Sports Ethics (Recommendation CM/Rec(2010)9), emphasising the requisite co-ordination between governments and sports organisations.The EPAS prepared the ministerial conference and stepped up its work in an international conference organised with the University of Rennes, which was attended by political leaders, athletes, researchers and officials from the voluntary sector. The key experiences described in the conference and the thoughts that it prompted are described in this publication. All the writers share the concern that the end result should be practical action - particularly in terms of the setting of standards - that falls within the remit of the EPAS and promotes the Council of Europe's core values.
Foreword
Introduction
Ethics and sport in Europe
Chapter 1 - Ethics in sport: historical and philosophical context
Historical and philosophical background
Philosophy, ethics and sport
Historical and philosophical foundations of sports ethics
Sport: a model of anti-ethical practice
Might God be watching when we run?
Which agencies promote sports ethics?
Chapter 2 - New challenges to ethics in sport
Amber light for the yellow ball: when betting undermines tennis
Defence and promotion of ethics in sport
The top-level athlete's dilemma: to dope or not to dope? 
Business and sport as allies for ethical reasons
The ethics of responsibility in the management of high-level athletes (HLAs) in France
Human rights, discrimination and extremism: new challenges to ethics in sport
Ethics and sports in Europe: the media challenge
Teaching boxing to mentally and physically disabled people: which practices for which ethics?
Conclusion
Safeguarding the integrity of sport: the case for an international body
Recommendations for an ethical physical activity programme with underserved youth
Ethics in sport - current and future challenges
Appendices
Resolution on ethics in sport (Adopted by the 11th Council of Europe Conference of Ministers responsible for Sport, Athens, Greece, 10-12 December 2008)
Recommendation CM/Rec(2010)9 of the Committee of Ministers to member states on the revised Code of Sports Ethics (Adopted by the Committee of Ministers on 1 6 June 2010, at the 1088th meeting of the Ministers' Deputies)
Télécharger un extrait (1000)
PDF - Ethics and sport in Europe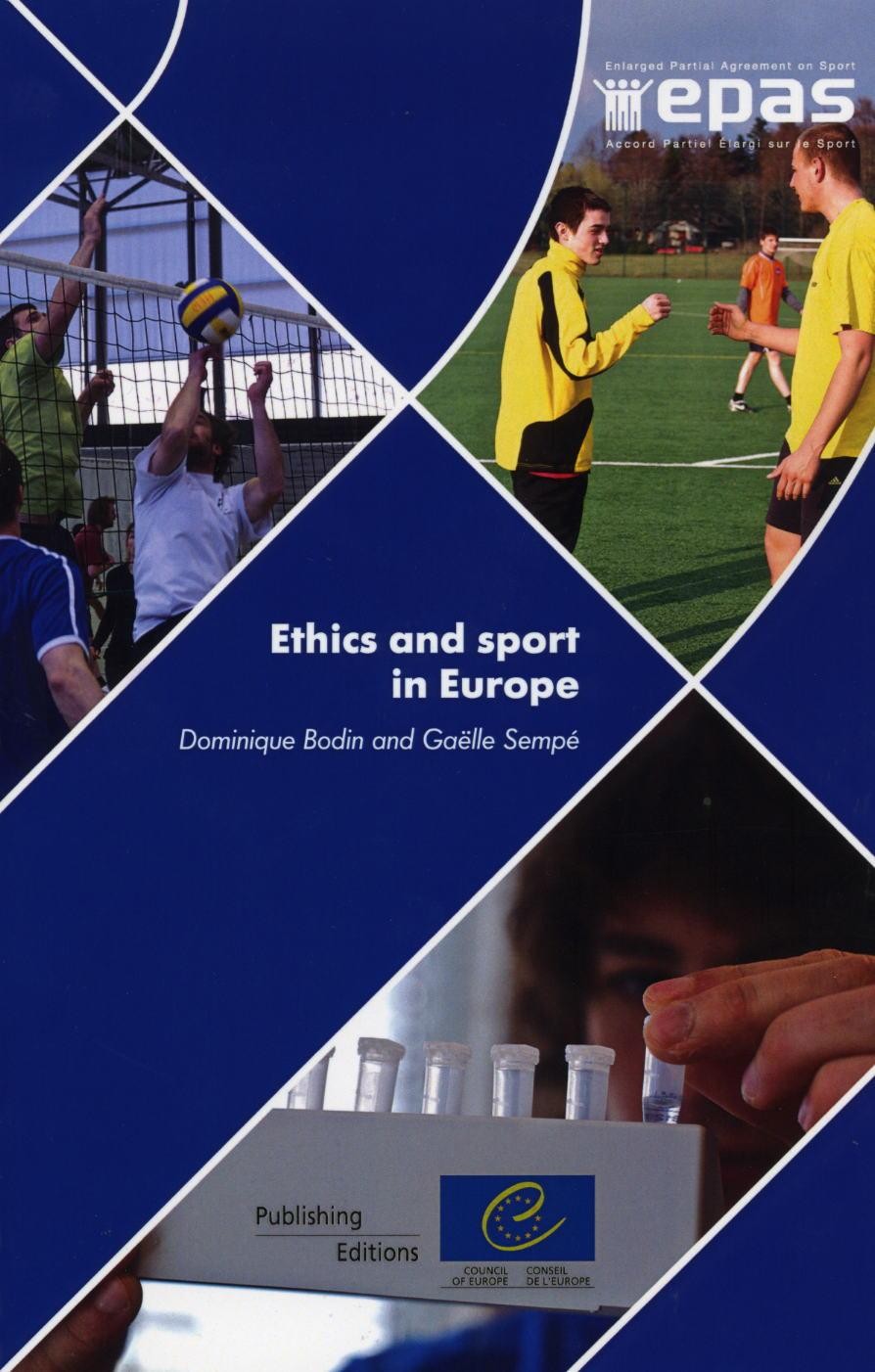 Attention, en vertu de nos conditions générales de vente, l'achat des PDF/epub est réservé aux particuliers.