Libraires ou agents de vente, contactez-nous à
[email protected]
pour connaître nos conditions spéciales !
e-pub - Landscape dimensions - Reflections and proposals for the implementation of the European Landscape Convention
(2017)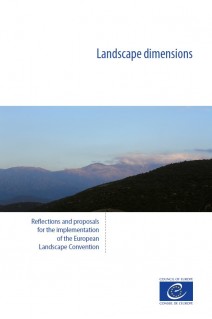  
As a key element of individual and social well-being and quality of life, landscape plays an important part in human fulfilment and in reinforcement of European identity.

Adopted under the auspices of the Council of Europe, the European Landscape Convention aims to promote the protection, management and planning of landscapes, and to organise international co-operation in this field. It applies to the entire territory of the contracting parties and covers natural, rural, urban and peri-urban areas. It concerns landscapes considered outstanding, as well as everyday or degraded areas. Certain "dimensions" of the landscape are presented in this publication, which addresses key issues for its future, including democracy, education, economy, leisure and advertising. Landscape management processes – and even the term "landscape" itself – are also analysed. This book forms part of a process of reflection on the major themes concerning the living environment.
PREFACE
CHAPTER 1. LANDSCAPE AND WIND TURBINES – Emmanuel Contesse
     Summary
     Introduction
     1. Spatial planning
     2. Project-based approach to landscape integration
     3. Landscape principles
     Conclusions
CHAPTER 2. MANAGEMENT OF THE TERRITORY: LANDSCAPE MANAGEMENT AS A PROCESS – Jaume Busguets Fàbregas and Albert Cortina Ramos
     Introduction
     1. Developing a landscape management project
     2. Landscape management professionals
     Conclusions
     References
CHAPTER 3. LANDSCAPE AND EDUCATION – Annalisa Calcagno Magnilio
     Summary
     Introduction
     1. Approaches to landscape education in schools
     2. Teaching approaches for landscape education in primary schools
     3. Landscape education approaches in secondary schools
     Conclusions
     Appendix 1 – Primary school
     Appendix 2 – Secondary school
     References
CHAPTER 4. LANDSCAPE AND LEISURE – Niek Nazendonk and others
     Introduction
     1. Developments in leisure and tourism
     2. Leisure and tourism as driving forces for regional and landscape development
     3. European landscape region typology
     4. Tourist mobility
     5. Future challenges for European landscapes and tourism
     6. Policy and action at international level
     7. Sustainable tourism in Europe
     8. Perspectives
     Conclusions
     References
CHAPTER 5. LANDSCAPE AND ADVERTISING – Jean-Philippe Strebler
     Summary
     Introduction
     1. Advertising presence in the landscape
     2. The challenges of public intervention to follow up the European Landscape Convention
     Conclusions
     References
CHAPTER 6. LANDSCAPE AND ECONOMY: AN APPROACH FROM THE EUROPEAN LANDSCAPE CONVENTION – Joaquín Romano
     Introduction
     1. The economic dimension of landscape: the nexus
     2. Landscape and welfare economics: can the landscape renew welfare economics?
     3. Landscape and employment: beyond the labour market
     4. Landscape and public economics: a holistic view
     Conclusions
     References
CHAPTER 7. WEALTH AND VARIETY OF TERMS, INSTRUMENTS AND APPROACHES TO LANDSCAPE IN EUROPE – Jean-François Seguin
     Introduction
     1. Landscape in the languages of Europe
     2. Landscape in legal instruments and international treaties
     3. Concepts of landscape and methods of identification
     Conclusions
     Appendix
     References
CHAPTER 8. LANDSCAPE AND DEMOCRACY – Yves Luginbühl
     Introduction
     1. The lessons of the political history of territorial governance
     2. Arrangements for the exercise of democracy and levels of governance
     3. Trends of democratic practice in the context of globalisation as they relate to landscape
     4. Contemporary forms of participatory democracy applied to landscape
     5. Factors in the success or failure of participatory democracy applied to landscape
     Conclusions
     Appendix 1: Programme report "Information, public participation, consultation and involvement in risk prevention plans"
     Appendix 2: Experiments in participation in landscape matters
     References